July 2020 – Mariana Rodriguez
Mariana Rodriguez is a mechanical engineering graduate from the Honors College at UNLV. She came to the US from Mexico when she was five years old, and is a first-generation college student & Dreamer. She founded and led a rocketry team at UNLV that competes in the world's largest intercollegiate rocketry engineering competition. Mariana also co-founded and was president of UNLV's Students for the Exploration and Development of Space, which aims to enable and empower students to pursue careers in space exploration through technical projects. She plans to pursue a Master's degree in engineering and pursue a career in the aerospace industry. As a Latina in engineering, she aspires to help grow the notion that space is for everyone.

June 2020 – Dr. Lauren Parry
Dr. Parry works to preserve Nevada's paleontological resources in the field and in museum collections. She has been supervising an effort to catalog and organize the Tule Springs Fossil Beds National Monument fossil collection for researchers. She recently earned her Ph.D. in Geoscience at UNLV, researching Ice Age mammoths, the habitats they lived in and possible catalysts for their extinction. Dr. Parry grew up in Brooklyn, NY but she feels right at home working in Nevada's public lands.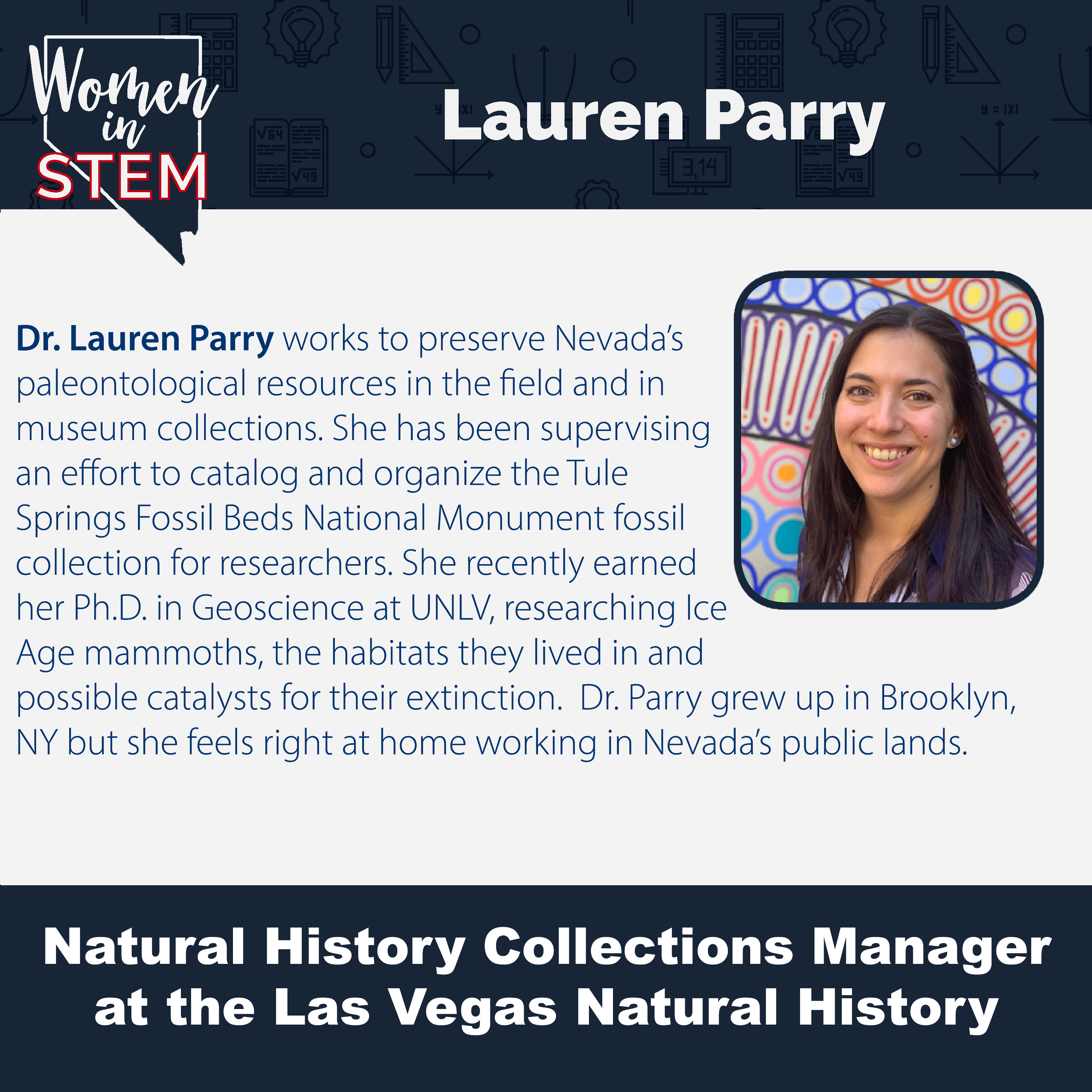 May 2020 – Dr. Amber Howerton
Dr. Amber Howerton is an Assistant Professor of Chemistry at Nevada State College, where she teaches courses in chemistry and biochemistry and mentors undergraduate students in research. She is the Associate Chair of the Department of Physical and Life Sciences, serves on the faculty senate, and chairs the Curriculum Committee. She is a first-generation college graduate and has been an inspirational instructor at NSC, earning the NSC Teaching Excellence Award in 2017. She gives chemistry demos at events like Girl Powered at Liberty HS and other events that are focused on high school students such as Student Interactions with STEM (SISTEM). She has taken an impressive number of students as mentees, involved them in her research, and encouraged them to pursue post-graduate education and careers in STEM. Many of her mentees are first generation college students, female students, or from other underrepresented groups in STEM.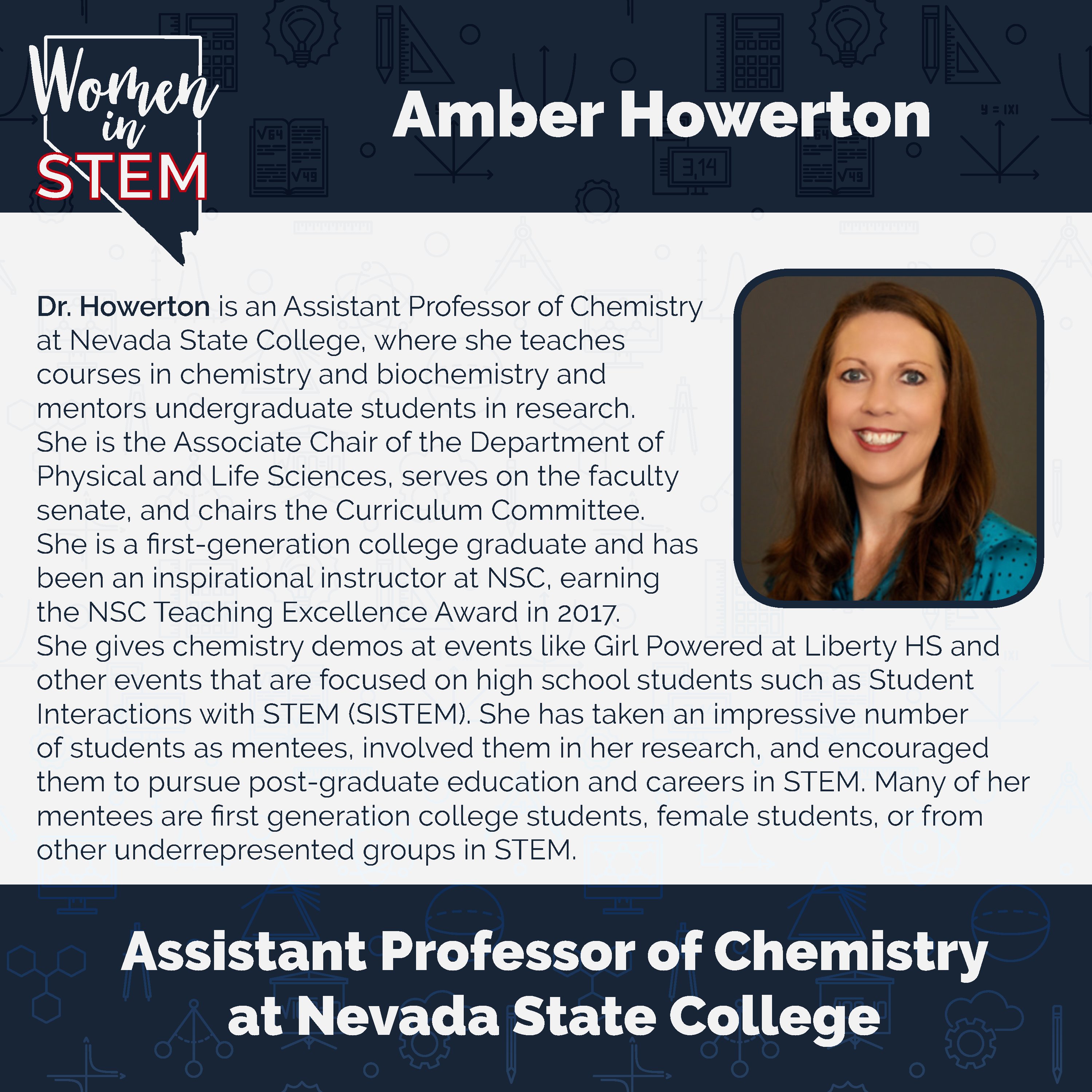 April 2020 – Dr. Flora Monique Phipps
Dr. Flora Monique Phipps has been a full-time clinician educator at the UNLV School of Dental medicine for over a decade. She has been Vice Chair of the Department of Clinical Sciences since July 2018, Director of Comprehensive Care since 2012, and was appointed Interim Chair in late 2019. Her dental philosophy that she models to her students is to provide the best high quality care while educating and improving the oral health of their patients. She sits on multiple school committees, currently serves in the Nevada Army National Guard as a Dental Officer since 2010 and was recently promoted to Lieutenant Colonel. Lastly, she is passionate about representing her community in a positive environment, while still empowering those around her to succeed.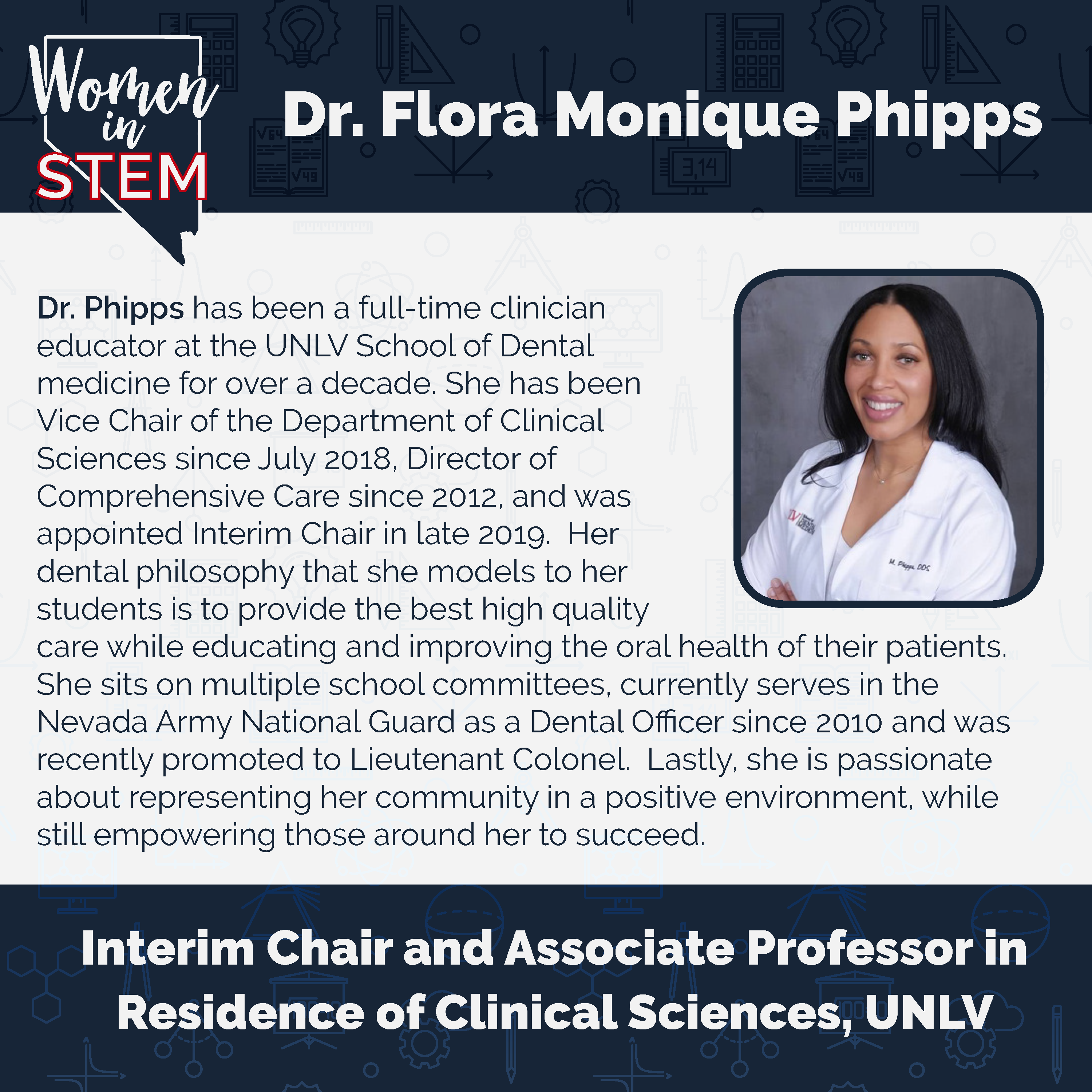 March 2020 – Eva Hernandez
Eva Hernandez was born and raised in Reno, Nevada. She is a recent graduate from the University of Nevada, Reno – where she received her Bachelors of Science in Molecular Microbiology and Immunology and the only Latina from her major for the spring class of 2019. She has been admitted to Carrington College's nursing program and aspires to become an oncology nurse. Eva also works with teens at her local Boys and Girls Club, where she pushes them to discover careers in STEM.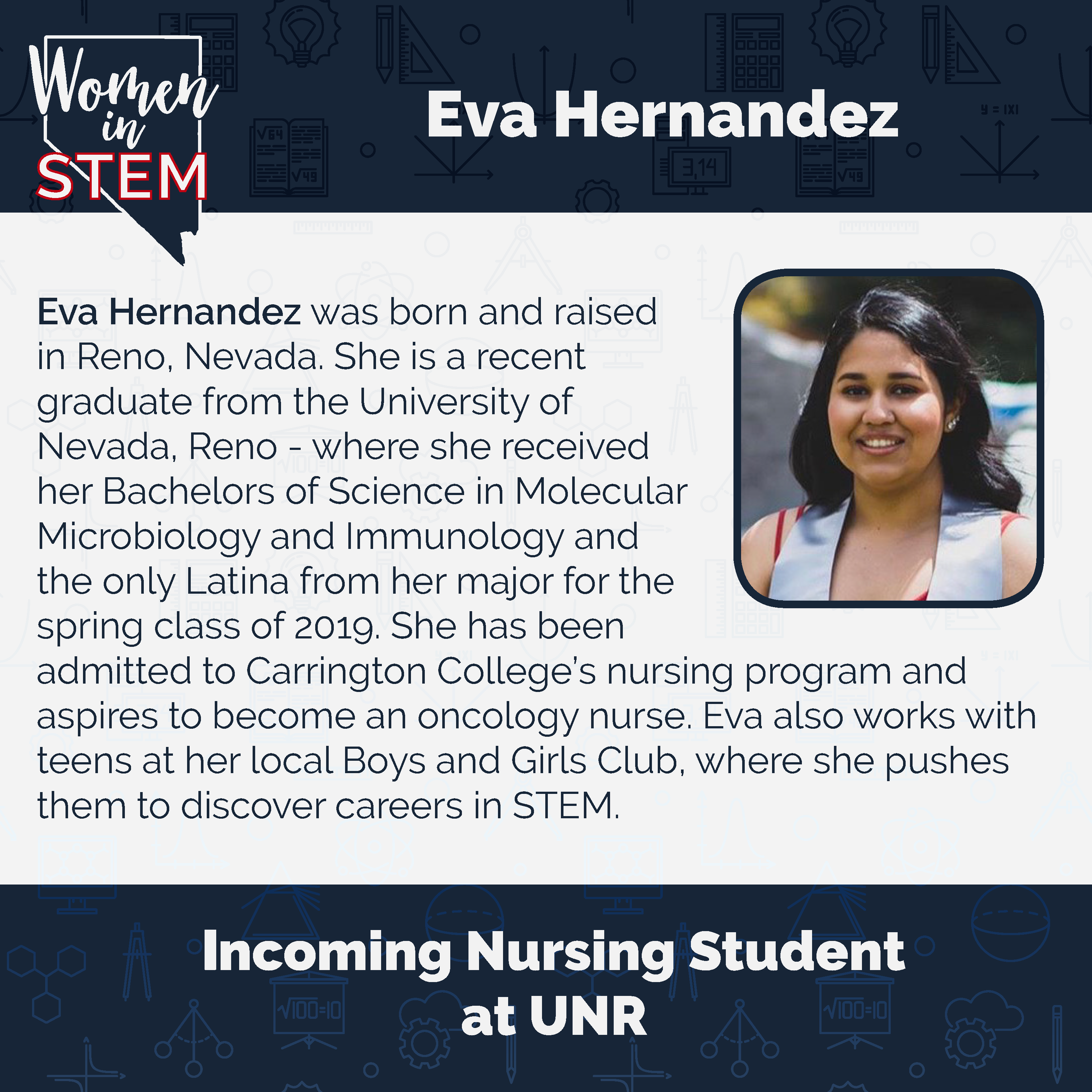 February 2020 – Isabelle West
Isabelle West is a student at Truckee Meadows Community College as a part of Tesla's Manufacturing Development Program. She is learning coding and aspires to become an engineer at Tesla. Isabelle is a success story for J4NG Nevada (formerly JAG Nevada), which helped Isabelle connect with Tesla's Reno Gigafactory, where she currently works on the line. Her work at the Gigafactory sparked Isabelle's interest in engineering and a career in STEM.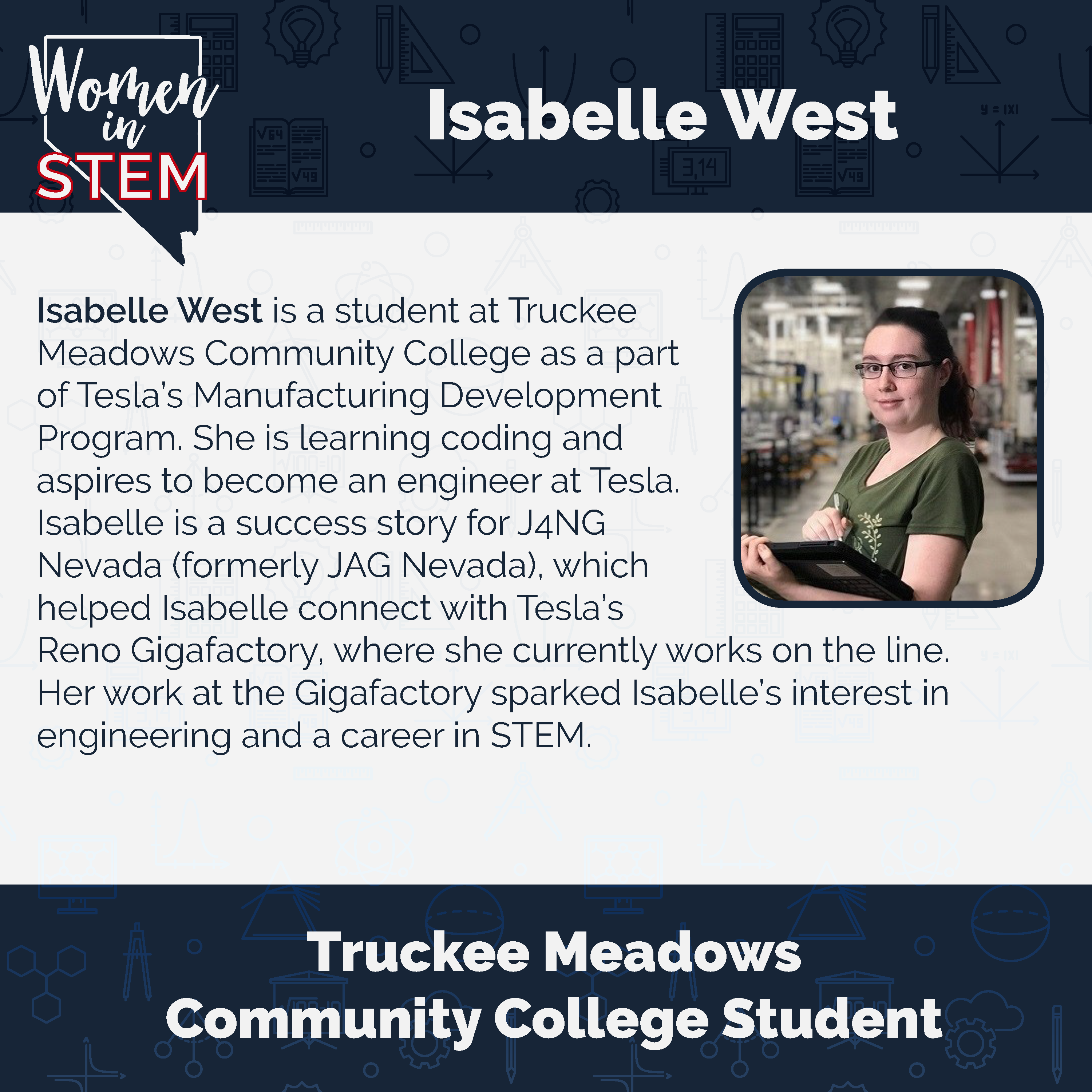 January 2020 – Nicole Thomas
Nicole Thomas received her Bachelor's in Biology from UNLV. She is an avid researcher, previously conducting work in physics, geology, and microbiology. She is currently pursuing her Masters of Science in Science Education, and her research aims to identify and address misconceptions in STEM. Nicole is currently a Nevada NASA Space Grant Consortium Fellow, a member of UNLV Scientista, and a member of 500 Women Scientists. She hopes to inspire young women and underrepresented groups to pursue degrees in STEM.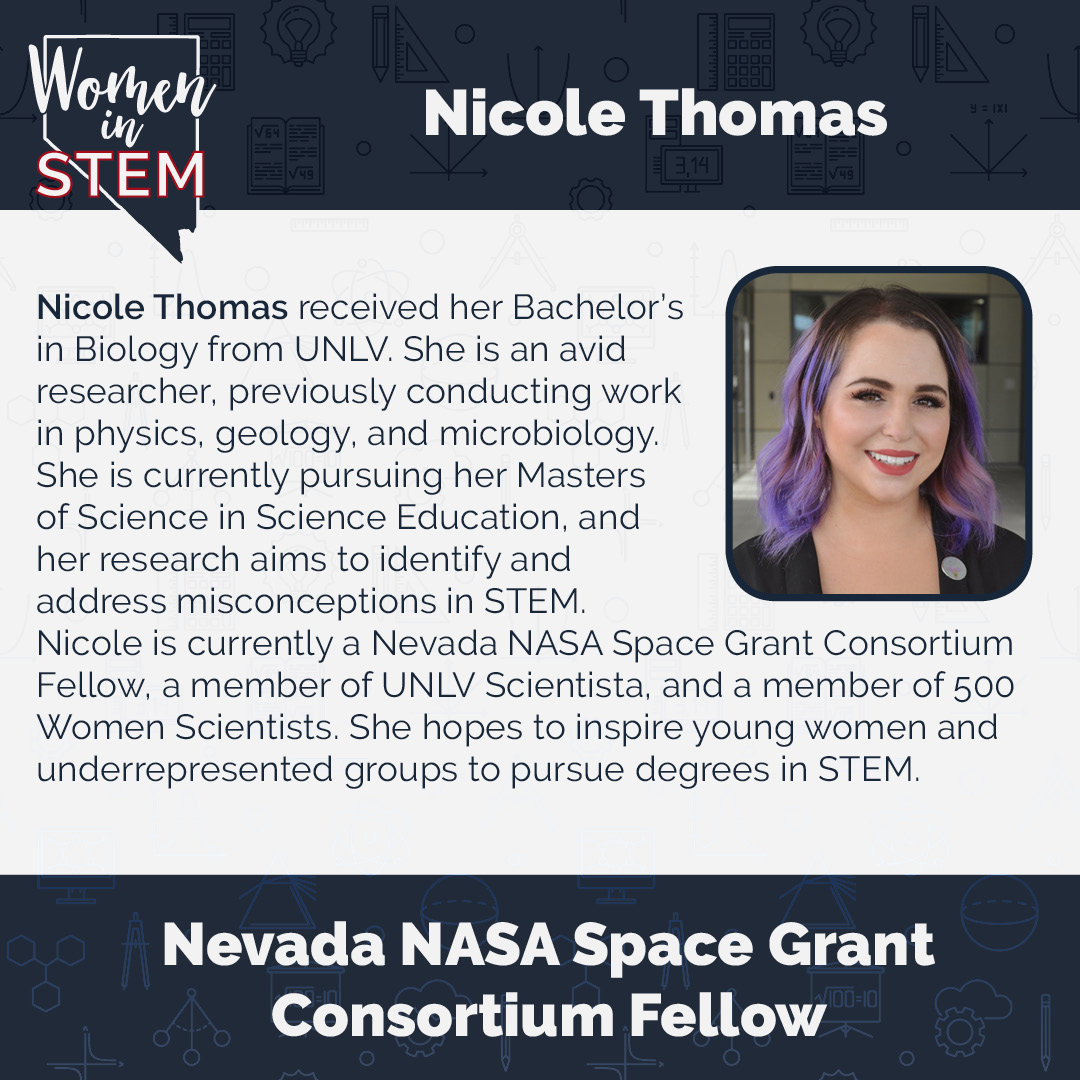 December 2019 – Dr. Mira Han
Mira Han, Ph.D. is an Assistant Professor in the School of Life Sciences at UNLV. Dr. Han's lab studies the evolution of genome structure. She uses bioinformatic software to analyze DNA sequence data and understand how genomes have changed over the course of evolution. These sequences she analyzes can help to find associations between mutations, including transposable elements and complex human diseases.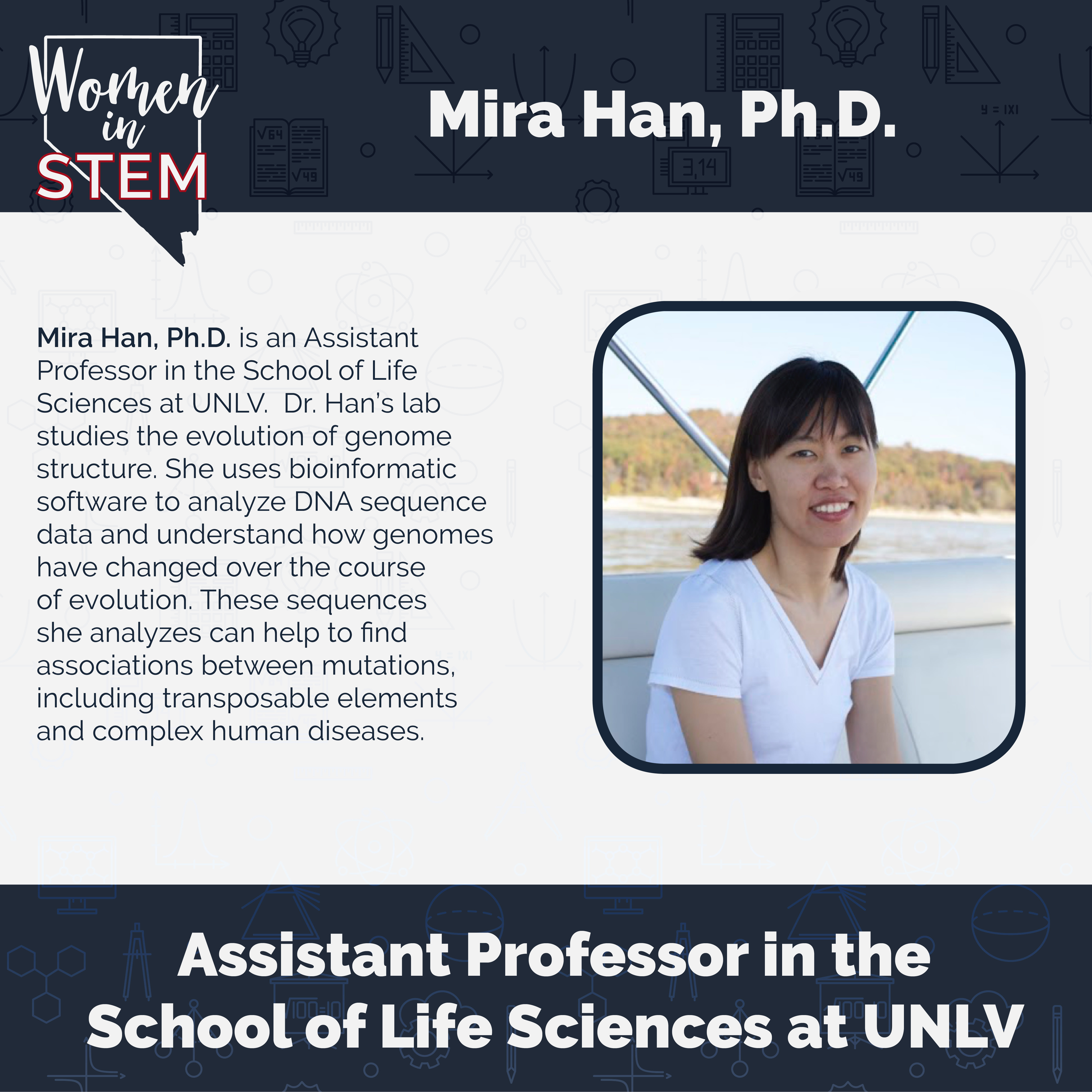 November 2019 – Dr. Fatma Nasoz
Dr. Fatma Nasoz holds a joint appointment as an Assistant Professor at the Department of Computer Science and the Director of Information Technology at The Lincy Institute at UNLV. Her areas of expertise are Machine Learning and Human-Computer Interaction. Her current research focuses on deep learning analysis of data across numerous domains like health, education, and genomics. Most recently she is a co-investigator on the Genomics Acquisition and Analysis (GAA) Core of the $11.4M NIH COBRE grant at UNLV. At The Lincy Institute, she steers computer science research to lead The Institute's data collection, management, and analysis efforts. Dr. Nasoz is passionate about increasing the number of women in computer science and in 2018, she was honored with the Faculty/Staff Community Outreach Award for her launch of the Girls Who Code Club at UNLV.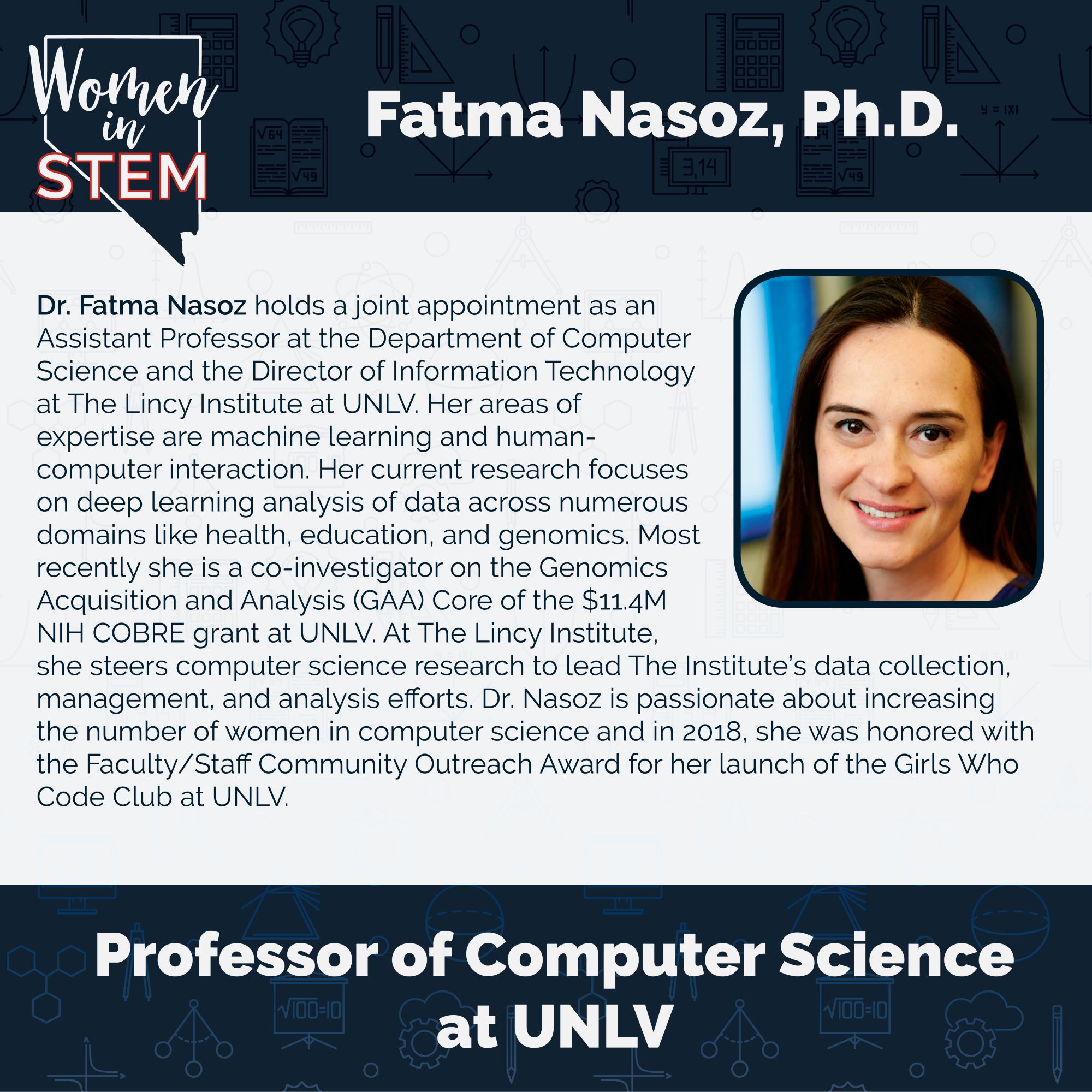 October 2019 – Jericha Mendoza
Jericha is an energy engineer at HDR Consulting LLC, where she helps commercial customers manage and reduce their electric consumption and costs with energy conservation measures and renewable energy technologies. She does detailed data analysis of building energy consumption using data from a variety of sources such as electric meter data, weather data, and building system telemetry. Jericha's work includes performing complex analysis and modeling of advanced technology projects, such as solar PV plus energy storage systems for large commercial buildings. Prior to joining HDR Consulting LLC, she was the Vice President of the Society of Women Engineers Student Chapter at University of Las Vegas Nevada, where she hosted and volunteered in events to encourage peers and young girls to pursue a career in engineering. Jericha hopes to inspire others to be women in STEM!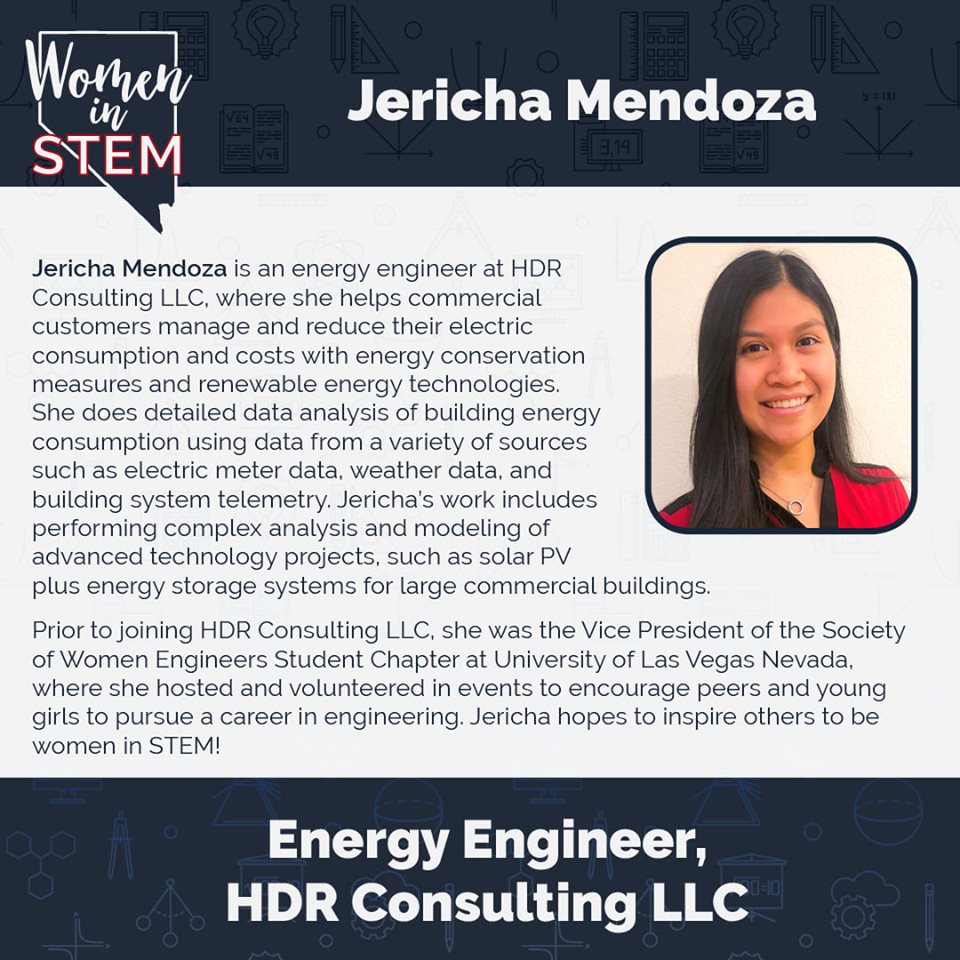 September 2019 – Gayle Porterfield
Gayle Porterfield has 31 years of telecommunications experience, served 5 years active duty in the United States Air Force in Mechanical and Quality Control, and 7 years in the Air National Guard. Gayle is Vice President of Network Construction for Cox Communications - Las Vegas, the $1.1 billion Southern Nevada cable and telecommunications company. She is responsible for leading the Las Vegas fiber and coax construction organization. Gayle has been a member of WICT (Women in Cable and Telecommunications) and SCTE (Society of Cable Telecommunications Engineers).
August 2019 – Stephanie Maddocks
Stephanie founded Power Strategies in 2006, specializing in technology implementation and business consulting services for the gaming and hospitality industries. She is a graduate of the University of California, Berkeley with a BA in Economics and has over 30 years of gaming industry experience in game and systems development, manufacturing, sales and support and has participated in the opening of more than 65 casinos worldwide. Stephanie has designed casino software systems, been a featured writer for gaming industry publications, taught classes on behalf of UNLV's International Gaming Institute, and has provided expert witness services for gaming technologies. Stephanie has been recognized as a Great Woman of Gaming Proven Leader and is a member of the Board of Directors of Noah's Animal House and the Nevada chapter of the International Women's Forum.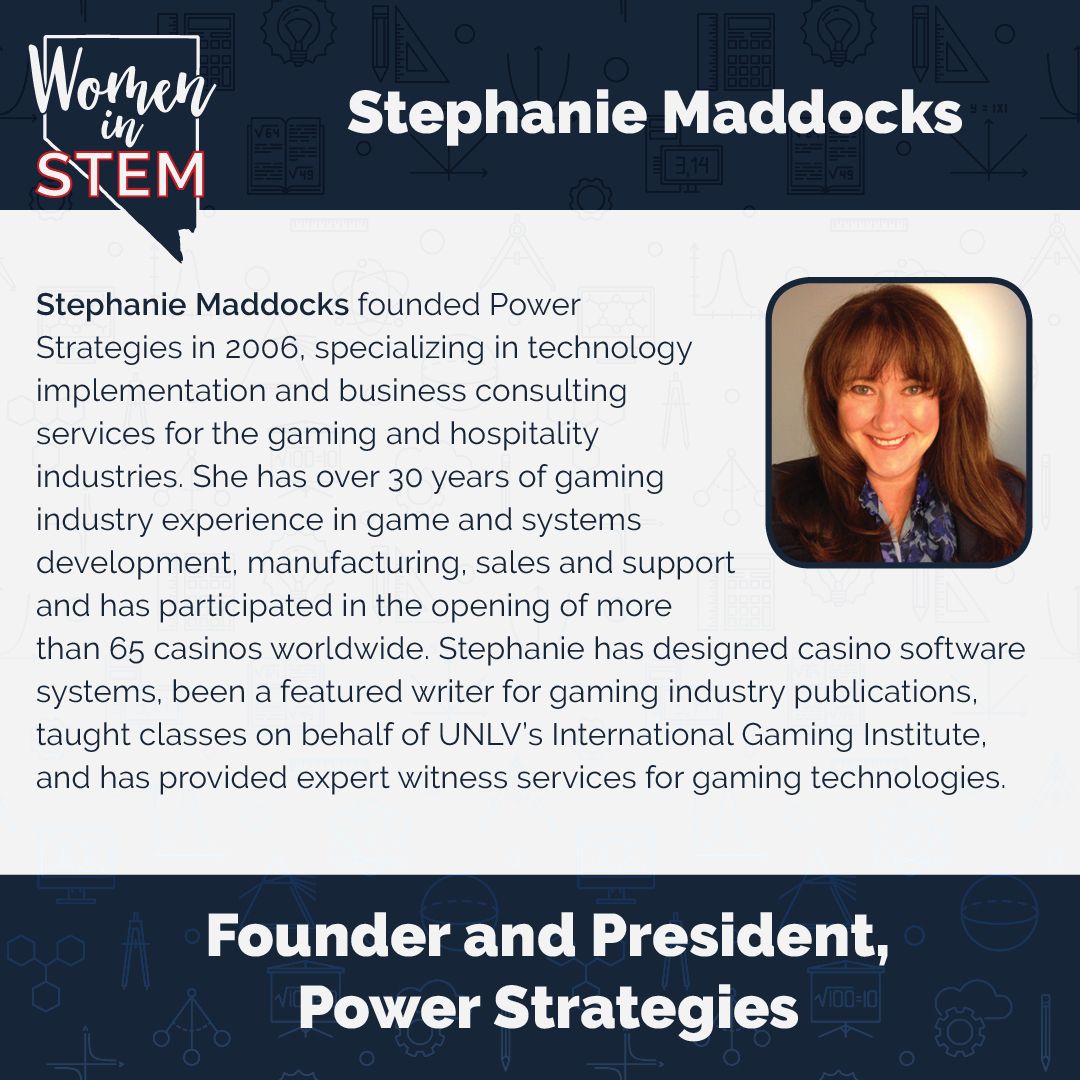 July 2019 – Debera Thomas, Ph.D.
Dr. Debera Thomas is the Dean of the Orvis School of Nursing at the University of Nevada Reno. Dr. Thomas received her bachelor's and master's degrees from Northern Illinois University, her doctoral degree in nursing from the State University of New York at Buffalo, and her nurse practitioner certificates from Case Western Reserve University in Cleveland, Ohio. Dr. Thomas is a published author in many journals involving a variety of topics including the culture and education of nursing, different types of treatments for different conditions, and more. Dr. Thomas is passionate about improving the nursing field as a whole and uses her extensive knowledge in nursing to educate and train Nevada's next generation of medical professionals.
June 2019 – Dr. Erica Marti
Dr. Erica Marti is an Assistnat Professor at UNLV in the Civil and Environmental Engineering Department. Dr. Marti has PhD and MS degrees in Civil and Environmental Engineering, and a Master of Education. Her research focuses on treatment of wastewater for potable water reuse. Dr. Marti is involved in collaborative research on professional development in engineering education, and she leads multiple programs to increase K-12 engagement in STEM. She is an active member of the American Chemical Society where she organizes annual community outreach events in Las Vegas.
May 2019 – Emily Carter
Emily Carter is a dedicated student pursuing a Pre-Medical Biology undergraduate degree at UNLV as part of the Honors College. Studying Spanish, Accounting, and Chemistry minors, Emily advocates for women in STEM careers just as she is working to achieve hers. As part of HOSA: Future Health Professionals and Scientista Foundation, Emily is engaged in the Las Vegas community encouraging student leadership. As an aspiring physician, Emily dreams of being a part of the future of female physicians in the Las Vegas healthcare industry where she can help diminish the doctor shortage. Having advocated for Career and Technical Education (CTE) with Nevada Senators and Legislators at the Nevada State Capitol and in Washington, D.C., Emily is passionate about education and research at the forefront of the future of healthcare.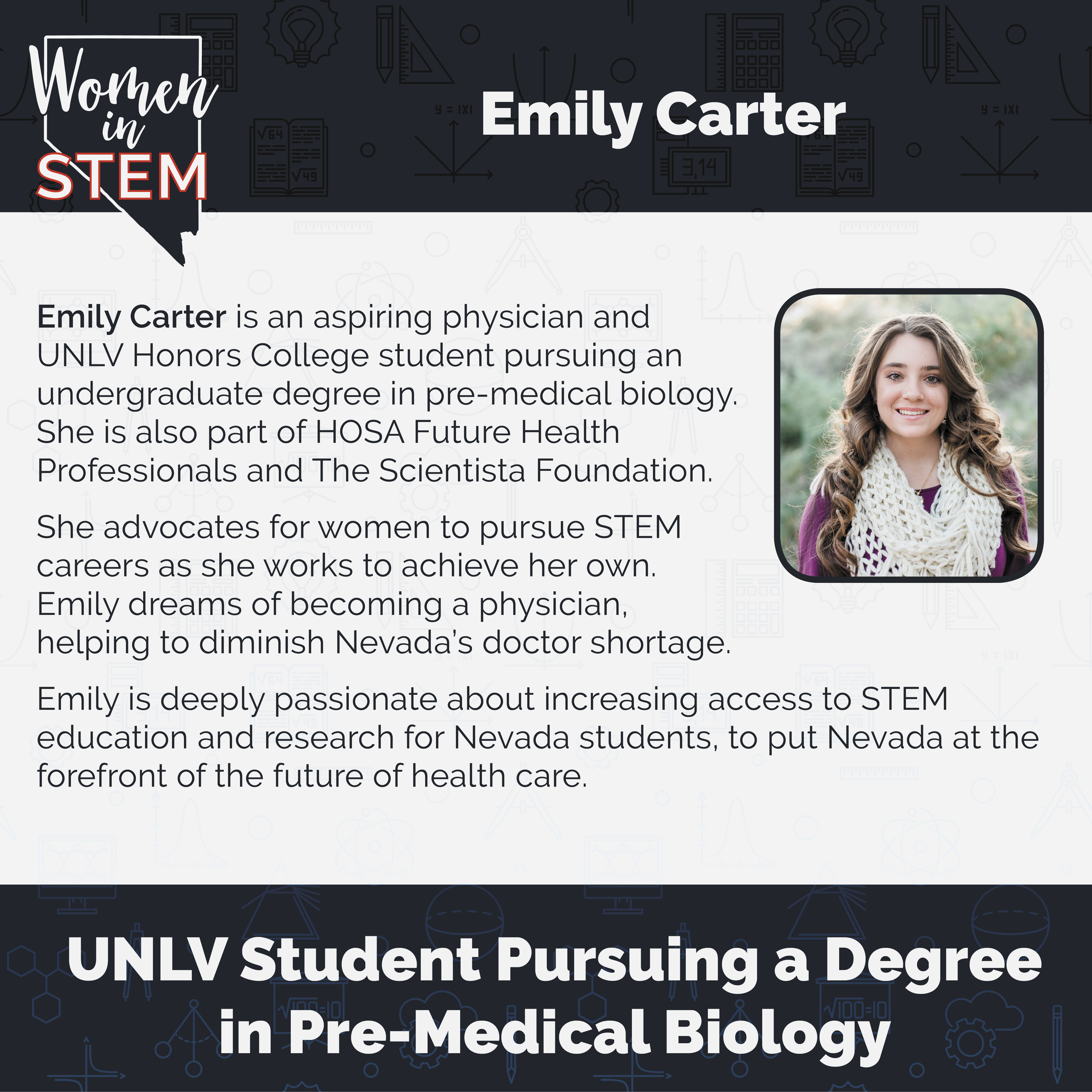 April 2019 – Karen G. Wayland, Ph.D.
Dr. Karen Wayland has a dual Ph.D. in geochemistry and resource development and works at the intersection of science and policy. She has deep roots in Nevada, starting as a Science Fellow for Senator Harry Reid, covering energy, nuclear waste, water and Native American issues. After six years as Legislative Director at the Natural Resources Defense Council, she served as senior advisor to Speaker Nancy Pelosi during congressional debate over major climate and environmental legislation. At the US Department of Energy, she worked closely with Secretary Ernest Moniz to build a state energy policy team and took a lead role in the first ever national assessment of energy infrastructure, the Quadrennial Energy Review. At Nevada's Clean Energy Project, she produced the National Clean Energy Summit. Dr. Wayland is now advising states, major utilities, and nonprofits on policies to accelerate the transition to clean energy.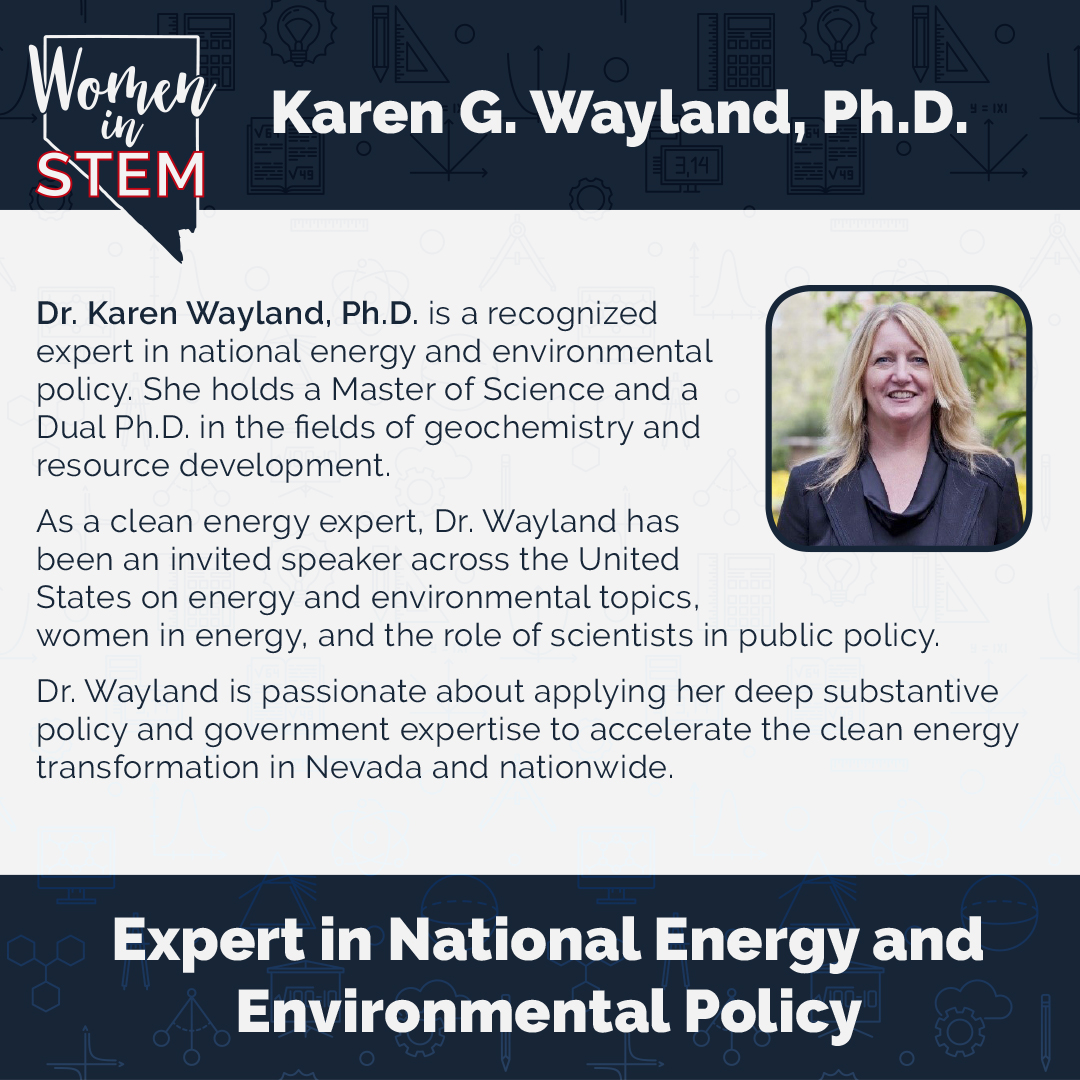 March 2019 – Dr. Christianne Yung, M.D.
Christianne Yung, MD has been practicing Adult Rheumatology in Henderson, Nevada for the past 20 years. She attended medical school at UC San Diego and completed her Fellowship in Rheumatology at UCLA in 1995. She was previously on the medical staff at Texas Tech University from 1995 to 1998. In addition to her private practice, Dr. Yung has served as a volunteer Rheumatologist at Volunteers in Medicine of Southern Nevada for the past three years. Dr. Yung is passionate about supporting women in STEM and is proud that her twin son and daughter are both pursuing careers in medicine.