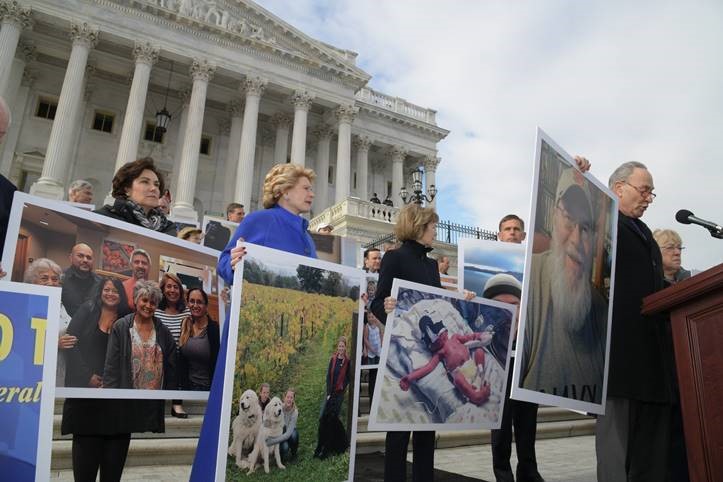 Senator Rosen Holds a Photo of Becky Esquivel, a TSA Employee Affected by the Government Shutdown
WASHINGTON, D.C. — Today, U.S. Senator Jacky Rosen (D-NV) released the following statement after participating in a press conference with Senate Minority Leader Chuck Schumer (D-NY) highlighting the devastating impacts of the government shutdown on federal workers and their families. Last Friday, Rosen met with federal workers in Nevada including Becky Esquivel, an employee from the Transportation Security Administration. More than 3,000 federal workers in Nevada saw their paychecks impacted as a result of the partial government shutdown.
"Thousands of federal employees just like Becky — a TSA employee I met with last Friday — are working every day to keep our nation safe," said Senator Rosen. "This past weekend, this shutdown became the longest shutdown in United States history. Nevadans shouldn't have to live with the fear of not knowing when their next paycheck will arrive or whether they will be able to pay their bills while the President plays political games."
BACKGROUND: Rosen plans to donate her pay to Nevada organizations that that support survivors of sexual and domestic abuse, many of whom benefit from programs funded by the Violence Against Women Act, whose authorization lapsed at midnight on December 21, 2018.
In the House, Rosen was a co-sponsor of the No Government, No Pay Act, which would prohibit Members of Congress from getting paid during a government shutdown. Rosen was also a lead sponsor of the bipartisan SHIELD Act (H.R. 1536), which would ensure compensation for servicemembers and federal law enforcement personnel in the event of a government shutdown or a default on the nation's debt.
###
Follow Senator Jacky Rosen online:

Twitter: @SenJackyRosen

Facebook: Senator Jacky Rosen

Instagram: @SenJackyRosen