As the only former computer programmer in the U.S. Senate, Jacky has been a champion for investing in science, technology, engineering and math (STEM) education, workforce training, and jobs of the future. In 2019, Jacky's bipartisan Building Blocks of STEM Act was signed into law to increase the participation of young girls in computer science and enhance support for early childhood STEM education. Jacky is also the co-founder and co-chair of the first ever bipartisan Women in STEM Caucus in the Senate.
Jacky is passionate about supporting and encouraging women and girls who are interested in pursuing STEM education and careers. Every month, our office highlights an outstanding Nevada woman in STEM because Jacky is committed to promoting positive female role models who will inspire young women and girls everywhere about pursuing STEM opportunities.
Previously Highlighted Women in
STEM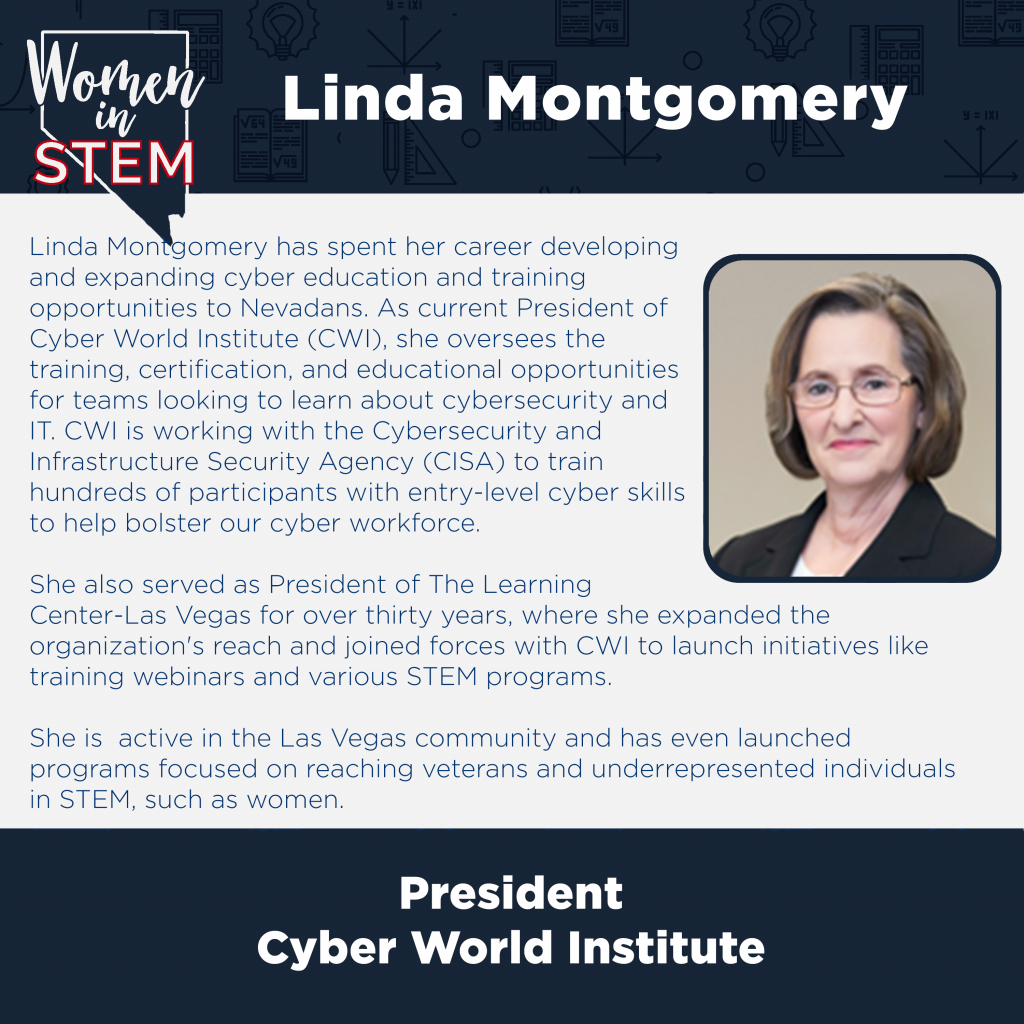 August 2023 – Linda Montgomery
Linda Montgomery has spent her career developing and expanding cyber education and training opportunities to Nevadans. As current President of Cyber World Institute (CWI), she oversees the training, certification, and educational opportunities for teams looking to learn about cybersecurity and IT. CWI is working with the Cybersecurity and Infrastructure Security Agency (CISA) to train hundreds of participants with entry-level cyber skills to help bolster our cyber workforce.
She also served as President of The Learning Center-Las Vegas for over thirty years, where she expanded the organization's reach and joined forces with CWI to launch initiatives like training webinars and various STEM programs.
She is  active in the Las Vegas community and has even launched programs focused on reaching veterans and underrepresented individuals in STEM, such as women.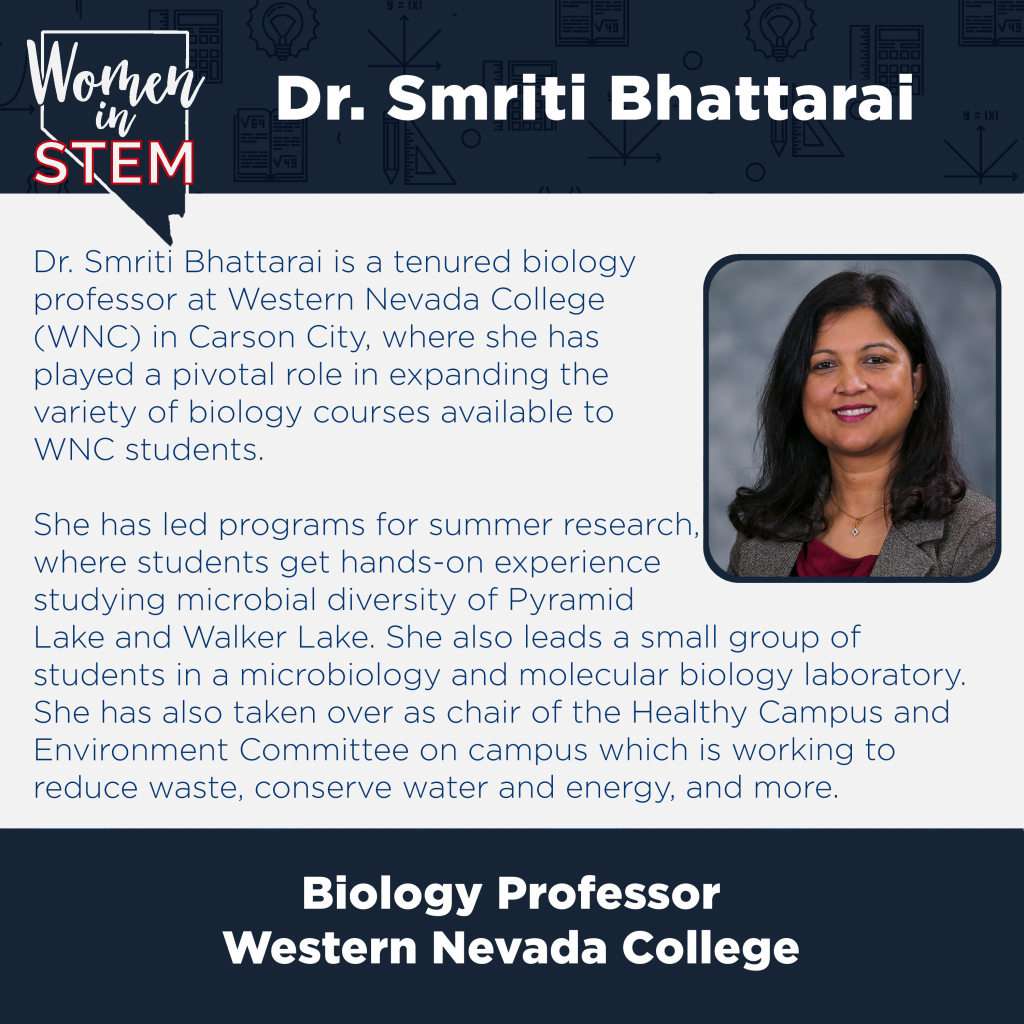 JuLY 2023 – Dr. Smriti Bhattarai
Dr. Smriti Bhattarai is a tenured biology professor at Western Nevada College (WNC) in Carson City, where she has played a pivotal role in expanding the variety of biology courses available to WNC students.
She has led programs for summer research, where students get hands-on experience studying microbial diversity of Pyramid Lake and Walker Lake. She also leads a small group of students in a microbiology and molecular biology laboratory. She has also taken over as chair of the Healthy Campus and Environment Committee on campus which is working to reduce waste, conserve water and energy, and more.
June 2023 – Dr. Brittany Kruger
Dr. Brittany Kruger serves as Assistant Research Professor in the Division of Hydrologic Sciences at the DRI. She specializes in biogeochemical assessments of various natural and altered ecosystems.
Dr. Kruger is passionate about supporting the work of Tribal partners and understanding large scale impacts of environmental changes. She has worked at the Nevada National Security Site with a multi-Tribal group on a revegetation effort and works with Tribal partners to understand the impact of wildfires on critical surface waters.
May 2023 – Dr. Jessica Caldwell
Dr. Jessica Caldwell serves as the Director of Women's Alzheimer's Movement Prevention Center at the Lou Ruvo Center for Brain Health in Las Vegas. She is also Director of Cleveland Clinic's Center for Neurodegeneration and Translational Neuroscience, a NIH-supported center designed to build research infrastructure in Southern Nevada, and an Assistant Professor at Cleveland Clinic Lerner College of Medicine and Cleveland Clinic Lerner Research Institute.
Her research examines the ways that Alzheimer's disease development and brain impact differs in men and women, and also explores Alzheimer's prevention approaches in women. Dr. Caldwell also serves on several boards and advisory groups where she shares her innovative research.
april 2023 – Dr. Ying Yang
Dr. Ying Yang is a chemist and assistant professor in the Department of Chemistry at the University of Nevada, Reno (UNR). As a polymer materials chemist, she leads a team of students and researchers at UNR in designing molecular platforms for highly recyclable plastics which can efficiently degrade back to their feedstock.
Dr. Yang's research has won the National Science Foundation's CAREER Award, recognizing her as a future leader in her field.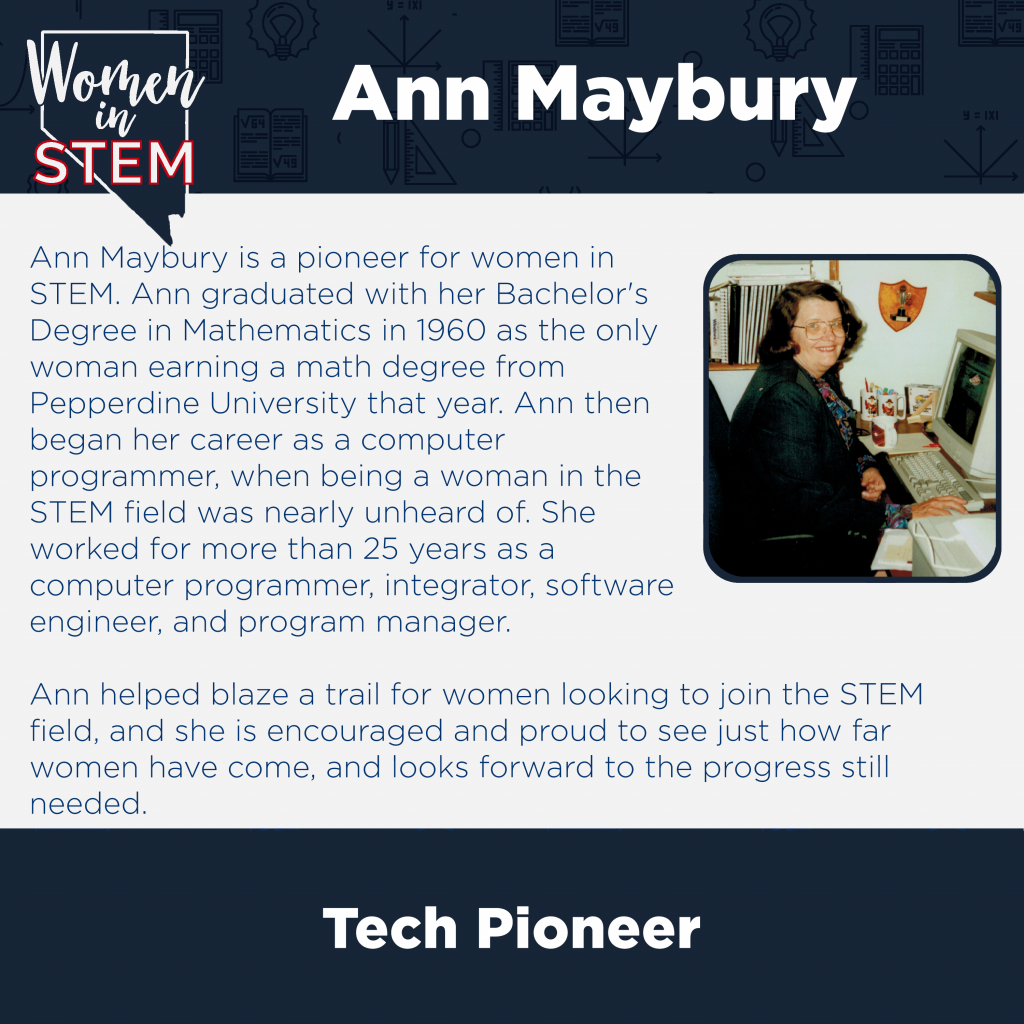 Ann Maybury is a pioneer for women in STEM. Ann graduated with her Bachelor's Degree in Mathematics in 1960 from Pepperdine University. Ann then began her career as a computer programmer, when being a woman in the STEM field was nearly unheard of. She worked for more than 25 years as a computer programmer, integrator, software engineer, and program manager.
Ann helped blaze a trail for women looking to join the STEM field, and she is encouraged and proud to see just how far women have come, and looks forward to the progress still needed.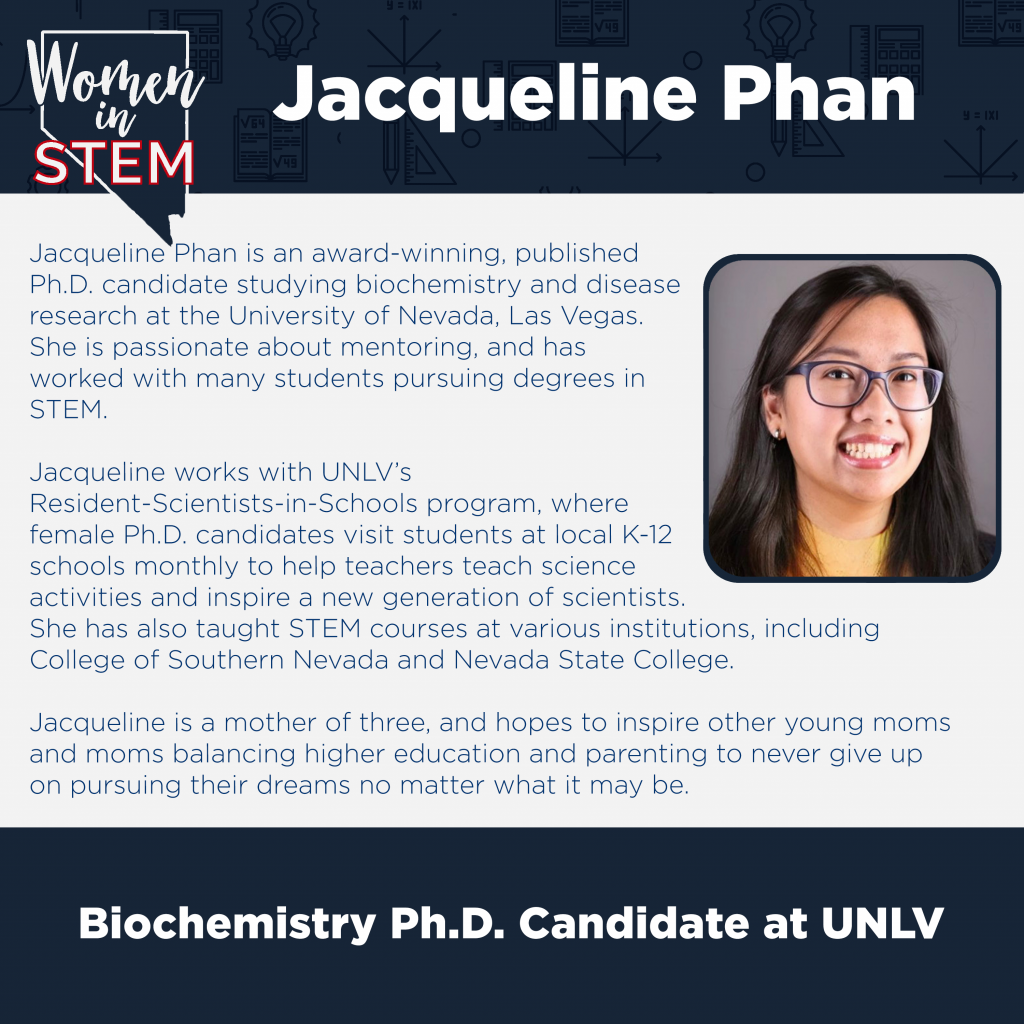 february 2023 – Jacqueline Phan
Jacqueline Phan is an award-winning, published Ph.D. candidate studying biochemistry and disease research at the University of Nevada, Las Vegas.  She is passionate about mentoring, and has worked with many students pursuing degrees in STEM. 
Jacqueline works with UNLV's Resident-Scientists-in-Schools program, where female Ph.D. candidates visit students at local K-12 schools monthly to help teachers teach science activities and inspire a new generation of scientists. She has also taught STEM courses at various institutions, including College of Southern Nevada and Nevada State College. 
Jacqueline is a mother of three, and hopes to inspire other young moms and moms balancing higher education and parenting to never give up on pursuing their dreams no matter what it may be.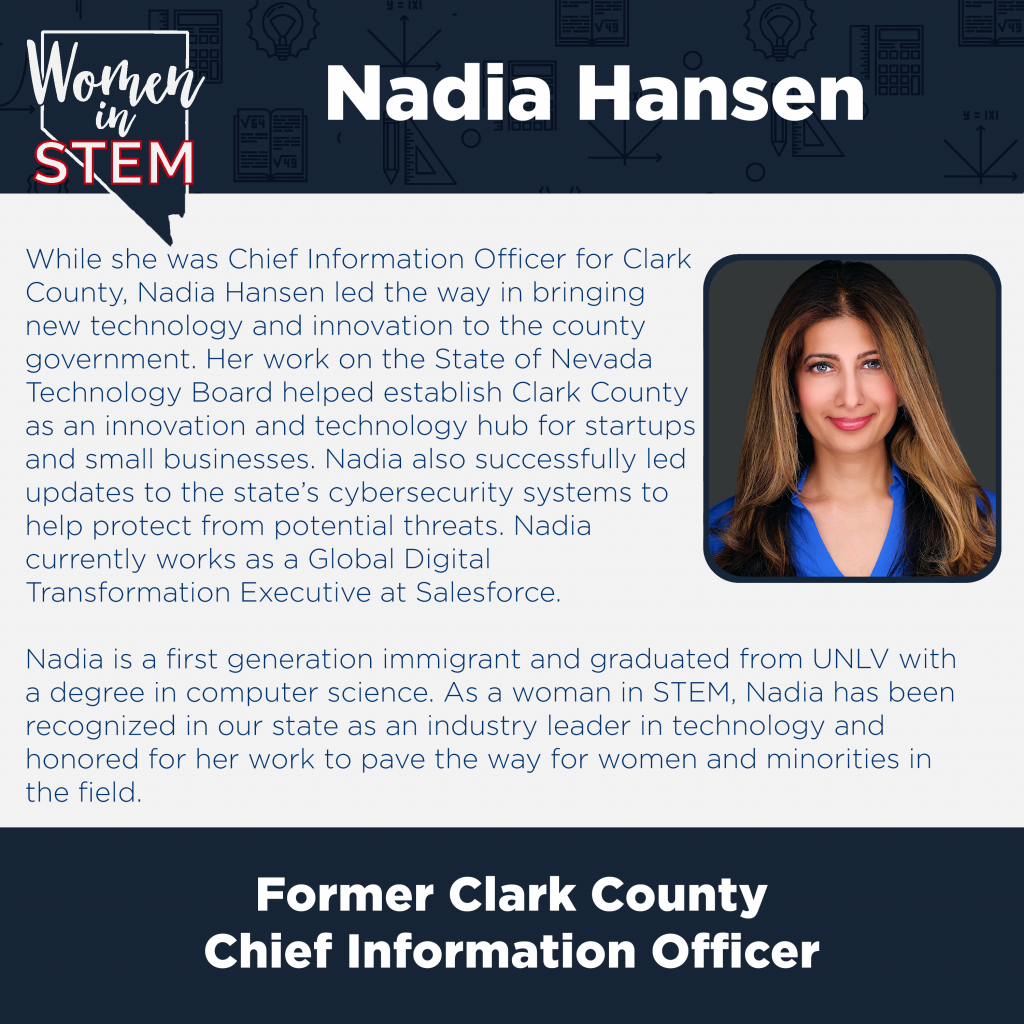 January 2023 – Nadia Hansen
While she was Chief Information Officer for Clark County, Nadia Hansen led the way in bringing new technology and innovation to the county government. Her work on the State of Nevada Technology Board helped establish Clark County as an innovation and technology hub for startups and small businesses. Nadia also successfully led updates to the state's cybersecurity systems to help protect from potential threats. Nadia currently works as a Global Digital Transformation Executive at Salesforce.
Nadia is a first generation immigrant and graduated from UNLV with a degree in computer science. As a woman in STEM, Nadia has been recognized in our state as an industry leader in technology and honored for her work to pave the way for women and minorities in the field.
december 2022 – Ajanaé Williams
Ajanaé Williams is a scientist on the Computing and Data Science team at the Nevada National Security Site (NNSS). Born and raised in Las Vegas, Ajanaé realized early on her love for computers and science. While studying computer science at the University of Nevada, Las Vegas, Ajanaé was awarded UNLV's African American Scholar Award and a Millennium Scholarship for her studies.
As a scientist at NNSS, Ajanaé is part of the experimental process from start to finish, seeing through the development of software, setting up detectors' systems, and fielding experiments. She inspires girls and young women throughout Nevada to enter STEM fields and break society's expectations of what "a scientist looks like" – instead of a lab coat, Ajanaé wears a hard hat to work!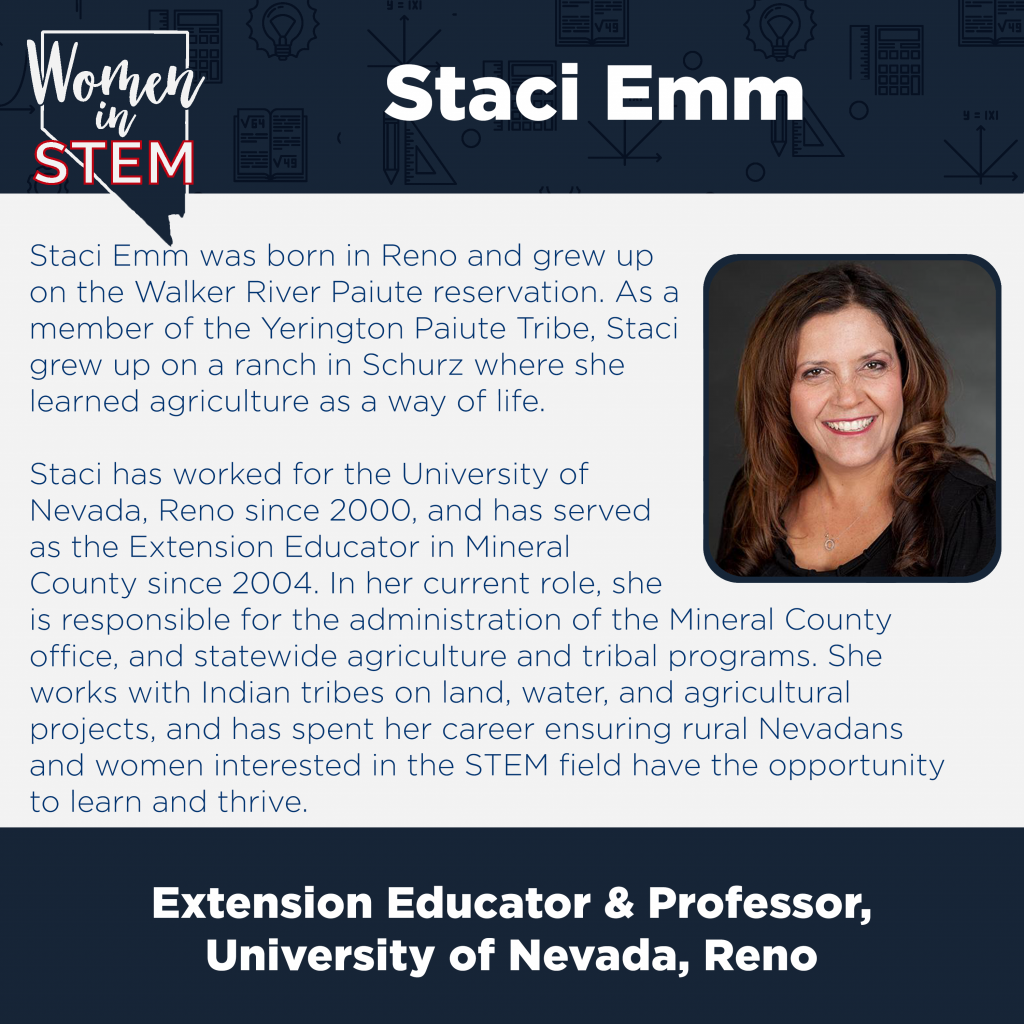 November 2022 – Staci Emm
Staci Emm was born in Reno and grew up on the Walker River Paiute reservation. As a member of the Yerington Paiute Tribe, Staci grew up on a ranch in Schurz where she learned agriculture as a way of life.
Staci has worked for the University of Nevada, Reno since 2000, and has served as the Extension Educator in Mineral County since 2004. In her current role, she is responsible for the administration of the Mineral County office, and statewide agriculture and tribal programs. She works with Indian tribes on land, water, and agricultural projects, and has spent her career ensuring rural Nevadans and women interested in the STEM field have the opportunity to learn and thrive.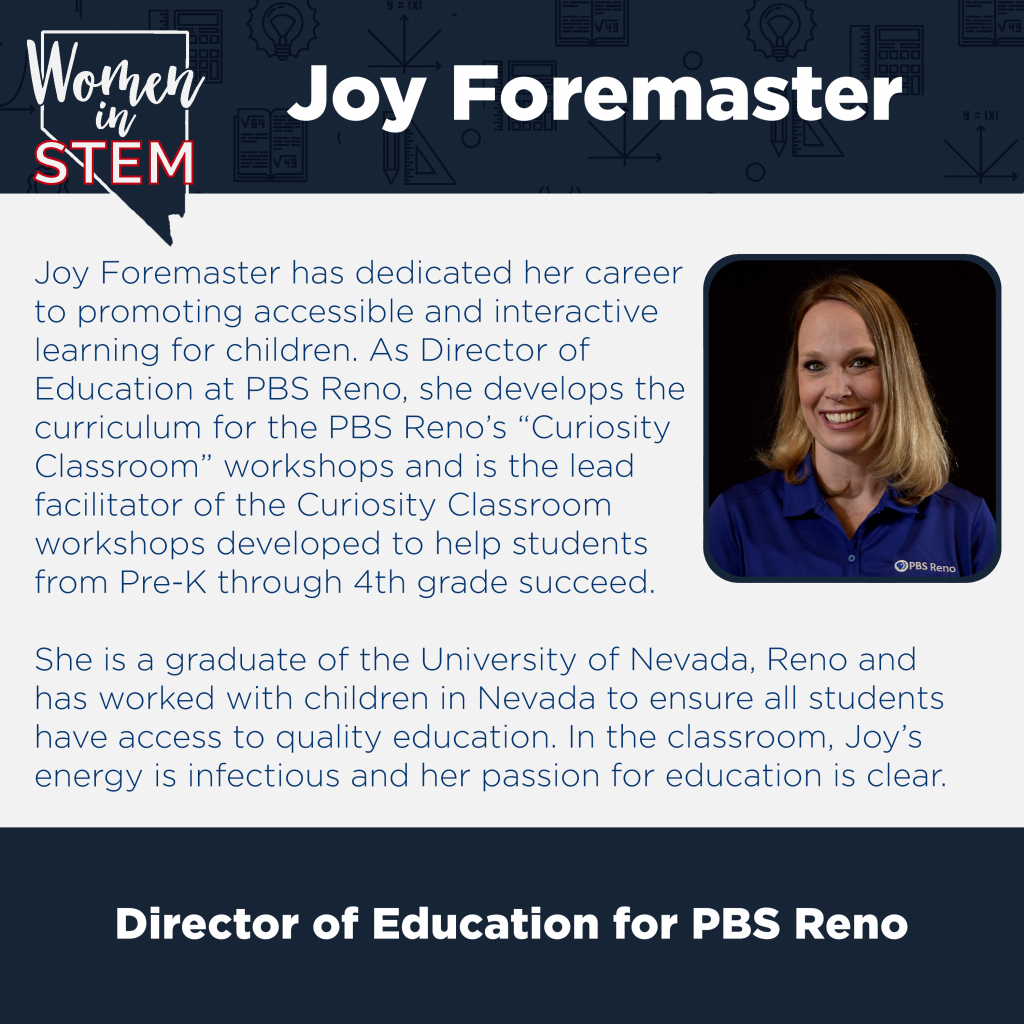 October 2022 – Joy Foremaster
Joy Foremaster has dedicated her career to promoting accessible and interactive learning for children. As Director of Education at PBS Reno, she develops the curriculum for the PBS Reno's "Curiosity Classroom" workshops and is the lead facilitator of the Curiosity Classroom workshops developed to help students from Pre-K through 4th grade succeed.
She is a graduate of the University of Nevada, Reno and has worked with children in Nevada to ensure all students have access to quality education. In the classroom, Joy's energy is infectious and her passion for education is clear.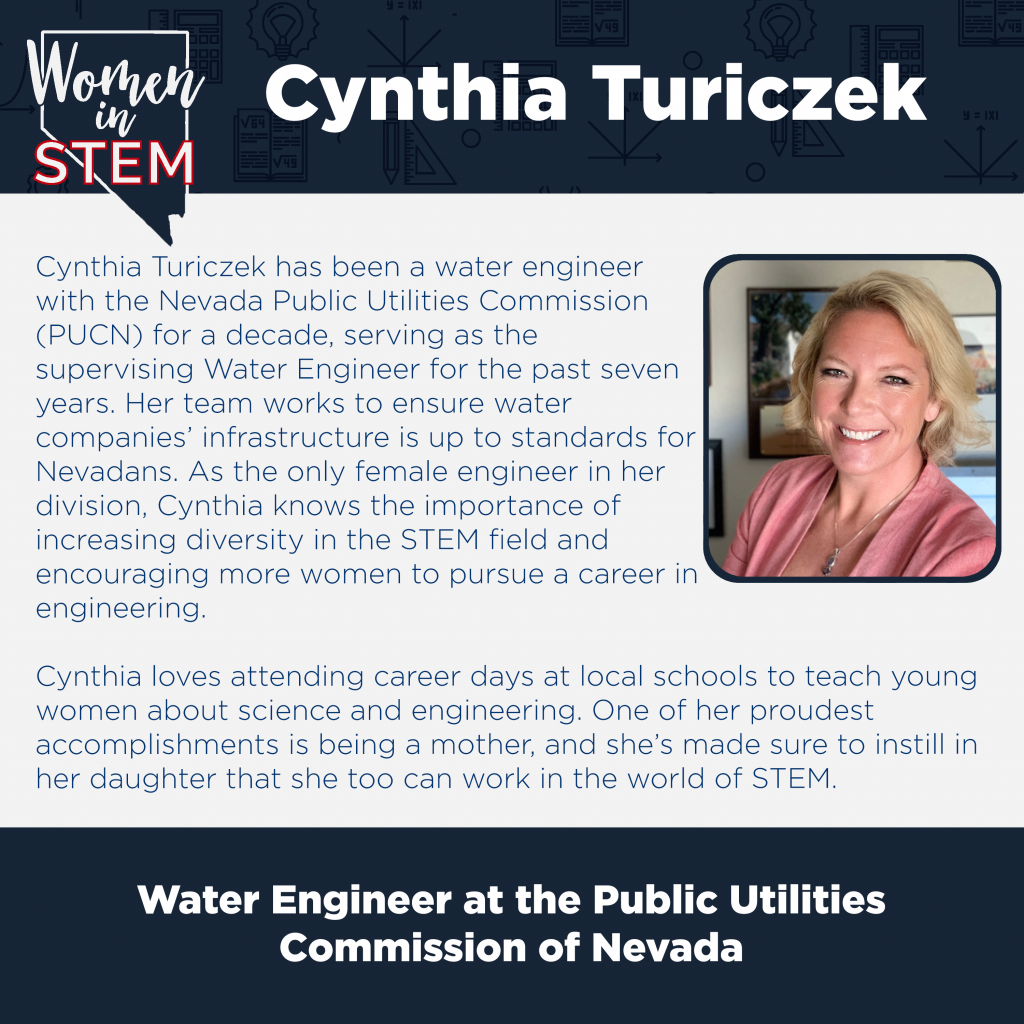 SEPTEMBER 2022 – Cynthia Turiczek
Cynthia Turiczek has been a water engineer with the Nevada Public Utilities Commission for a decade, serving as the supervising Water Engineer for the past seven years. Her team works to ensure water and wastewater companies' infrastructure meets high standards for Nevadans. As the only female engineer in her division, Cynthia knows the importance of increasing the number of women in the STEM field and encouraging more women to pursue a career in engineering.
Cynthia loves attending career days at local schools to teach young women about science and engineering. One of her proudest accomplishments is being a mother, and she's made sure to instill in her daughter that she too can work in the world of STEM.
AUGUST 2022 – Citlally Lopez
Citlally Lopez is a first-generation Mexican American and the first University of Nevada, Las Vegas (UNLV) student to ever be awarded the Pfizer La Jolla Academic Industrial Relations Diversity Research Fellowship in Chemistry. Her research focuses on creating a drug that stops the growth of cancer cells. Citlally says that thanks to encouragement from her older sister, who is studying to become a doctor in Reno, she was able to see herself in the STEM field despite a historic underrepresentation of both women and minorities.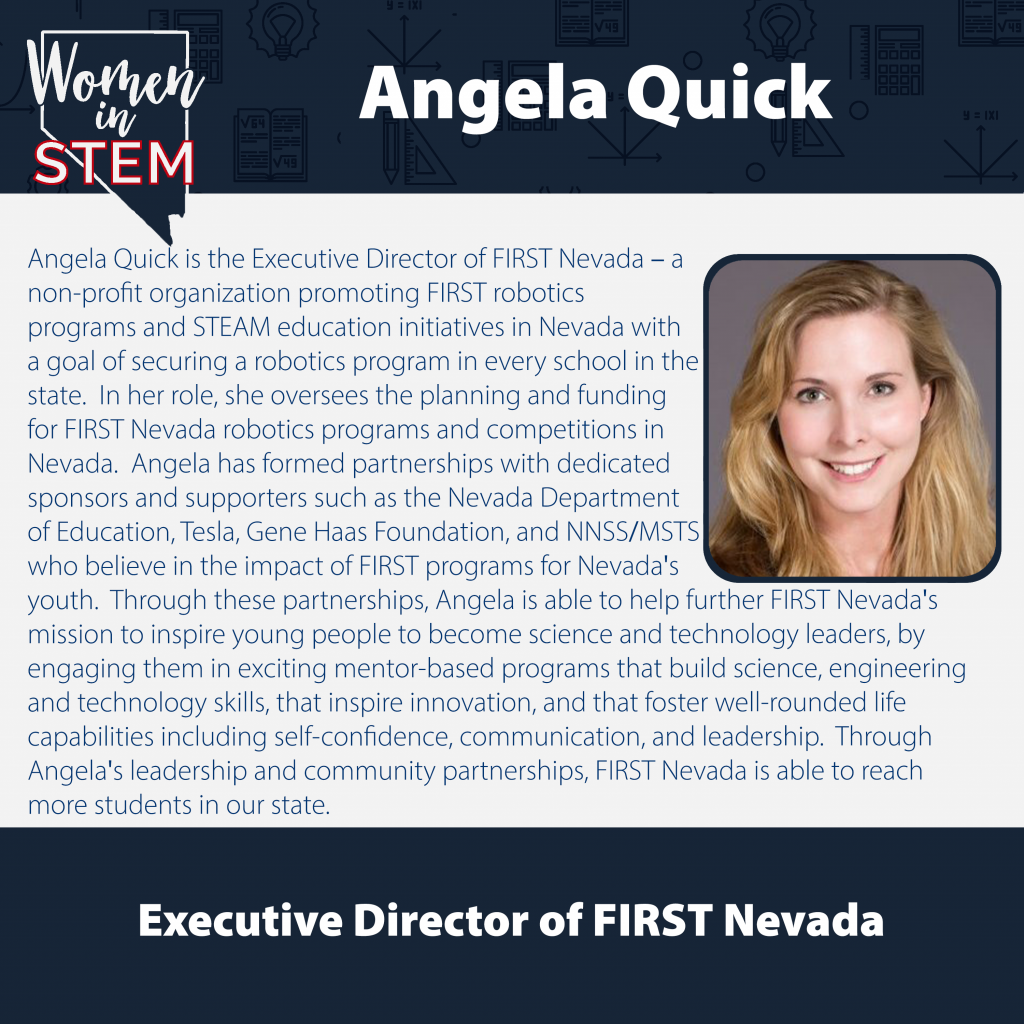 Angela Quick is the Executive Director of FIRST Nevada – a non-profit organization promoting FIRST robotics programs and STEAM education initiatives in Nevada with a goal of securing a robotics program in every school in the state.  In her role, she oversees the planning and funding for FIRST Nevada robotics programs and competitions in Nevada.  Angela has formed partnerships with dedicated sponsors and supporters such as the Nevada Department of Education, Tesla, Gene Haas Foundation, and NNSS/MSTS who believe in the impact of FIRST programs for Nevada's youth.  Through these partnerships, Angela is able to help further FIRST Nevada's mission to inspire young people to become science and technology leaders, by engaging them in exciting mentor-based programs that build science, engineering and technology skills, that inspire innovation, and that foster well-rounded life capabilities including self-confidence, communication, and leadership.  Through Angela's leadership and community partnerships, FIRST Nevada is able to reach more students in our state.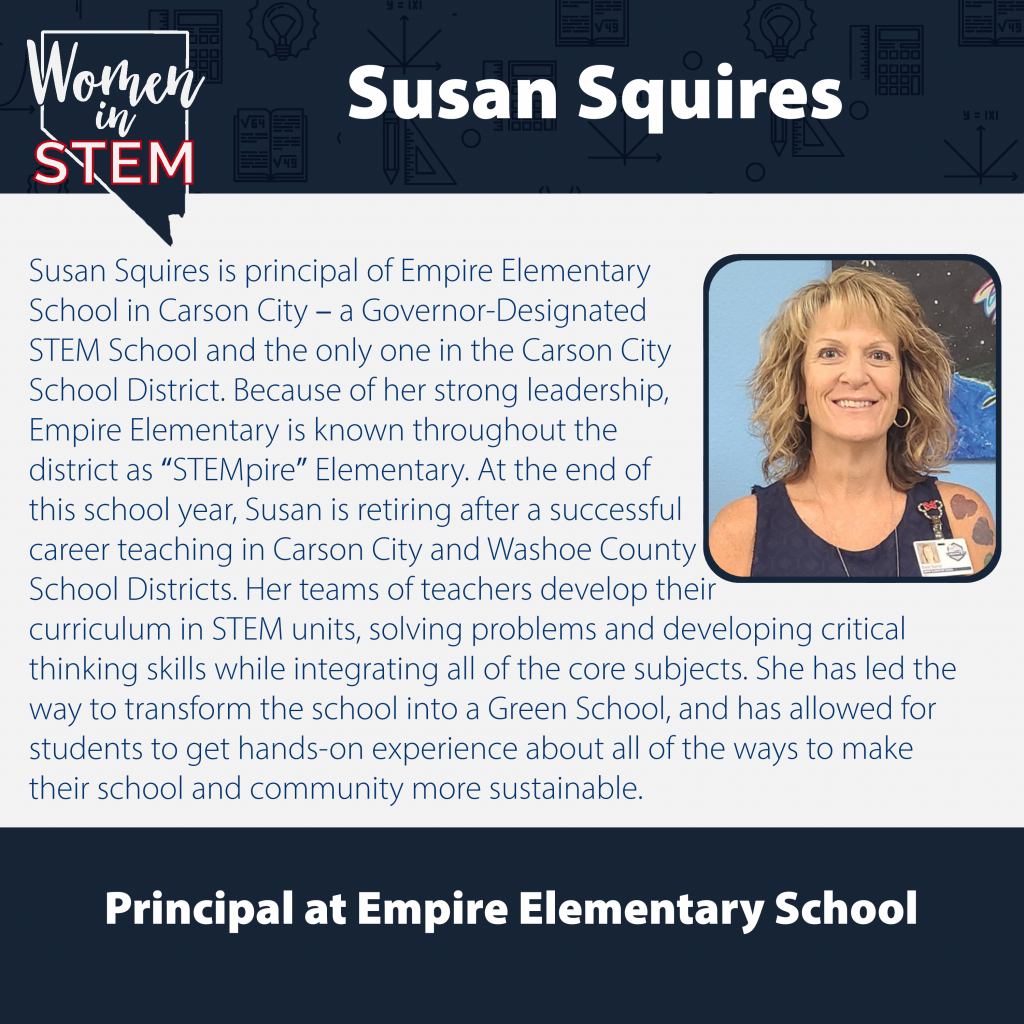 June 2022 – Susan Squires
Susan Squires is principal of Empire Elementary School in Carson City – a Governor-Designated STEM School and the only one in the Carson City School District. Because of her strong leadership, Empire Elementary is known throughout the district as "STEMpire" Elementary. At the end of this school year, Susan is retiring after a successful career teaching in Carson City and Washoe County School Districts. Her teams of teachers develop their curriculum in STEM units, solving problems and developing critical thinking skills while integrating all of the core subjects. She has led the way to transform the school into a Green School, and has allowed for students to get hands-on experience about all of the ways to make their school and community more sustainable.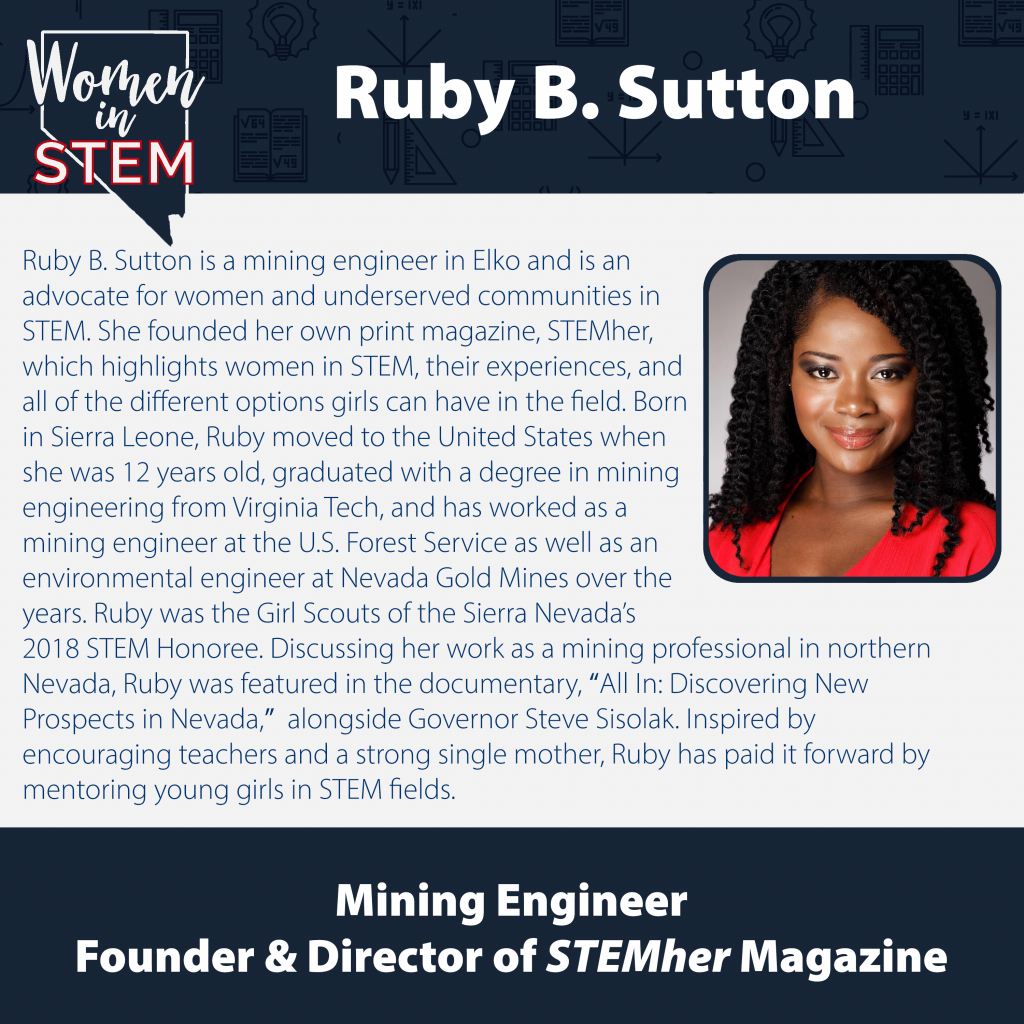 May 2022 – Ruby B. Sutton
Ruby B. Sutton is a mining engineer in Elko and is an advocate for women and underserved communities in STEM. She founded her own print magazine, STEMher, which highlights women in STEM, their experiences, and all of the different options girls can have in the field. Born in Sierra Leone, Ruby moved to the United States when she was 12 years old, graduated with a degree in mining engineering from Virginia Tech, and has worked as a mining engineer at the U.S. Forest Service as well as an environmental engineer at Nevada Gold Mines over the years. Ruby was the Girl Scouts of the Sierra Nevada's 2018 STEM Honoree. Discussing her work as a mining professional in northern Nevada, Ruby was featured in the documentary, "All In: Discovering New Prospects in Nevada," alongside Governor Steve Sisolak. Inspired by encouraging teachers and a strong single mother, Ruby has paid it forward by mentoring young girls in STEM fields.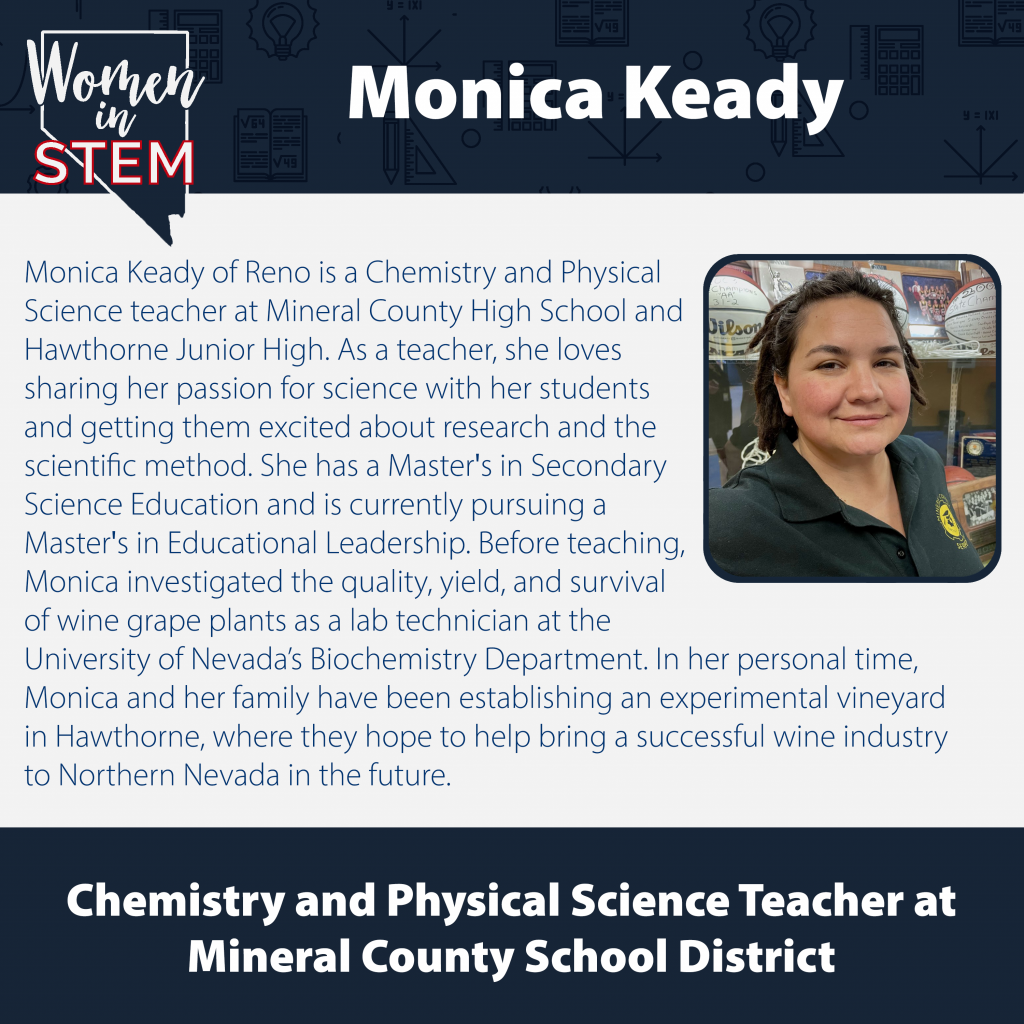 April 2022 – Monica Keady
Monica Keady of Reno is a Chemistry and Physical Science teacher at Mineral County High School and Hawthorne Junior High. As a teacher, she loves sharing her passion for science with her students and getting them excited about research and the scientific method. She has a Master's in Secondary Science Education and is currently pursuing a Master's in Educational Leadership. Before teaching, Monica investigated the quality, yield, and survival of wine grape plants as a lab technician at the University of Nevada's Biochemistry Department. In her personal time, Monica and her family have been establishing an experimental vineyard in Hawthorne, where they hope to help bring a successful wine industry to Northern Nevada in the future.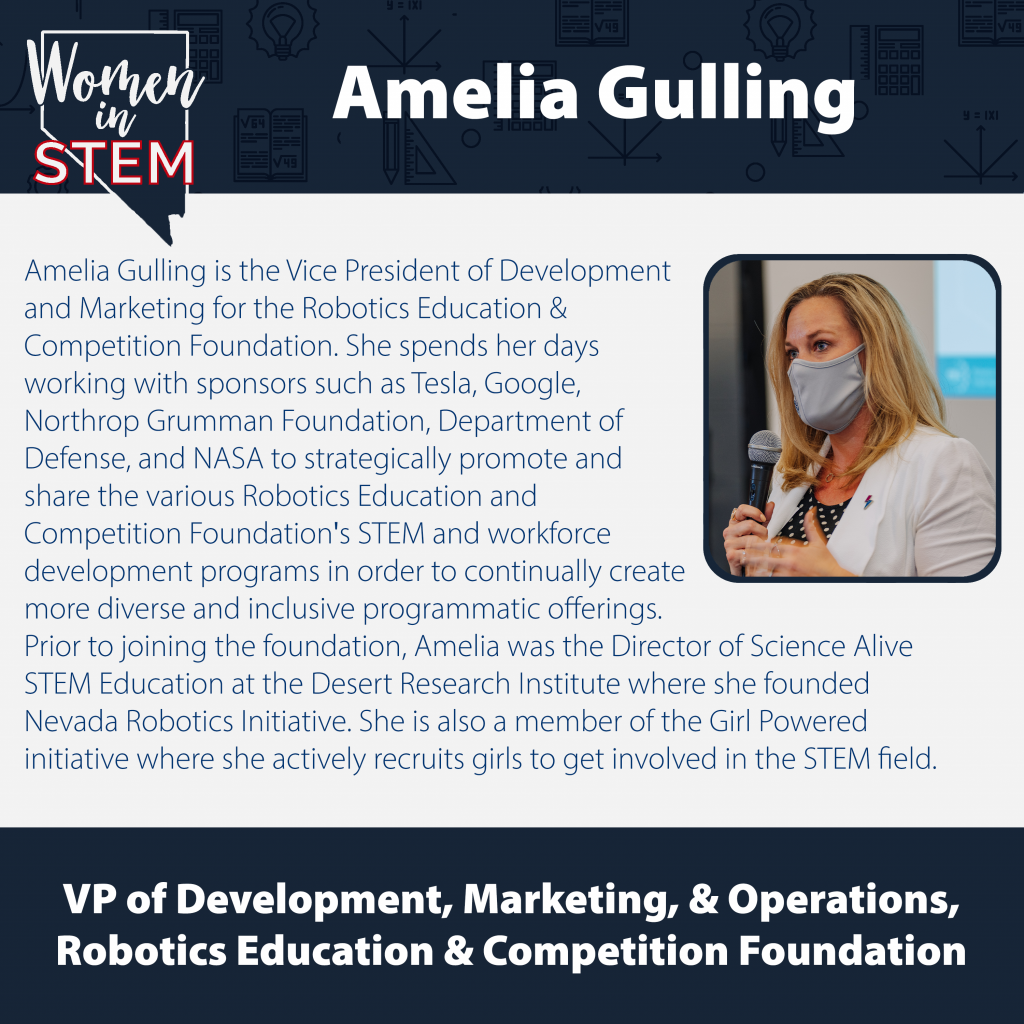 March 2022 – Amelia Gulling
Amelia Gulling is the Vice President of Development and Marketing for the Robotics Education & Competition Foundation. She spends her days working with sponsors such as Tesla, Google, Northrop Grumman Foundation, Department of Defense, and NASA to strategically promote and share the various Robotics Education and Competition Foundation's STEM and workforce development programs in order to continually create more diverse and inclusive programmatic offerings.  Prior to joining the foundation, Amelia was the Director of Science Alive STEM Education at the Desert Research Institute where she founded Nevada Robotics Initiative. She is also a member of the Girl Powered initiative where she actively recruits girls to get involved in the STEM field.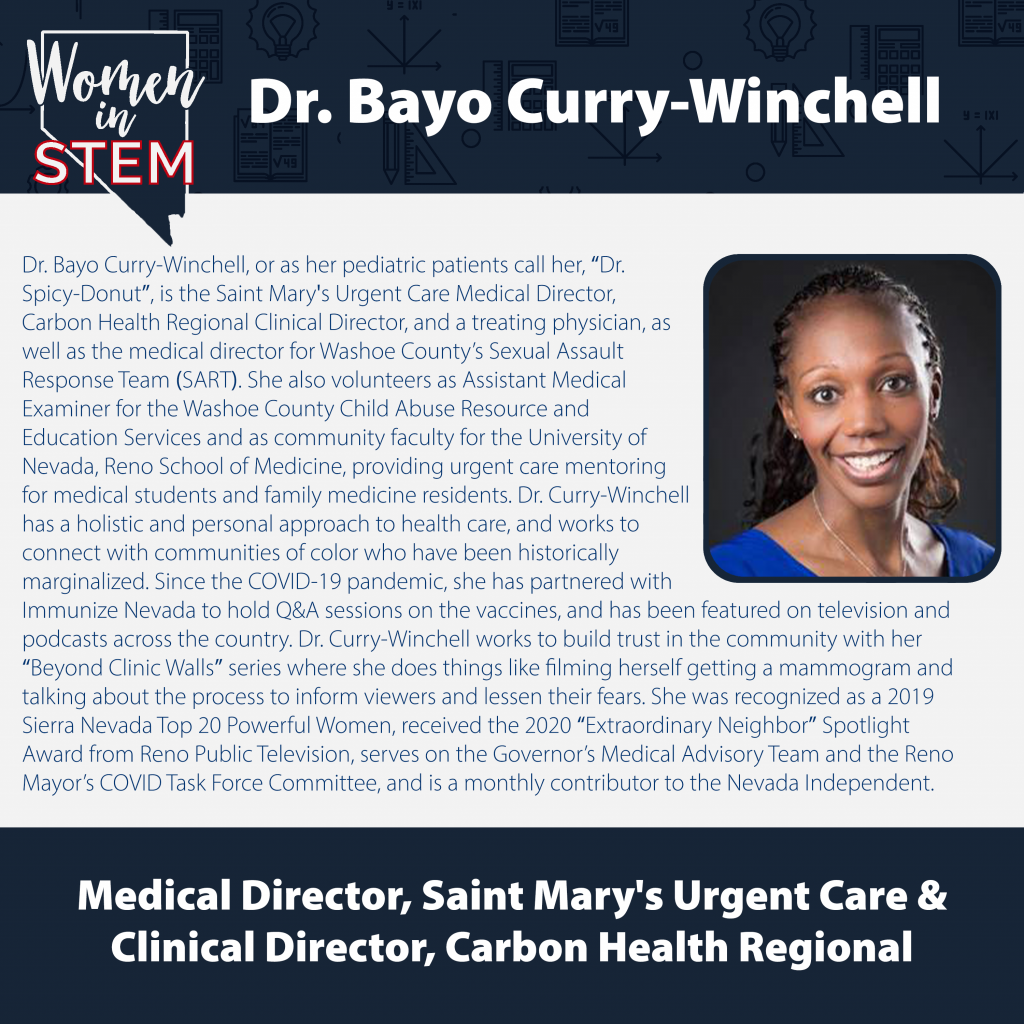 February 2022 – Dr. Bayo Curry-Winchell
Dr. Bayo Curry-Winchell, or as her pediatric patients call her, "Dr. Spicy-Donut", is the Saint Mary's Urgent Care Medical Director, Carbon Health Regional Clinical Director, and a treating physician, as well as the medical director for Washoe County's Sexual Assault Response Team (SART). She also volunteers as Assistant Medical Examiner for the Washoe County Child Abuse Resource and Education Services and as community faculty for the University of Nevada, Reno School of Medicine, providing urgent care mentoring for medical students and family medicine residents. Dr. Curry-Winchell has a holistic and personal approach to health care, and works to connect with communities of color who have been historically marginalized. Since the COVID-19 pandemic, she has partnered with Immunize Nevada to hold Q&A sessions on the vaccines, and has been featured on television and podcasts across the country. Dr. Curry-Winchell works to build trust in the community with her "Beyond Clinic Walls" series where she does things like filming herself getting a mammogram and talking about the process to inform viewers and lessen their fears. She was recognized as a 2019 Sierra Nevada Top 20 Powerful Women, received the 2020 "Extraordinary Neighbor" Spotlight Award from Reno Public Television, serves on the Governor's Medical Advisory Team and the Reno Mayor's COVID Task Force Committee, and is a monthly contributor to the Nevada Independent.
January 2022 – Dr. Jennifer Hoy
Dr. Jennifer Hoy is an assistant professor in the Department of Biology at the University of Nevada Reno (UNR), where she researches how the brain processes visual stimuli. Dr. Hoy's goal is to identify how neurons in the brain alert us to the appearance of important visual input, and works with her research team at UNR to solve the question of how the brain determines, "Where in space is this thing and how do I feel about it?" Dr. Hoy was recently granted a National Institutes of Health (NIH) RO1 grant – known as the gold standard for individual investigators – to pursue her research. In addition to her funding success, Dr. Hoy's graduate students are constantly reaching new heights under her mentorship. One of Dr. Hoy's PhD students received a prestigious NSF Graduate Research Fellowship last year, and another recently co-authored a paper in the journal Proceeding of the Royal Society B. Dr. Hoy is bringing funding for STEM research to UNR and training the next generation of scientists in Nevada.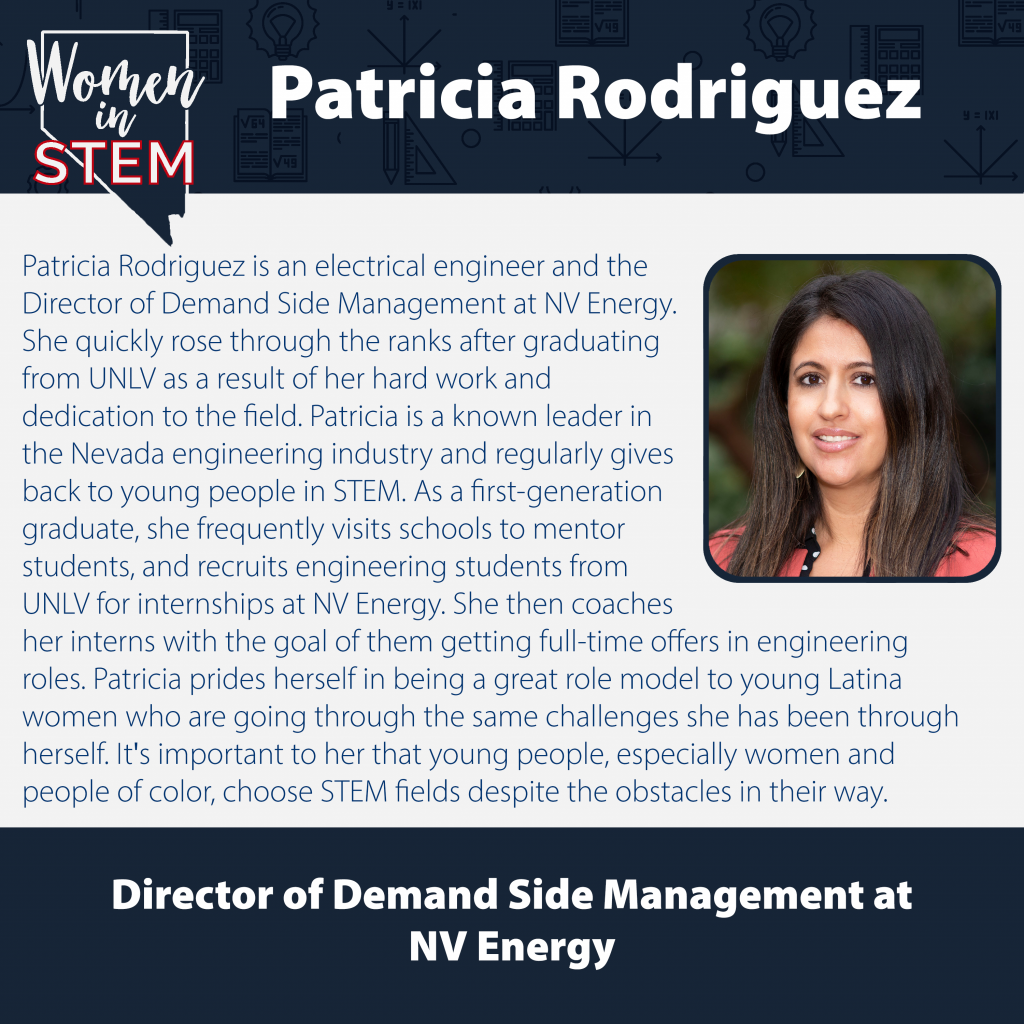 December 2021 - Patricia Rodriguez
Patricia Rodriguez is an electrical engineer and the Director of Demand Side Management at NV Energy. She quickly rose through the ranks after graduating from UNLV as a result of her hard work and dedication to the field. Patricia is a known leader in the Nevada engineering industry and regularly gives back to young people in STEM. As a first-generation graduate, she frequently visits schools to mentor students, and recruits engineering students from UNLV for internships at NV Energy. She then coaches her interns with the goal of them getting full-time offers in engineering roles. Patricia prides herself in being a great role model to young Latina women who are going through the same challenges she has been through herself. It's important to her that young people, especially women and people of color, choose STEM fields despite the obstacles in their way.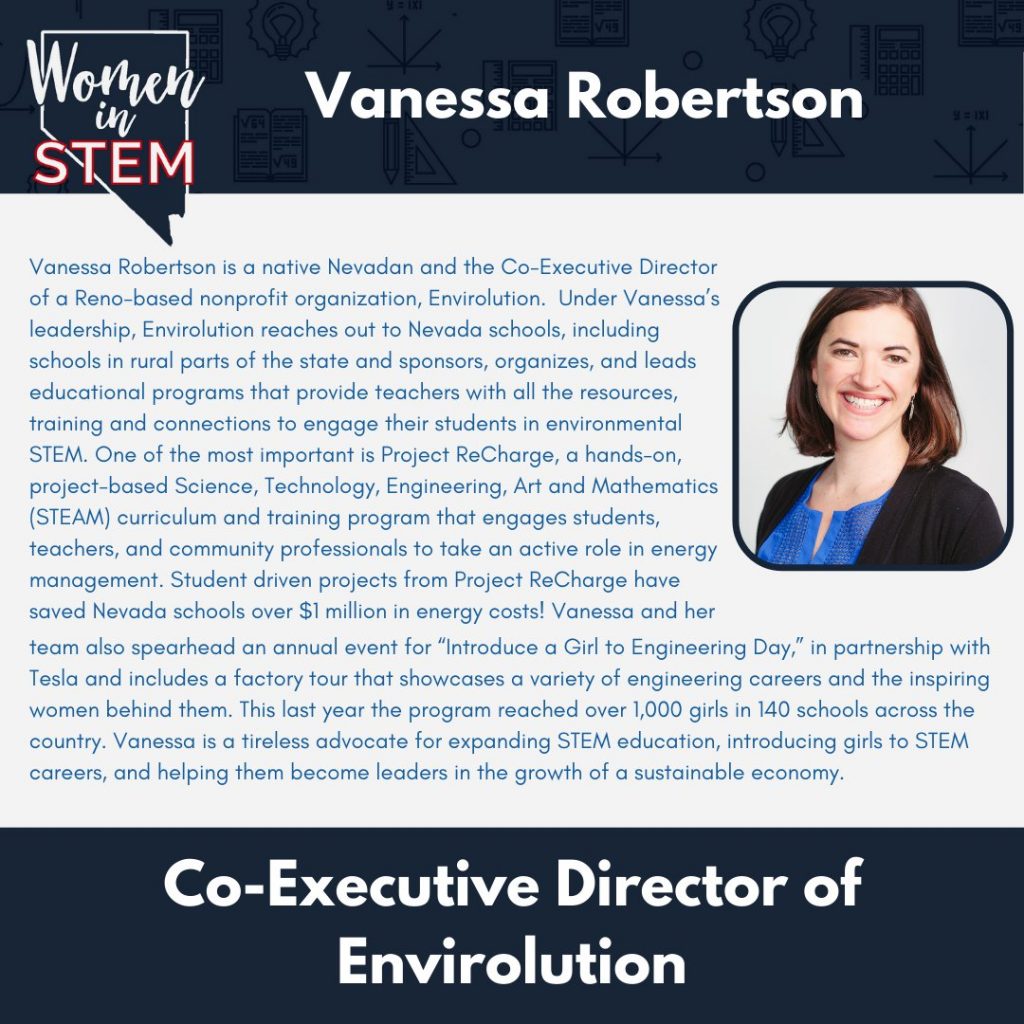 November 2021 - Vanessa Robertson
Vanessa Robertson is a native Nevadan and the Co-Executive Director of a Reno-based nonprofit organization, Envirolution. Under Vanessa's leadership, Envirolution reaches out to Nevada schools, including schools in rural parts of the states and sponsors, organizes, and leads education programs that provide teachers with all the resources, training and connections to engage their students in environmental STEM. One of the most important is Project ReCharge, a hands-on, project-based Science, Technology, Engineering, Art and Mathematics (STEAM) curriculum and training program that engages students, teachers, and community professionals to take an active role in energy management. Student drive projects from Project ReCharge have saved Nevada schools over $1 million in energy costs! Vanessa and her team also spearhead an annual event for "Introduce a Girl to Engineering Day," in partnership with Tesla and includes a factory tour that showcases a variety of engineering careers and the inspiring women behind them. This last year the program reached over 1,000 girls and 140 schools across the country. Vanessa is a tireless advocate for expanding STEM education, introducing girls to STEM careers, and helping them become leaders in the growth of a sustainable economy.
October 2021 - Karen Trickey
Karen Trickey is a Project Supervisor for Dominion Environmental Consultants NV, Inc., a national environmental consulting firm, where she handles projects involving indoor air quality, safety, and hazardous building materials. Prior to this role she worked as a Biological Science Aide, performing agricultural research services for the United States Department of Agriculture. During her tenure with the USDA, Karen collected samples of greenhouse gas emissions from research plots, and prepared the gas samples for chromatographic analysis. She also used her research experience and in-depth knowledge regarding sustainable ecosystems to inspire the next generation of environmentally aware individuals through student teaching.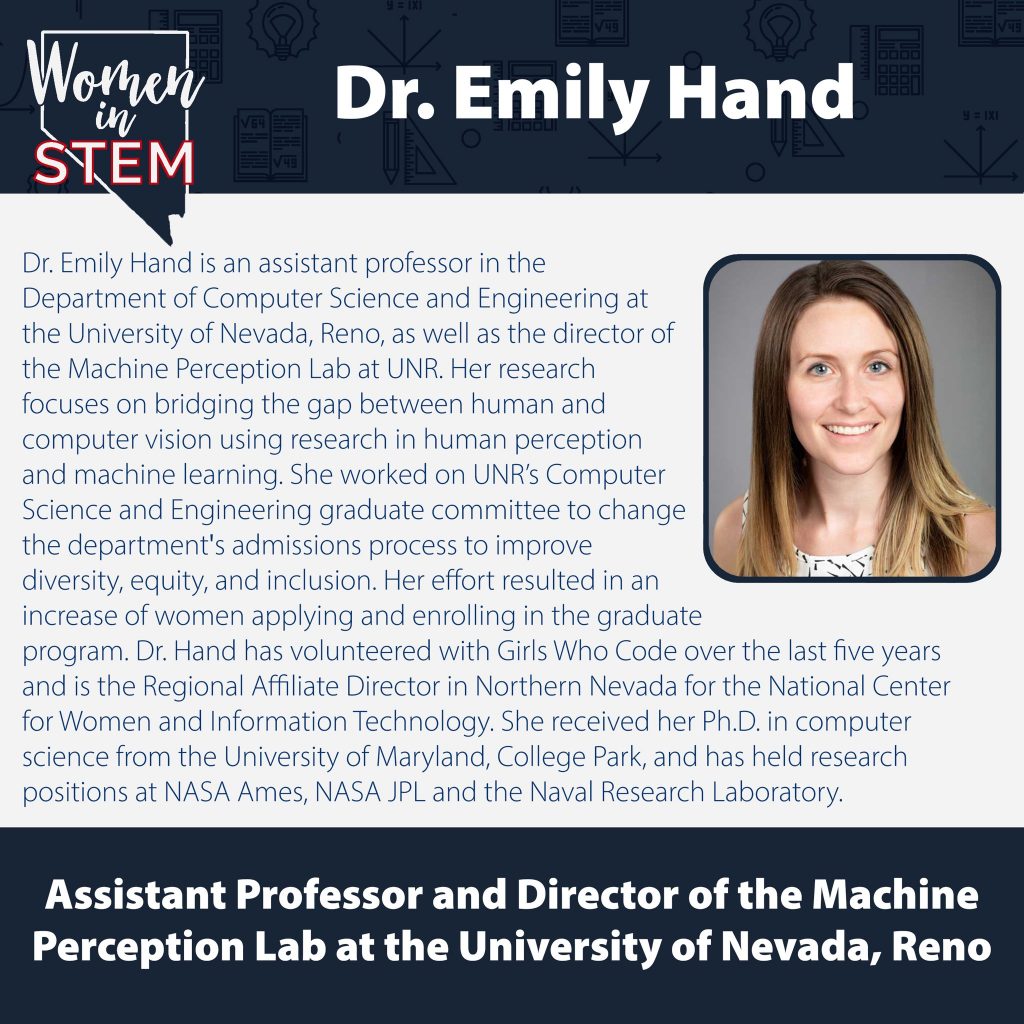 September 2021 - Dr. Emily Hand
Dr. Emily Hand is an assistant professor in the Department of Computer Science and Engineering at the University of Nevada, Reno, as well as the director of the Machine Perception Lab at UNR. Her research focuses on bridging the gap between human and computer vision using research in human perception and machine learning. She worked on UNR's Computer Science and Engineering graduate committee to change the department's admissions process to improve diversity, equity, and inclusion. Her effort resulted in an increase of women applying and enrolling in the graduate program. Dr. Hand has volunteered with Girls Who Codes over the last five years and is the Regional Affiliate Director in Northern Nevada for the National Center for Women and Information Technology. She received her Ph.D. in computer science from the University of Maryland, College Park, and has held research positions at NASA Ames, NASA JPL and the Naval Research Laboratory.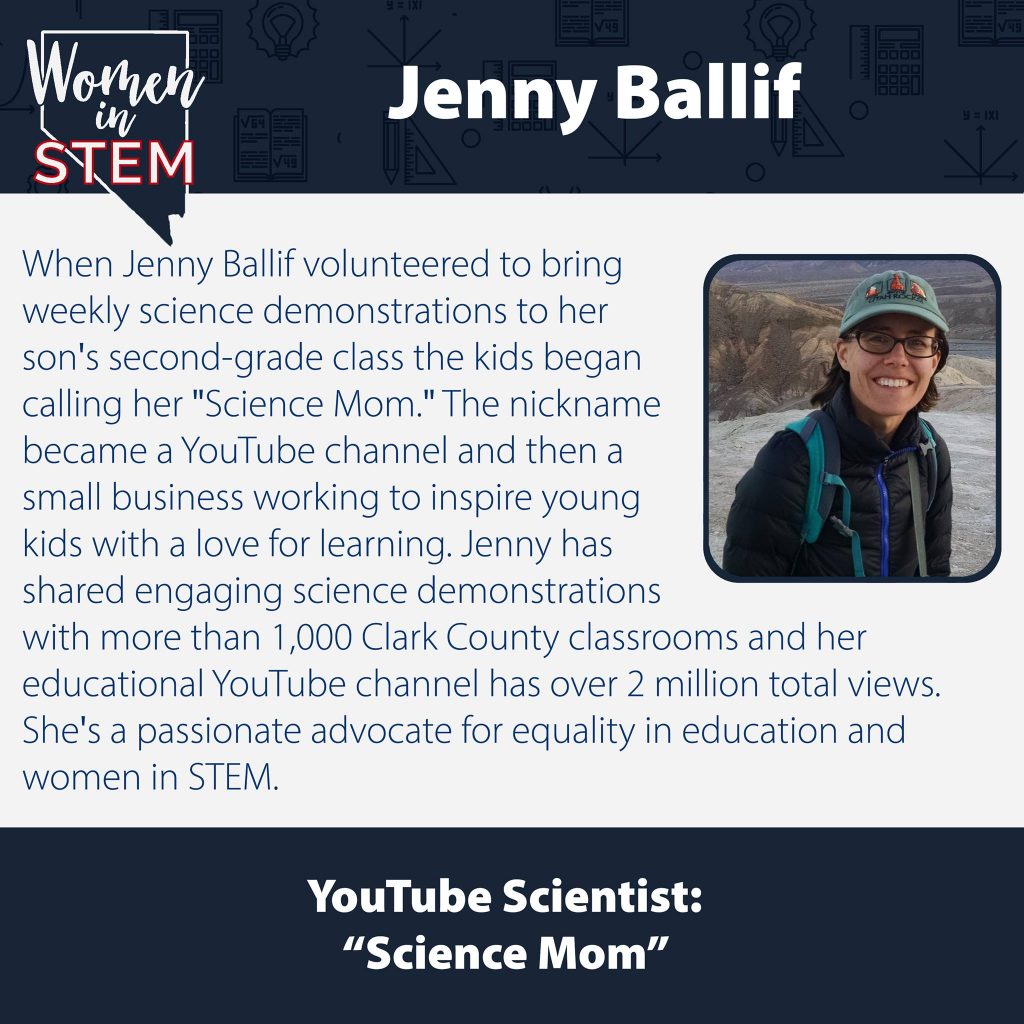 August 2021 - Jenny Ballif
When Jenny Ballif volunteered to bring weekly science demonstrations to her son's second-grade class the kids began calling her "Science Mom." The nickname became a YouTube channel and then a small business working to inspire young kids with a love for learning. Jenny has shared engaging science demonstrations with more than 1,000 Clark County classrooms and her educational YouTube channel has over 2 million total views. She's a passionate advocate for equality in education and women in STEM. 
July 2021 - Kendra McGlothen
Kendra McGlothen is a third year PhD Neuroscience student in the Hines Lab and Graduate Teaching Assistant at the University of Nevada-Las Vegas. Her research explores the role glial cells play in modulating metabolic processes, cortical circuitry and motor behavior, as well as novel alternatives that directly impact the early diagnosis and treatment of neurogenerative disorders. She recently tied for first in the Graduate College's annual Rebel Grad Slam competition. When not in the lab, McGlothen can be found enjoying the rich landscape that surrounds Las Vegas with fellow members of UNLV's Mountain Club.
June 2021 – Khadija Ashraf Bhatti
Khadija Ashram Bhatti is a pre-medicine undergraduate student in the UNLV Honors College. She is pursuing dual degrees in bulgy and political science, while also working towards minors in neuroscience and addictions treatments and prevention. Khadija has assisted in clinical research for the Emergency Department at UMC, environmental science research at the Desert Research Institute, and pediatric cardiovascular research. Khadija's upbringing and experiences as an immigrant to the U.S. exposed her to many of the systemic hardships that people from different communities, like her own, must overcome. She is inspired by the health care providers she has met throughout the city and is committed to providing for the Las Vegas community as a future physician.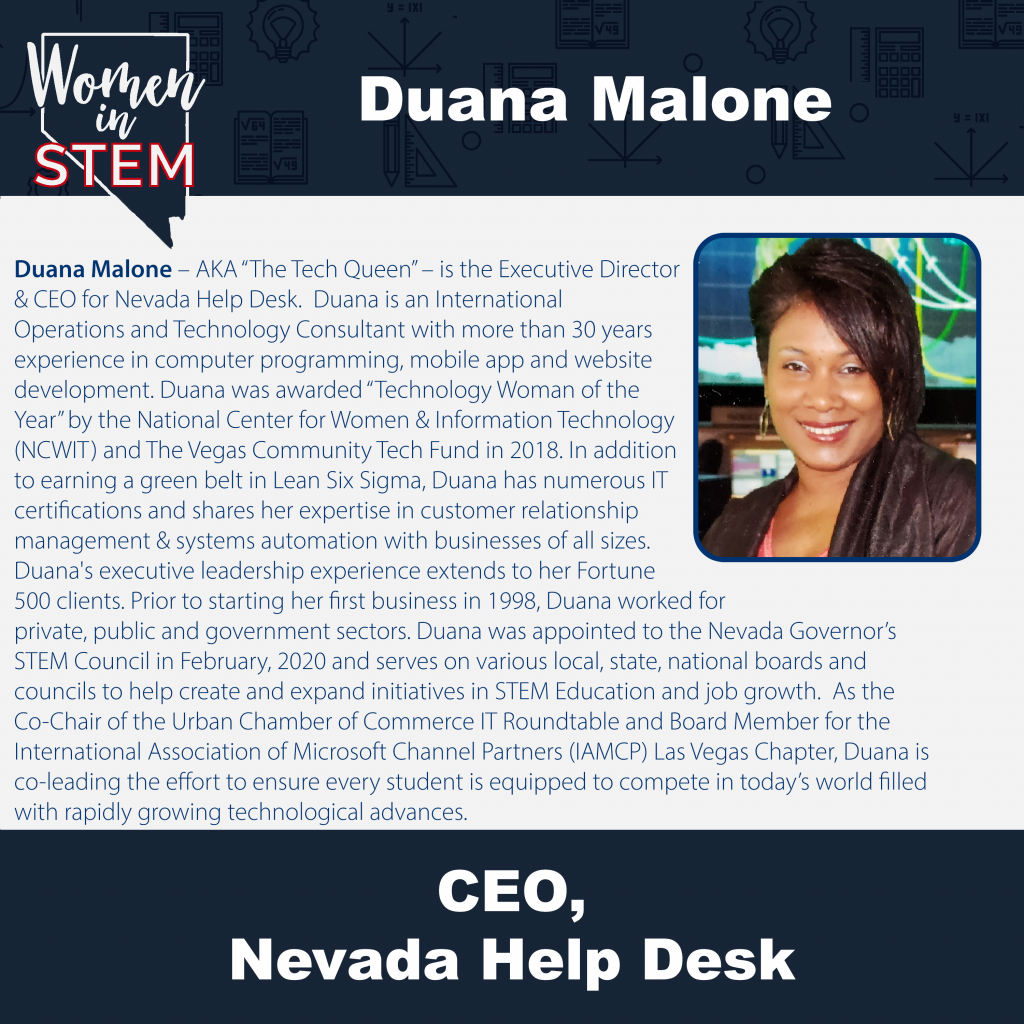 Duana Malone – AKA "The Tech Queen" – is the Executive Director & CEO for Nevada Help Desk.  Duana is an International Operations and Technology Consultant with more than 30 years experience in computer programming, mobile app and website development. Duana was awarded "Technology Woman of the Year" by the National Center for Women & Information Technology (NCWIT) and The Vegas Community Tech Fund in 2018. In addition to earning a green belt in Lean Six Sigma, Duana has numerous IT certifications and shares her expertise in customer relationship management & systems automation with businesses of all sizes.  Duana's executive leadership experience extends to her Fortune 500 clients. Prior to starting her first business in 1998, Duana worked for private, public and government sectors. Duana was appointed to the Nevada Governor's STEM Council in February, 2020 and serves on various local, state, national boards and councils to help create and expand initiatives in STEM Education and job growth.  As the Co-Chair of the Urban Chamber of Commerce IT Roundtable and Board Member for the International Association of Microsoft Channel Partners (IAMCP) Las Vegas Chapter, Duana is co-leading the effort to ensure every student is equipped to compete in today's world filled with rapidly growing technological advances.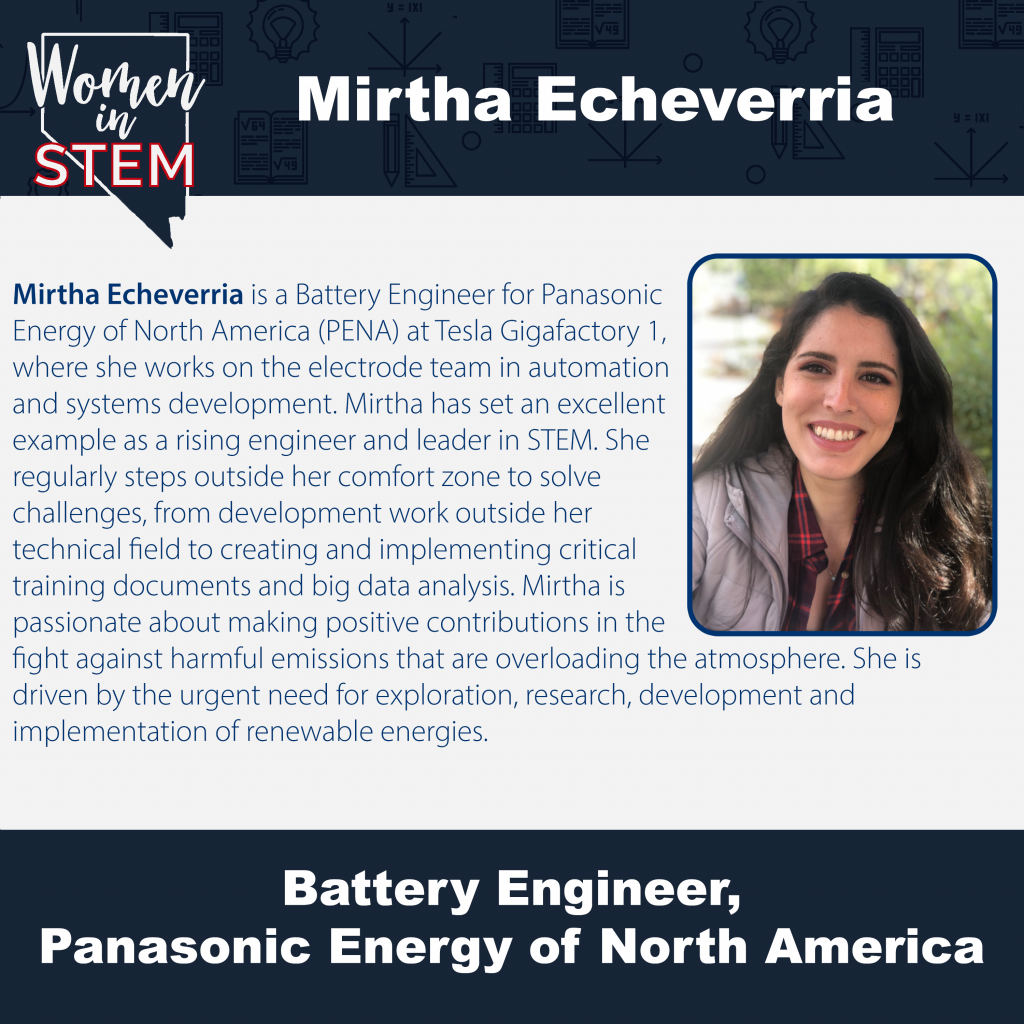 April 2021 – Mirtha Echeverria
Mirtha Echeverria is a Battery Engineer for Panasonic Energy of North America (PENA) at Tesla Gigafactory 1, where she works on the electrode team in automation and systems development. Mirtha has set an excellent example as a rising engineer and leader in STEM. She regularly steps outside her comfort zone to solve challenges, from development work outside her technical field to creating and implementing critical training documents and big data analysis. Mirtha is passionate about making positive contributions in the fight against harmful emissions that are overloading the atmosphere. She is driven by the urgent need for exploration, research, development and implementation of renewable energies.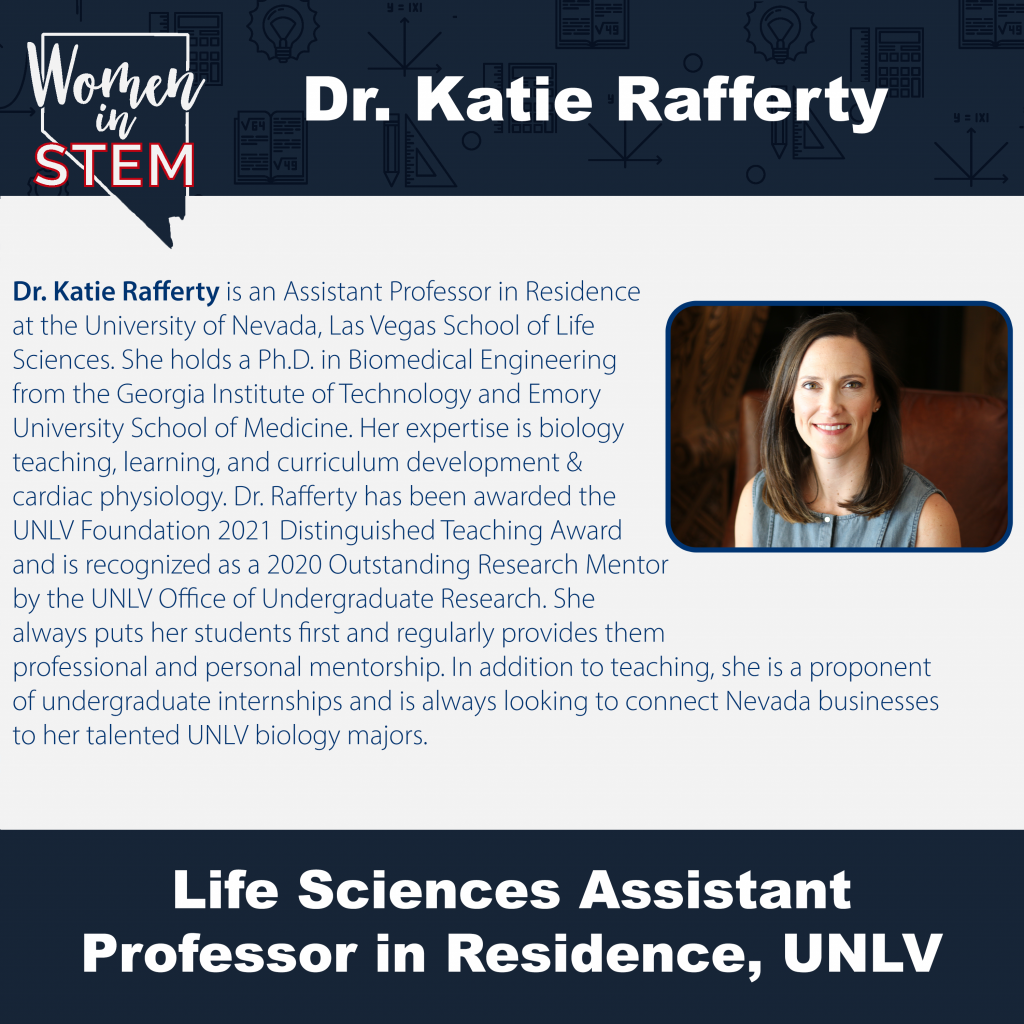 March 2021 – Dr. Katie Rafferty
Dr. Katie Rafferty is an Assistant Professor in Residence at the University of Nevada, Las Vegas School of Life Sciences. She holds a Ph.D. in Biomedical Engineering from the Georgia Institute of Technology and Emory University School of Medicine. Her expertise is biology teaching, learning, and curriculum development & cardiac physiology. Dr. Rafferty has been awarded the UNLV Foundation 2021 Distinguished Teaching Award and is recognized as a 2020 Outstanding Research Mentor by the UNLV Office of Undergraduate Research. She always puts her students first and regularly provides them professional and personal mentorship. In addition to teaching, she is a proponent of undergraduate internships and is always looking to connect Nevada businesses to her talented UNLV biology majors.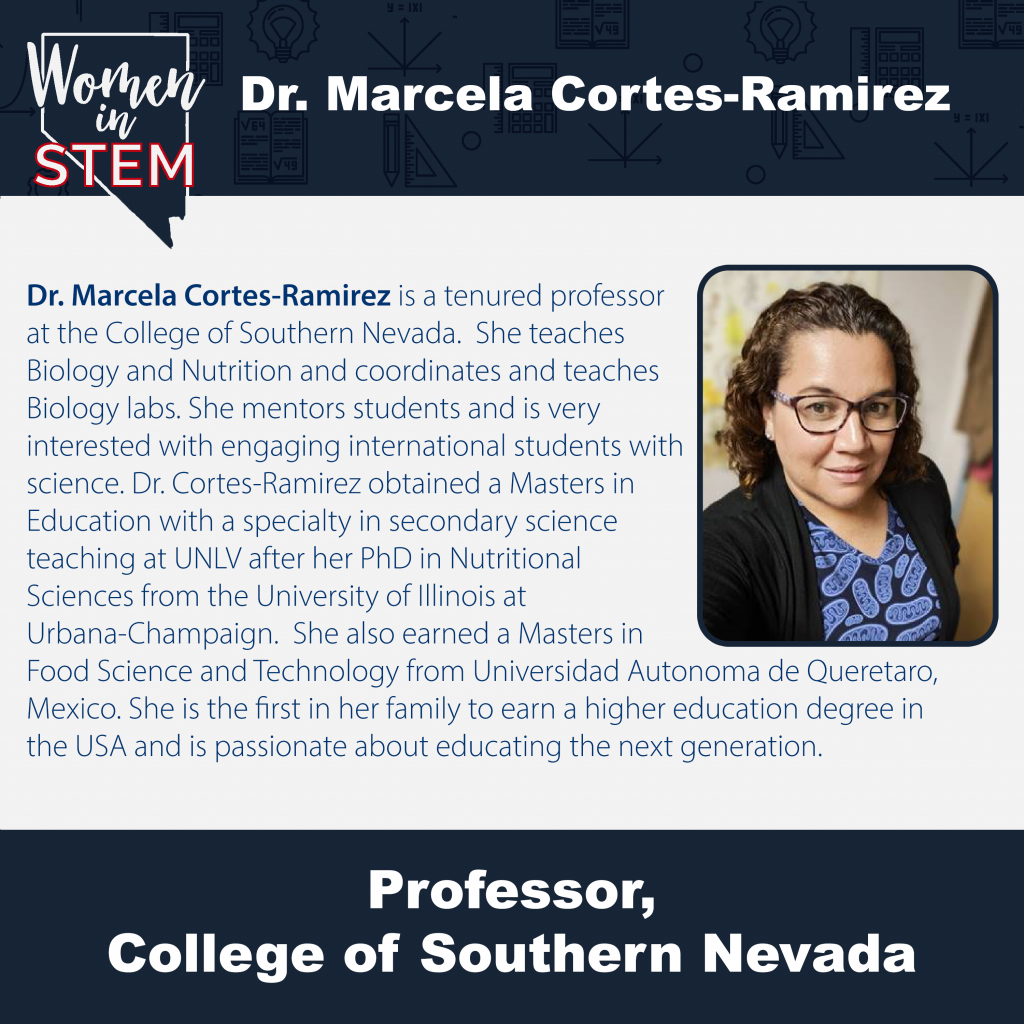 February 2021 – Dr. Marcela Cortes-Ramirez
Dr. Marcela Cortes-Ramirez is a tenured professor at the College of Southern Nevada.  She teaches Biology and Nutrition and coordinates and teaches Biology labs. She mentors students and is very interested with engaging international students with science. Dr. Cortes-Ramirez obtained a Masters in Education with a specialty in secondary science teaching at UNLV after her PhD in Nutritional Sciences from the University of Illinois at Urbana-Champaign.  She also earned a Masters in Food Science and Technology from Universidad Autonoma de Queretaro, Mexico. She is the first in her family to earn a higher education degree in the USA and is passionate about educating the next generation.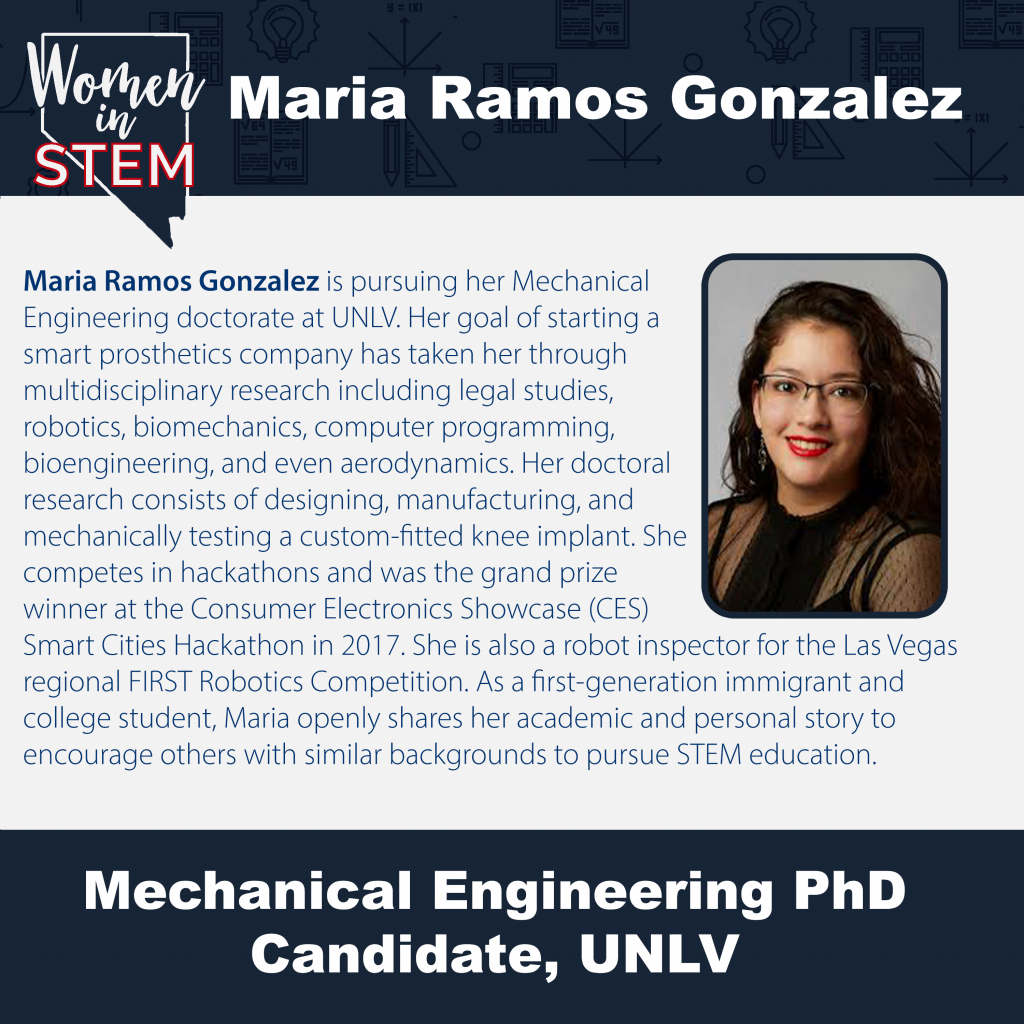 January 2021 – Maria Ramos Gonzalez
Maria Ramos Gonzalez is pursuing her Mechanical Engineering doctorate at UNLV. Her goal of starting a smart prosthetics company has taken her through multidisciplinary research including legal studies, robotics, biomechanics, computer programming, bioengineering, and even aerodynamics. Her doctoral research consists of designing, manufacturing, and mechanically testing a custom-fitted knee implant. She competes in hackathons and was the grand prize winner at the Consumer Electronics Showcase (CES) Smart Cities Hackathon in 2017. She is also a robot inspector for the Las Vegas regional FIRST Robotics Competition. As a first-generation immigrant and college student, Maria openly shares her academic and personal story to encourage others with similar backgrounds to pursue STEM education.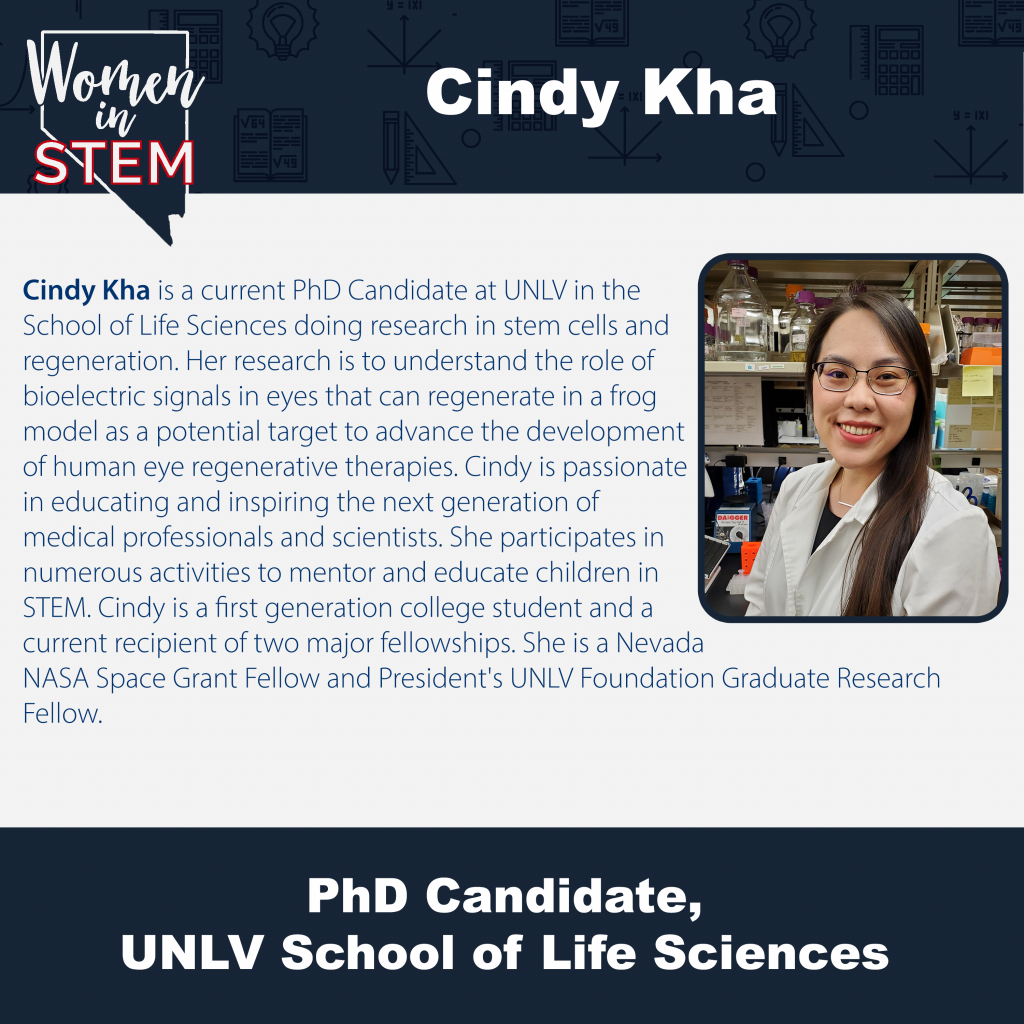 December 2020 – Cindy Kha
Cindy Kha is a current PhD Candidate at UNLV in the School of Life Sciences doing research in stem cells and regeneration. Her research is to understand the role of bioelectric signals in eyes that can regenerate in a frog model as a potential target to advance the development of human eye regenerative therapies. Cindy is passionate in educating and inspiring the next generation of medical professionals and scientists. She participates in numerous activities to mentor and educate children in STEM. Cindy is a first generation college student and a current recipient of two major fellowships. She is a Nevada NASA Space Grant Fellow and President's UNLV Foundation Graduate Research Fellow.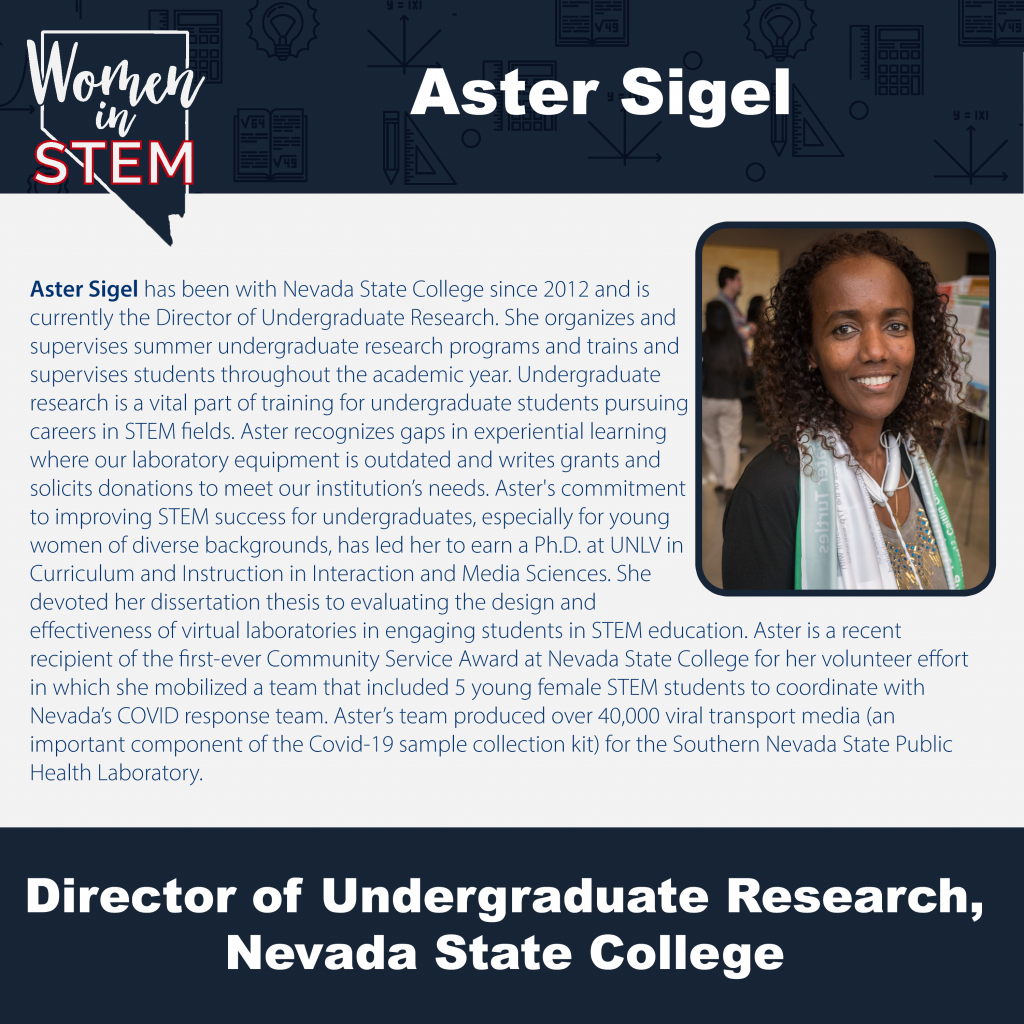 November 2020 – Aster Sigel
Aster Sigel has been with Nevada State College since 2012 and is currently the Director of Undergraduate Research. She organizes and supervises summer undergraduate research programs and trains and supervises students throughout the academic year. Undergraduate research is a vital part of training for undergraduate students pursuing careers in STEM fields. Aster recognizes gaps in experiential learning where our laboratory equipment is outdated and writes grants and solicits donations to meet our institution's needs. Aster's commitment to improving STEM success for undergraduates, especially for young women of diverse backgrounds, has led her to earn a Ph.D. at UNLV in Curriculum and Instruction in Interaction and Media Sciences. She devoted her dissertation thesis to evaluating the design and effectiveness of virtual laboratories in engaging students in STEM education. Aster is a recent recipient of the first-ever Community Service Award at Nevada State College for her volunteer effort in which she mobilized a team that included 5 young female STEM students to coordinate with Nevada's COVID response team. Aster's team produced over 40,000 viral transport media (an important component of the Covid-19 sample collection kit) for the Southern Nevada State Public Health Laboratory.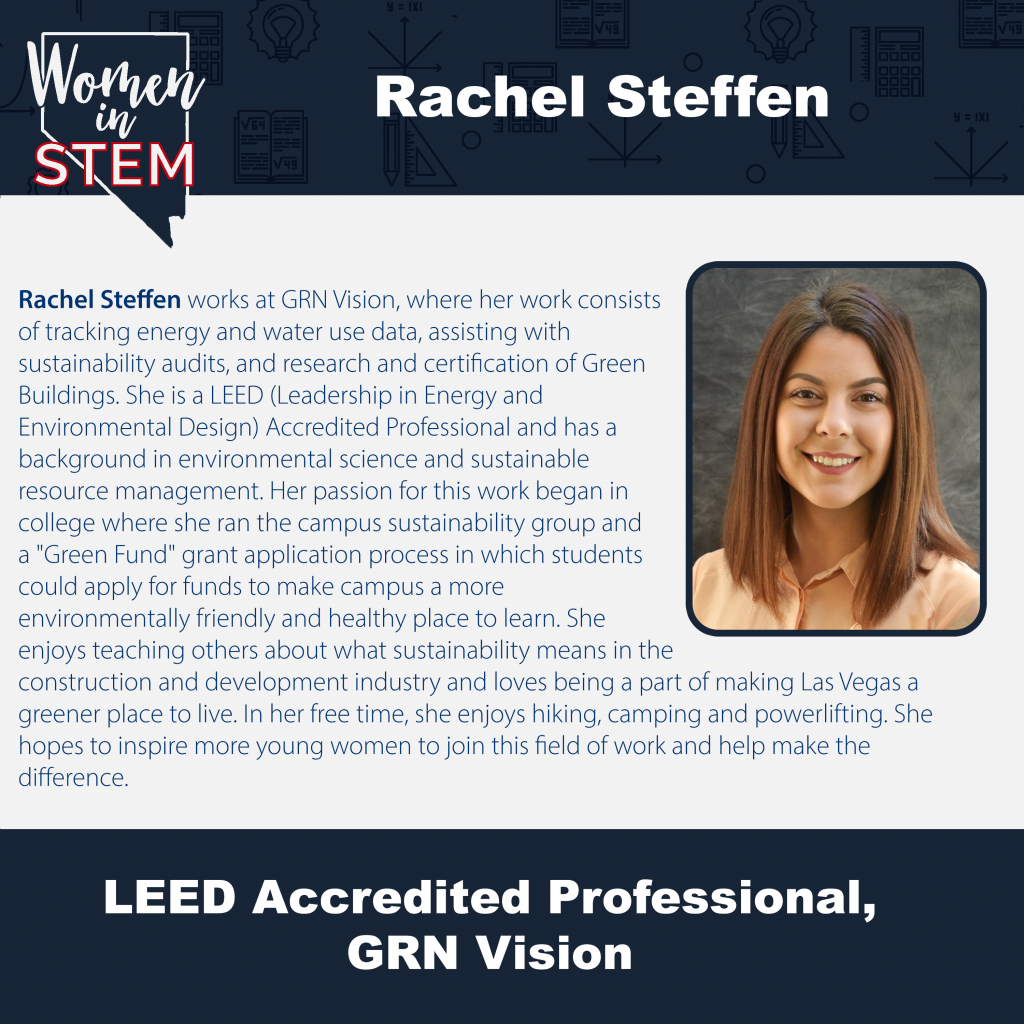 October 2020 – Rachel Steffen
Rachel works at GRN Vision, where her work consists of tracking energy and water use data, assisting with sustainability audits, research and certification of Green Buildings. She is a LEED (Leadership in Energy and Environmental Design) Accredited Professional and has a background in environmental science and sustainable resource management. Her passion for this work began in college where she ran the campus sustainability group and a "Green Fund" grant application process in which students could apply for funds to make campus a more environmentally friendly and healthy place to learn. She enjoys teaching others about what sustainability means in the construction and development industry and loves being a part of making Las Vegas a greener place to live. In her free time, she enjoys hiking, camping and powerlifting. She hopes to inspire more young women to join this field of work and help make the difference.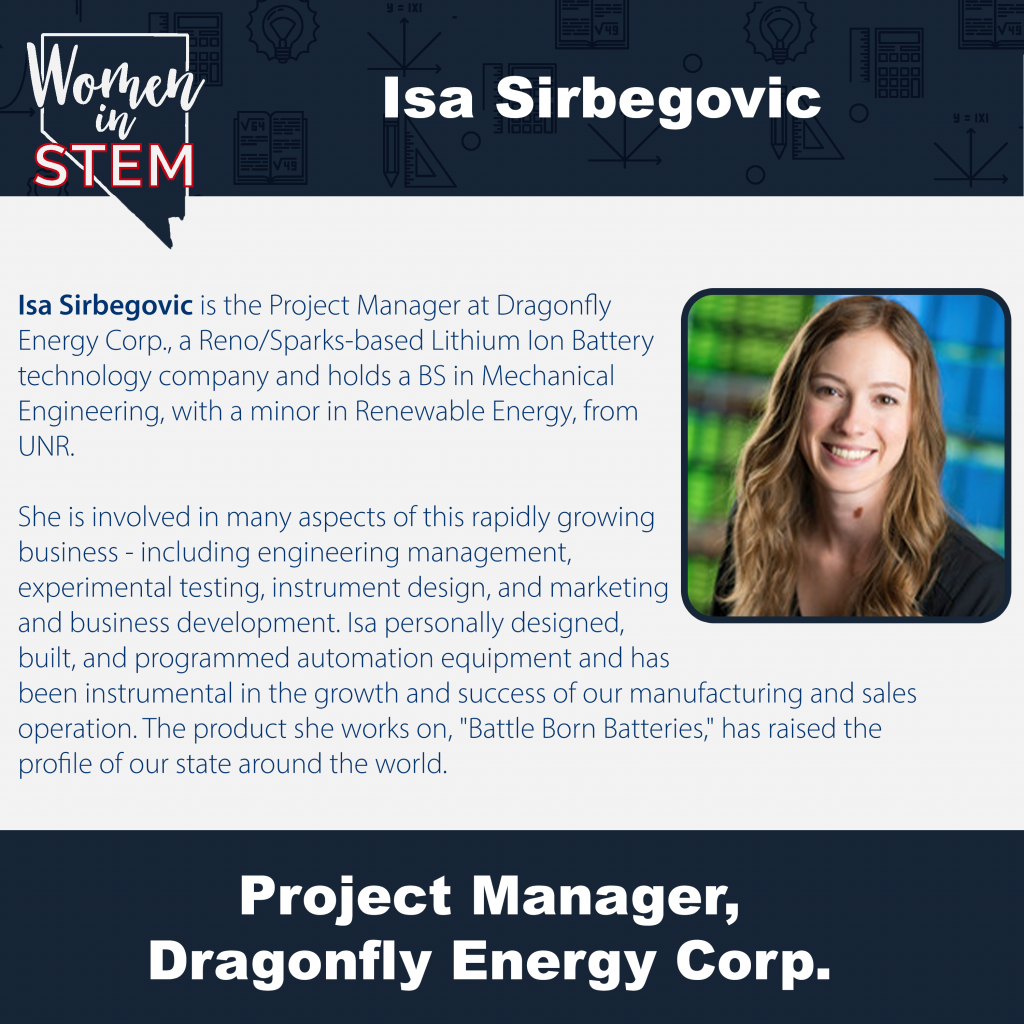 September 2020 – Isa Sirbegovic
Isa the Project Manager at Dragonfly Energy Corp., a Reno/Sparks-based Lithium Ion Battery technology company and holds a BS in Mechanical Engineering from UNR. She is involved in many aspects of this rapidly growing business – including engineering management, experimental testing, instrument design, and marketing and business development. Isa personally designed, built, and programmed automation equipment and has been instrumental in the growth and success of Dragonfly's manufacturing and sales operation. The product she works on, "Battle Born Batteries," has raised the profile of our state across the world.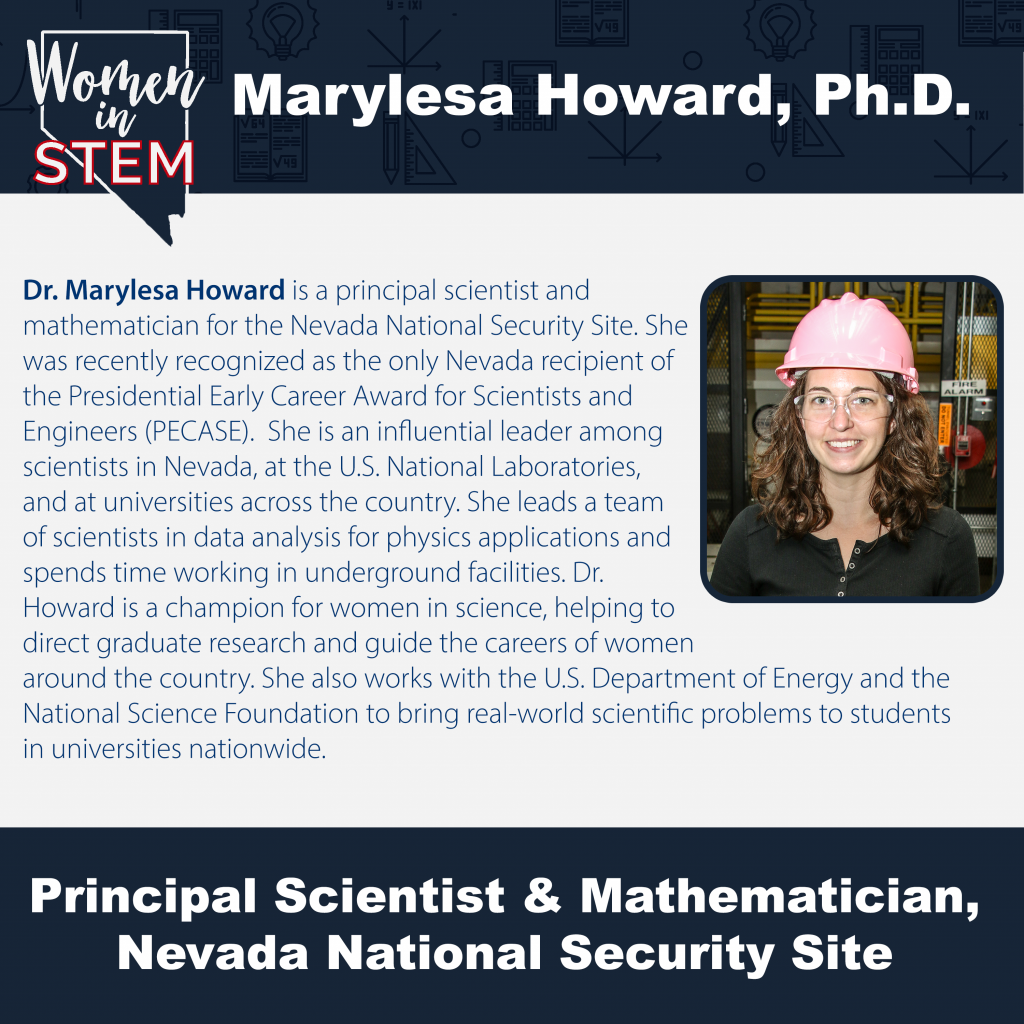 August 2020 – Dr. Marylesa Howard
Dr. Marylesa Howard is a principal scientist and mathematician for the Nevada National Security Site. She was recently recognized as the only Nevada recipient of the Presidential Early Career Award for Scientists and Engineers (PECASE).  She is an influential leader among scientists in Nevada, at the U.S. National Laboratories, and at universities across the country. She leads a team of scientists in data analysis for physics applications and spends time working in underground facilities. Dr. Howard is a champion for women in science, helping to direct graduate research and guide the careers of women around the country. She also works with the U.S. Department of Energy and the National Science Foundation to bring real-world scientific problems to students in universities nationwide.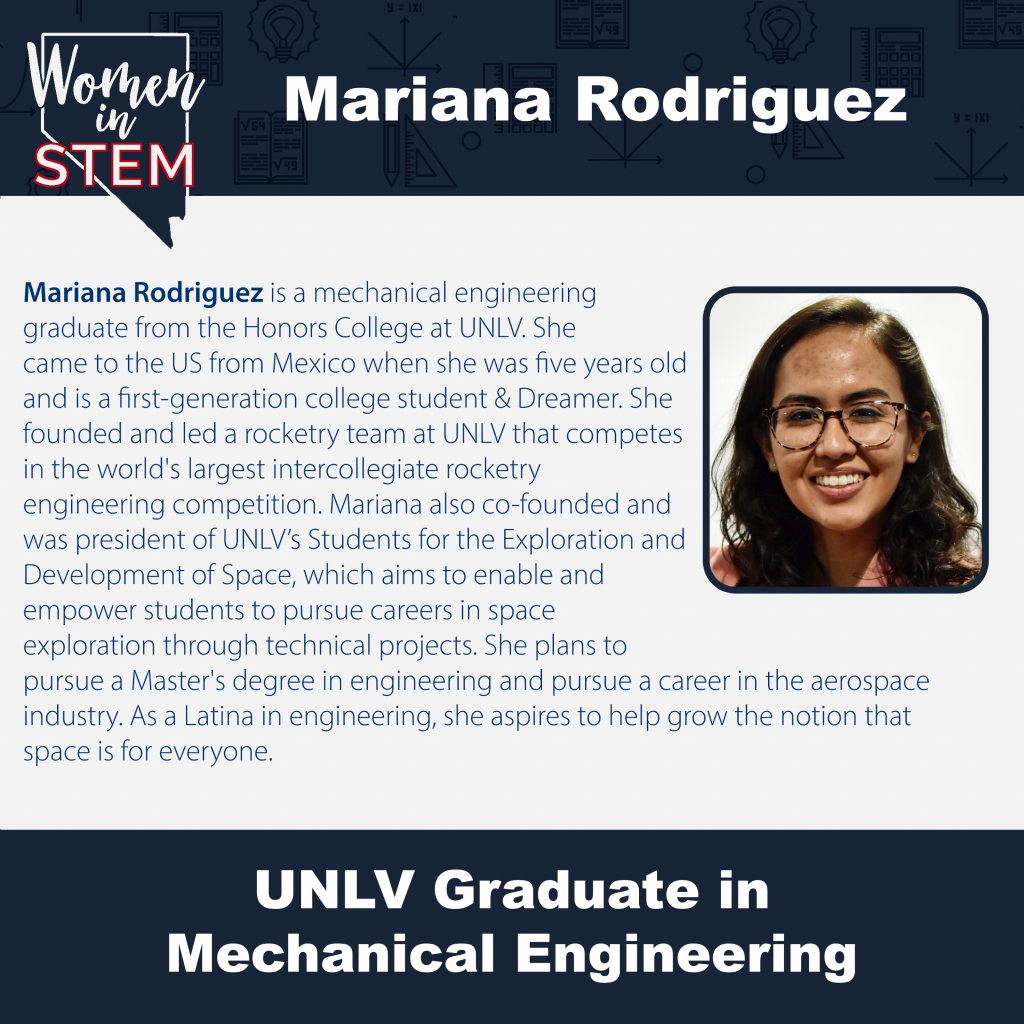 July 2020 – Mariana Rodriguez
Mariana Rodriguez is a mechanical engineering graduate from the Honors College at UNLV. She came to the US from Mexico when she was five years old, and is a first-generation college student & Dreamer. She founded and led a rocketry team at UNLV that competes in the world's largest intercollegiate rocketry engineering competition. Mariana also co-founded and  was president of UNLV's Students for the Exploration and Development of Space, which aims to enable and empower students to pursue careers in space exploration through technical projects. She plans to pursue a Master's degree in engineering and pursue a career in the aerospace industry. As a Latina in engineering, she aspires to help grow the notion that space is for everyone.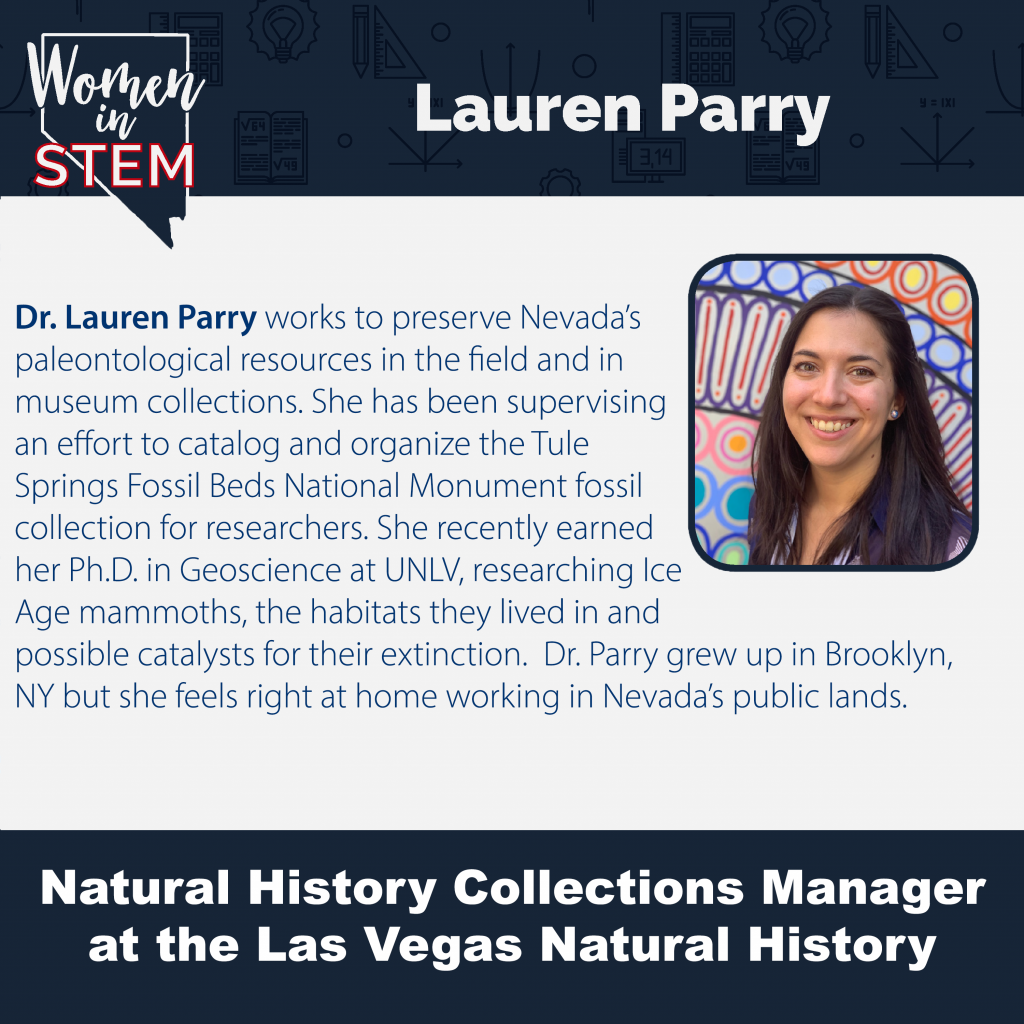 June 2020 – Dr. Lauren Parry
Dr. Parry works to preserve Nevada's paleontological resources in the field and in museum collections. She has been supervising an effort to catalog and organize the Tule Springs Fossil Beds National Monument fossil collection for researchers. She recently earned her Ph.D. in Geoscience at UNLV, researching Ice Age mammoths, the habitats they lived in and possible catalysts for their extinction.  Dr. Parry grew up in Brooklyn, NY but she feels right at home working in Nevada's public lands.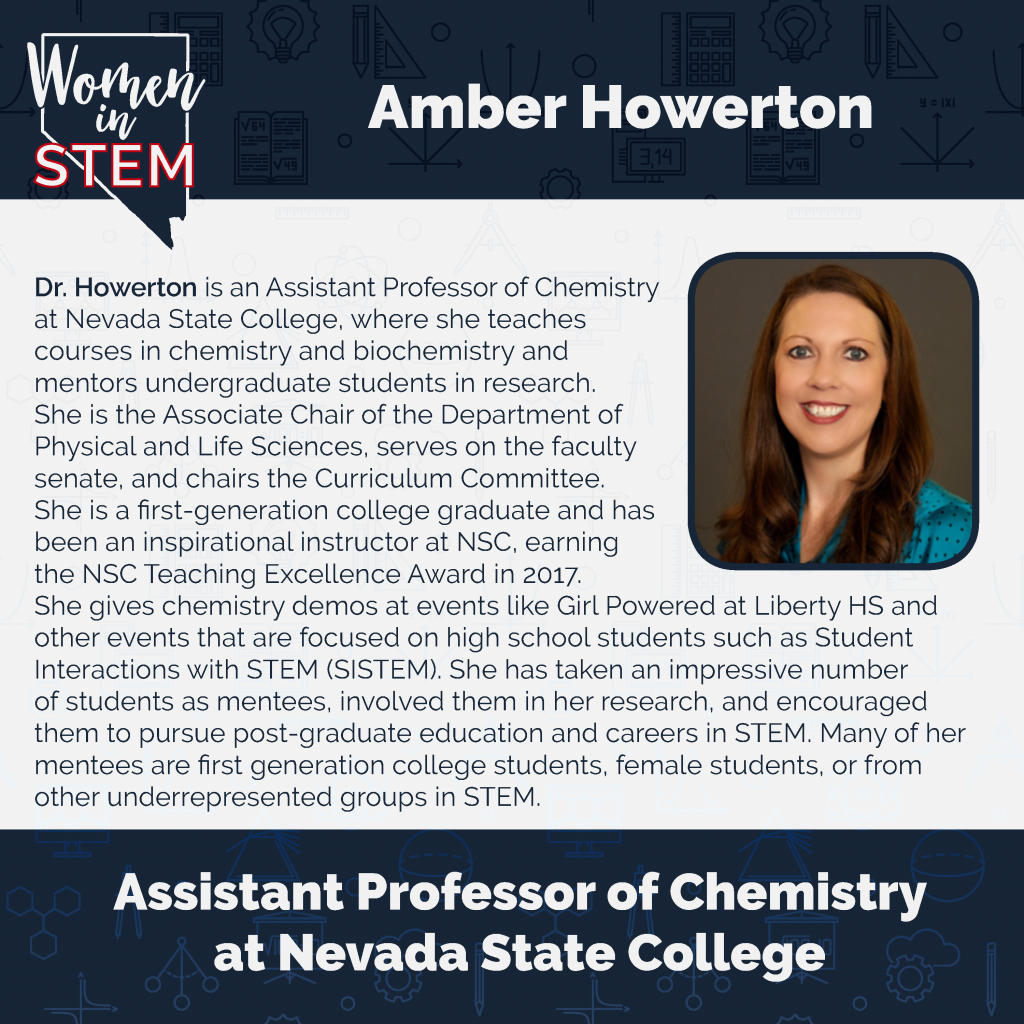 May 2020 – Dr. Amber Howerton
Dr. Amber Howerton is an Assistant Professor of Chemistry at Nevada State College, where she teaches courses in chemistry and biochemistry and mentors undergraduate students in research. She is the Associate Chair of the Department of Physical and Life Sciences, serves on the faculty senate, and chairs the Curriculum Committee. She is a first-generation college graduate and has been an inspirational instructor at NSC, earning the NSC Teaching Excellence Award in 2017. She gives chemistry demos at events like Girl Powered at Liberty HS and other events that are focused on high school students such as Student Interactions with STEM (SISTEM). She has taken an impressive number of students as mentees, involved them in her research, and encouraged them to pursue post-graduate education and careers in STEM. Many of her mentees are first generation college students, female students, or from other underrepresented groups in STEM.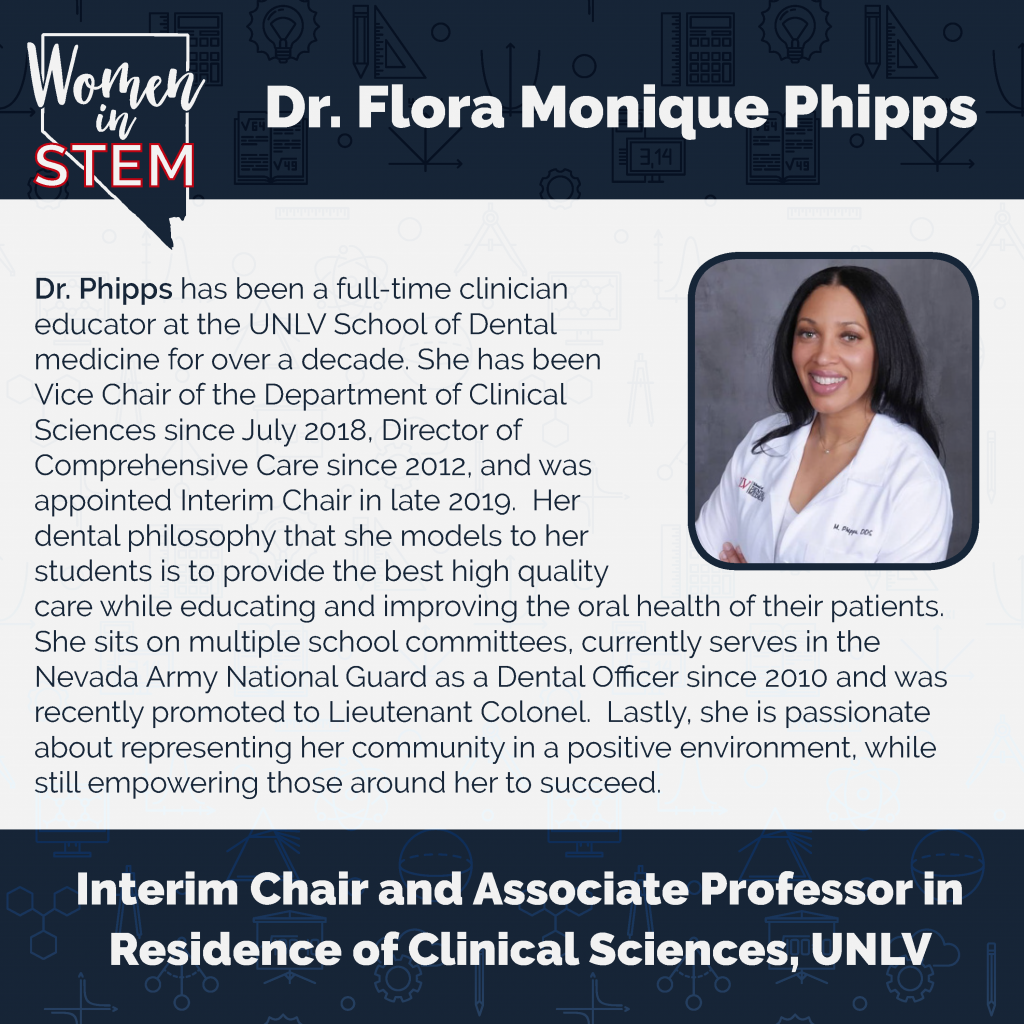 April 2020 – Dr. Flora Monique Phipps
Dr. Flora Monique Phipps has been a full-time clinician educator at the UNLV School of Dental medicine for over a decade. She has been Vice Chair of the Department of Clinical Sciences since July 2018, Director of Comprehensive Care since 2012, and was appointed Interim Chair in late 2019. Her dental philosophy that she models to her students is to provide the best high quality care while educating and improving the oral health of their patients. She sits on multiple school committees, currently serves in the Nevada Army National Guard as a Dental Officer since 2010 and was recently promoted to Lieutenant Colonel. Lastly, she is passionate about representing her community in a positive environment, while still empowering those around her to succeed.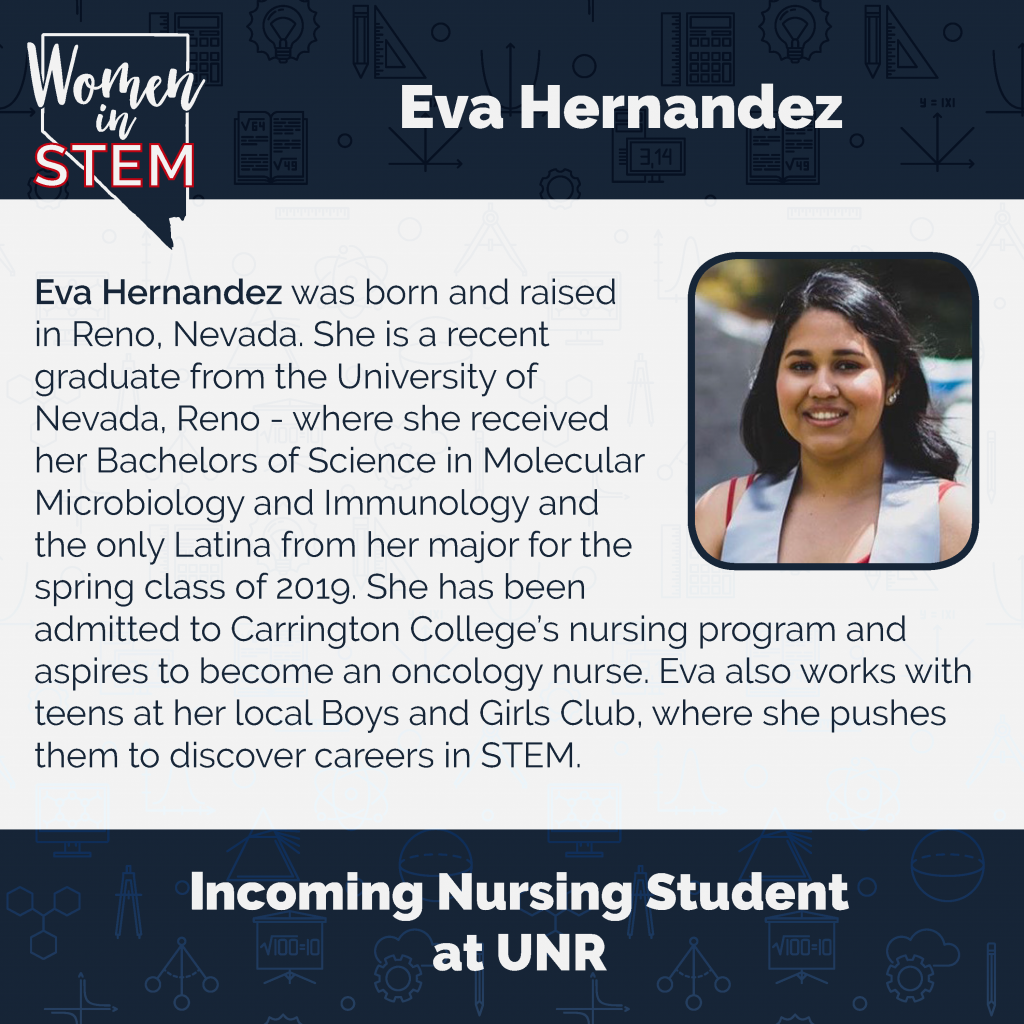 March 2020 – Eva Hernandez
Eva Hernandez was born and raised in Reno, Nevada. She is a recent graduate from the University of Nevada, Reno – where she received her Bachelors of Science in Molecular Microbiology and Immunology and the only Latina from her major for the spring class of 2019. She has been admitted to Carrington College's nursing program and aspires to become an oncology nurse. Eva also works with teens at her local Boys and Girls Club, where she pushes them to discover careers in STEM.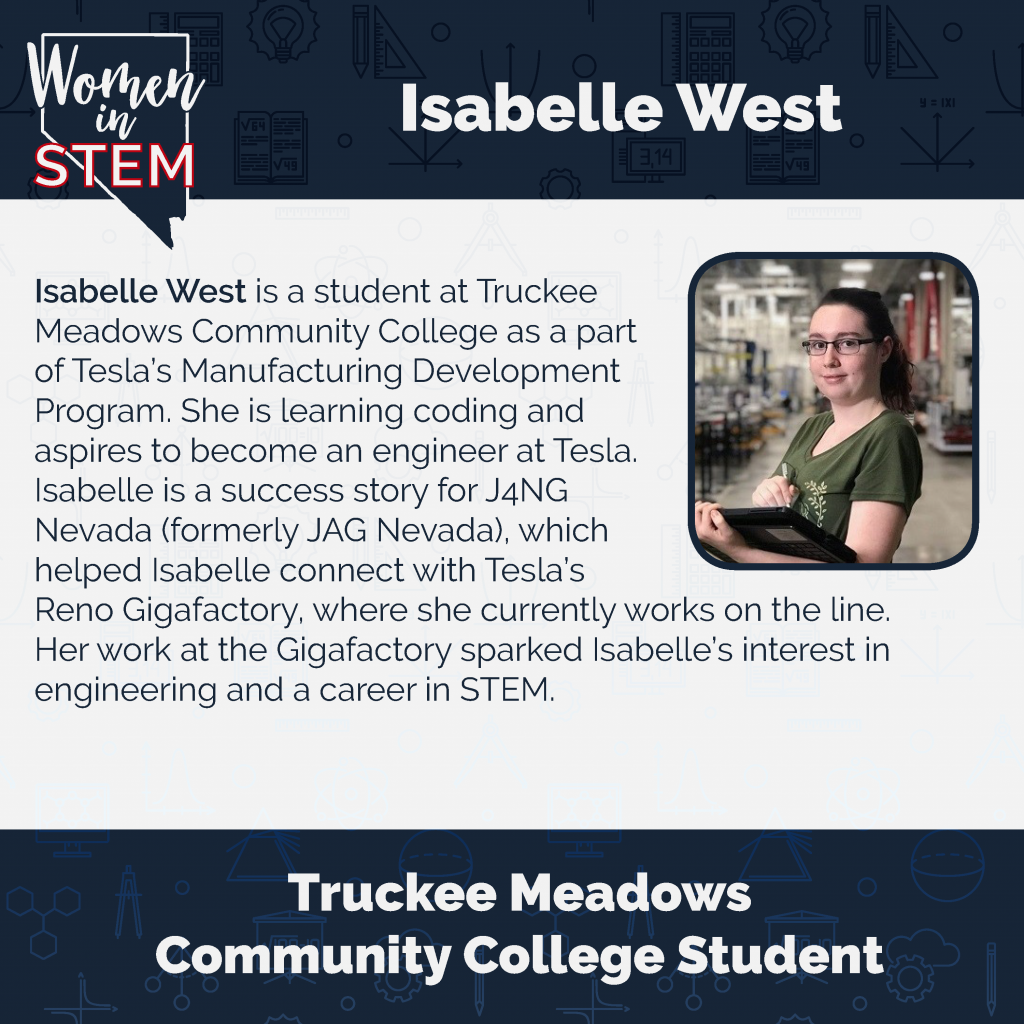 February 2020 – Isabelle West
Isabelle West is a student at Truckee Meadows Community College as a part of Tesla's Manufacturing Development Program. She is learning coding and aspires to become an engineer at Tesla. Isabelle is a success story for J4NG Nevada (formerly JAG Nevada), which helped Isabelle connect with Tesla's Reno Gigafactory, where she currently works on the line. Her work at the Gigafactory sparked Isabelle's interest in engineering and a career in STEM.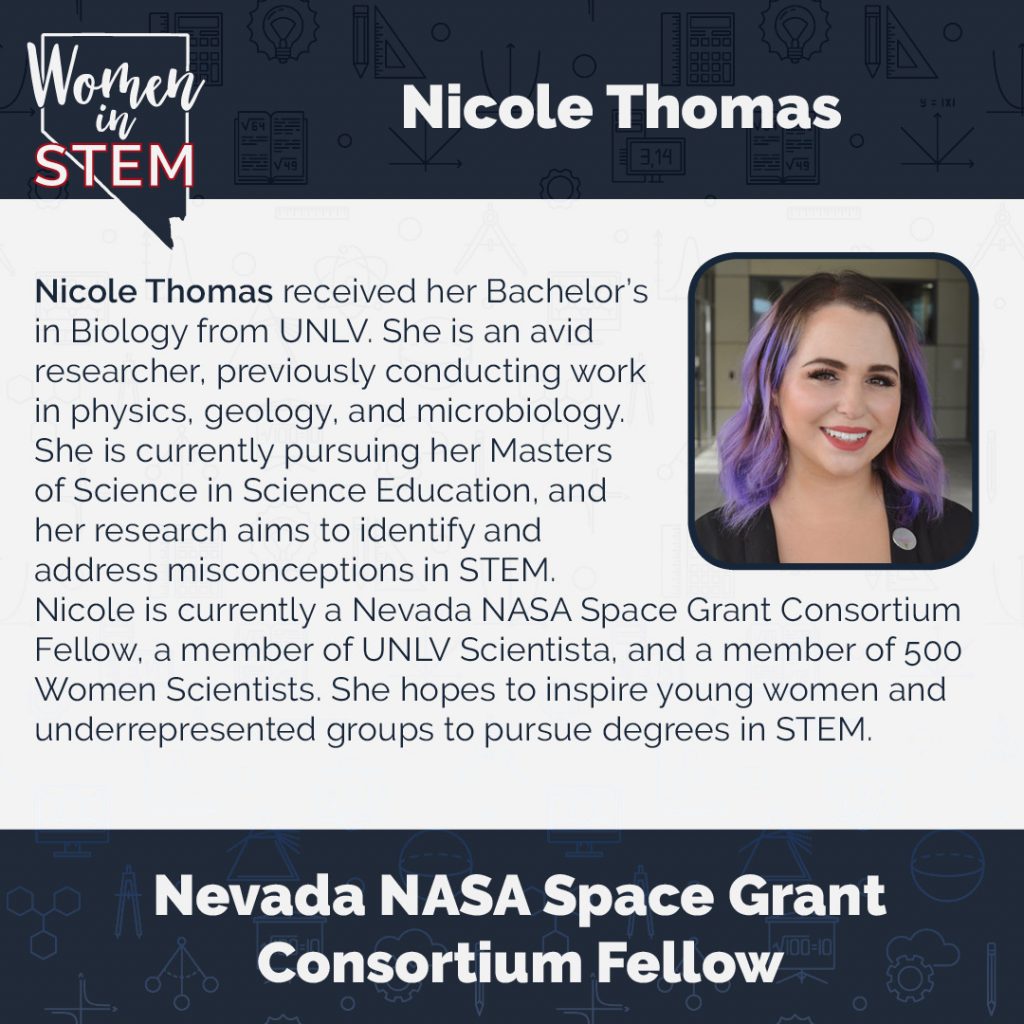 January 2020 – Nicole Thomas
Nicole Thomas received her Bachelor's in Biology from UNLV. She is an avid researcher, previously conducting work in physics, geology, and microbiology. She is currently pursuing her Masters of Science in Science Education, and her research aims to identify and address misconceptions in STEM. Nicole is currently a Nevada NASA Space Grant Consortium Fellow, a member of UNLV Scientista, and a member of 500 Women Scientists. She hopes to inspire young women and underrepresented groups to pursue degrees in STEM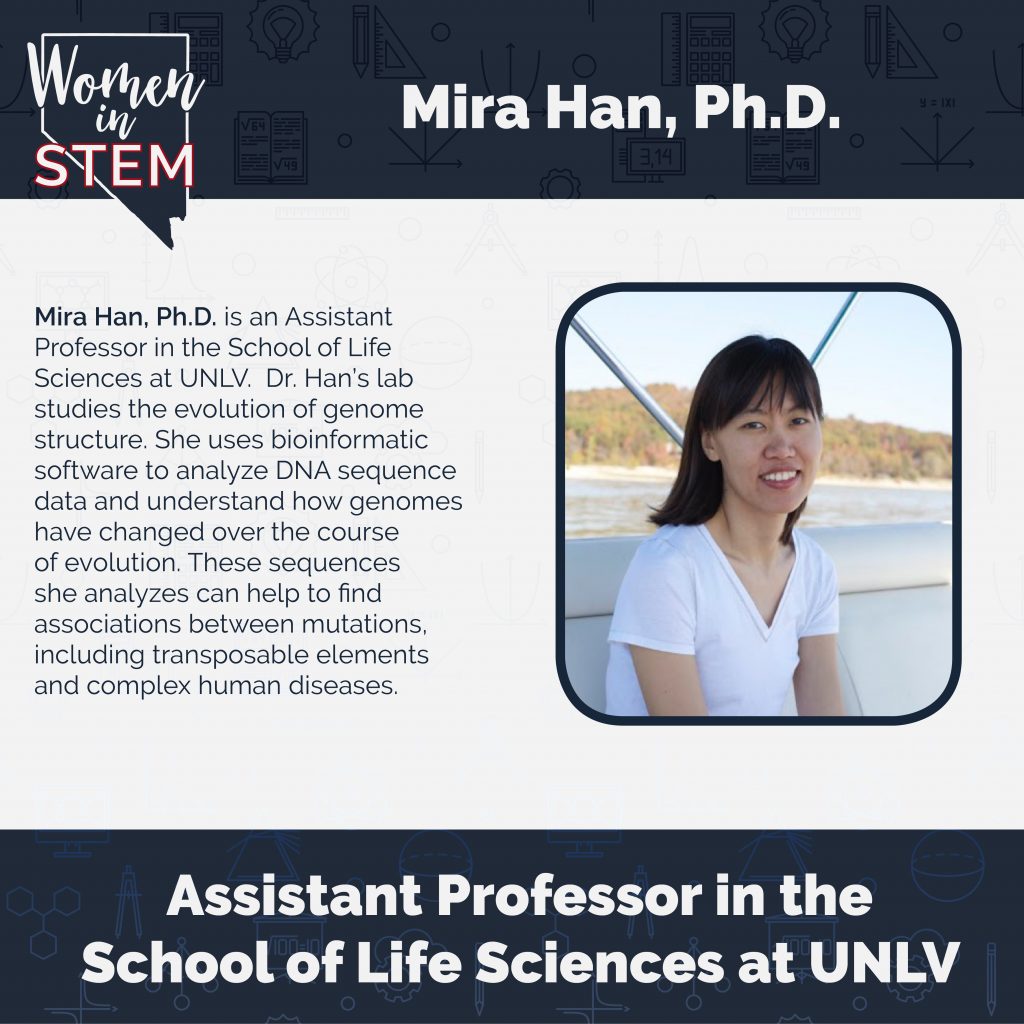 December 2019 – Dr. Mira Han
Mira Han, Ph.D. is an Assistant Professor in the School of Life Sciences at UNLV.  Dr. Han's lab studies the evolution of genome structure. She uses bioinformatic software to analyze DNA sequence data and understand how genomes have changed over the course of evolution. These sequences she analyzes can help to find associations between mutations, including transposable elements and complex human diseases.
November 2019 – Dr. Fatma Nasoz
Dr. Fatma Nasoz holds a joint appointment as an Assistant Professor at the Department of Computer Science and the Director of Information Technology at The Lincy Institute at UNLV. Her areas of expertise are Machine Learning and Human-Computer Interaction. Her current research focuses on deep learning analysis of data across numerous domains like health, education, and genomics. Most recently she is a co-investigator on the Genomics Acquisition and Analysis (GAA) Core of the $11.4M NIH COBRE grant at UNLV. At The Lincy Institute, she steers computer science research to lead The Institute's data collection, management, and analysis efforts. Dr. Nasoz is passionate about increasing the number of women in computer science and in 2018, she was honored with the Faculty/Staff Community Outreach Award for her launch of the Girls Who Code Club at UNLV.
October 2019 – Jericha Mendoza
Jericha is an energy engineer at HDR Consulting LLC, where she helps commercial customers manage and reduce their electric consumption and costs with energy conservation measures and renewable energy technologies. She does detailed data analysis of building energy consumption using data from a variety of sources such as electric meter data, weather data, and building system telemetry. Jericha's work includes performing complex analysis and modeling of advanced technology projects, such as solar PV plus energy storage systems for large commercial buildings. Prior to joining HDR Consulting LLC, she was the Vice President of the Society of Women Engineers Student Chapter at University of Las Vegas Nevada, where she hosted and volunteered in events to encourage peers and young girls to pursue a career in engineering. Jericha hopes to inspire others to be women in STEM!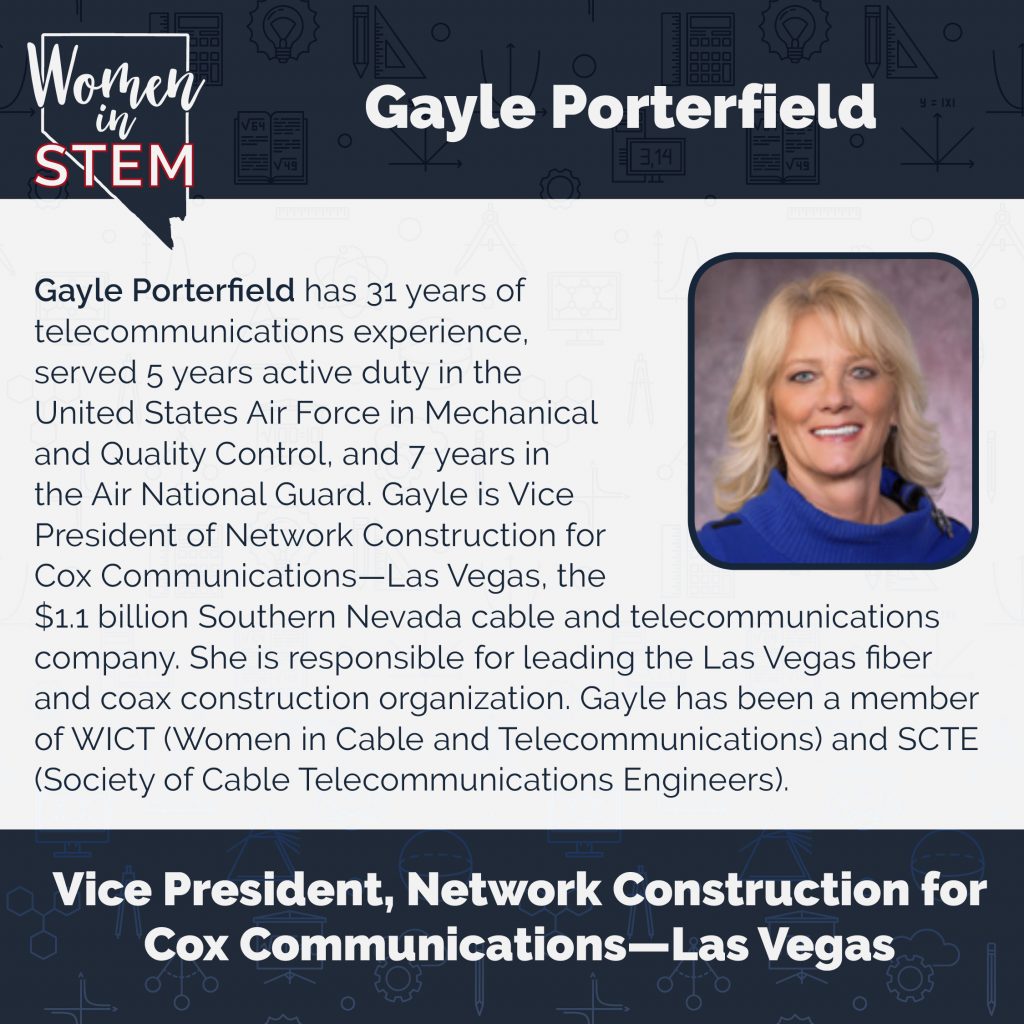 September 2019 – Gayle Porterfield
Gayle Porterfield has 31 years of telecommunications experience, served 5 years active duty in the United States Air Force in Mechanical and Quality Control, and 7 years in the Air National Guard. Gayle is Vice President of Network Construction for Cox Communications – Las Vegas, the $1.1 billion Southern Nevada cable and telecommunications company. She is responsible for leading the Las Vegas fiber and coax construction organization. Gayle has been a member of WICT (Women in Cable and Telecommunications) and SCTE (Society of Cable Telecommunications Engineers).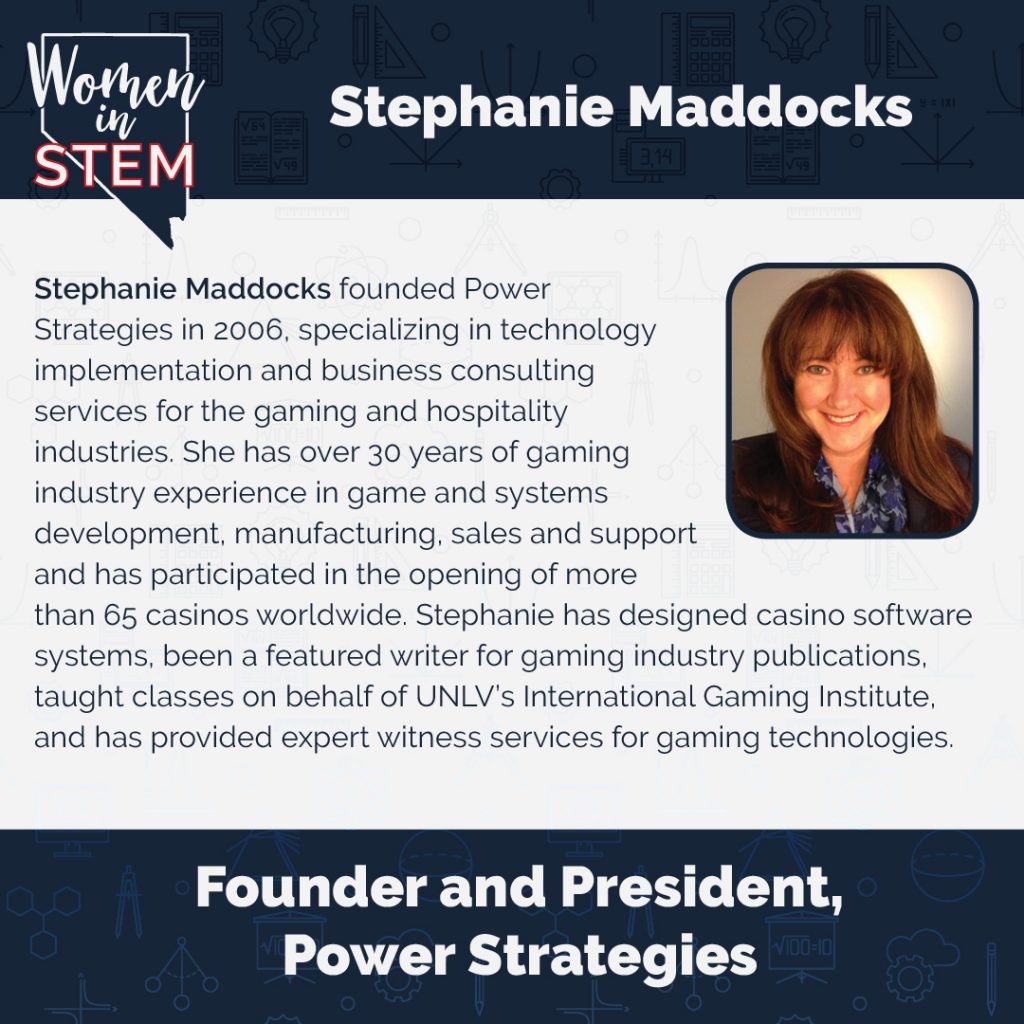 August 2019 – Stephanie Maddocks
Stephanie founded Power Strategies in 2006, specializing in technology implementation and business consulting services for the gaming and hospitality industries.  She is a graduate of the University of California, Berkeley with a BA in Economics and has over 30 years of gaming industry experience in game and systems development, manufacturing, sales and support and has participated in the opening of more than 65 casinos worldwide.  Stephanie has designed casino software systems, been a featured writer for gaming industry publications, taught classes on behalf of UNLV's International Gaming Institute, and has provided expert witness services for gaming technologies. Stephanie has been recognized as a Great Woman of Gaming Proven Leader and is a member of the Board of Directors of Noah's Animal House and the Nevada chapter of the International Women's Forum.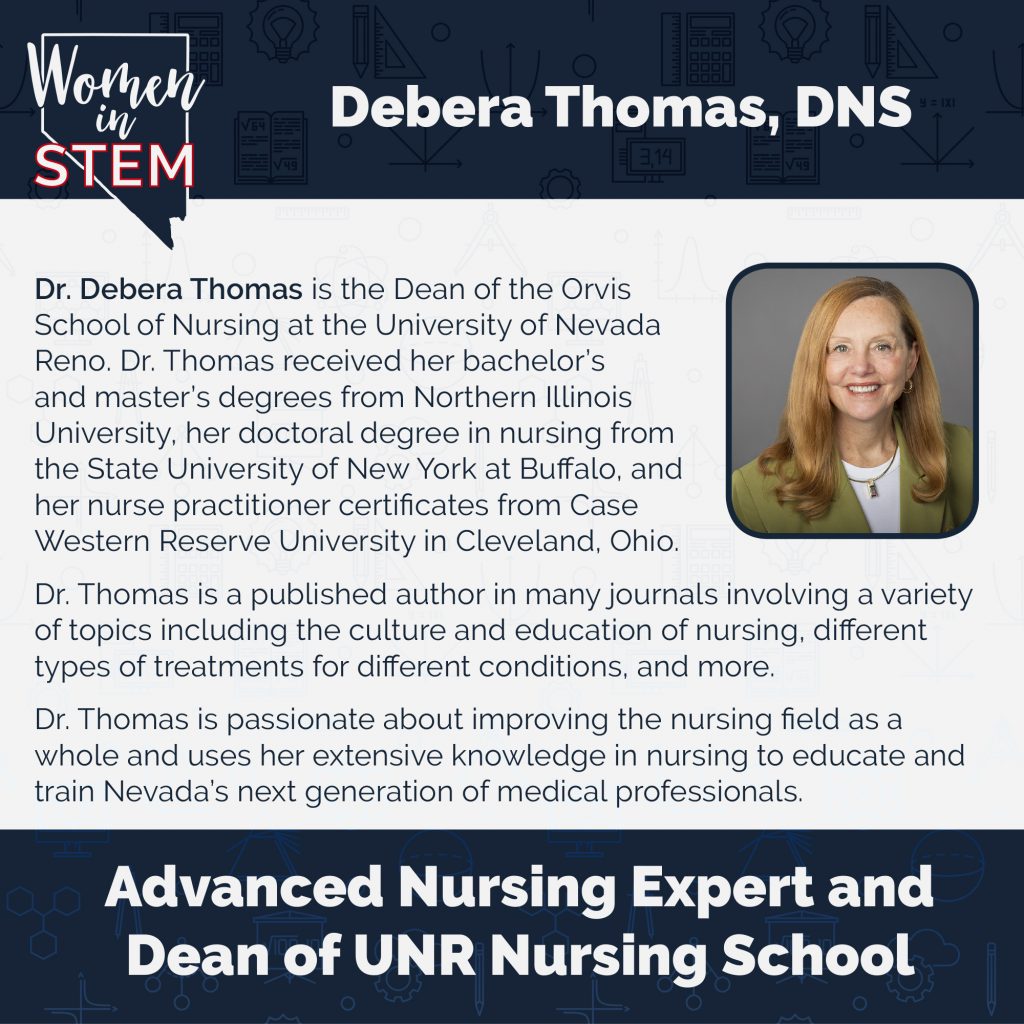 July 2019 – Debera Thomas, Ph.D.
Dr. Debera Thomas is the Dean of the Orvis School of Nursing at the University of Nevada Reno. Dr. Thomas received her bachelor's and master's degrees from Northern Illinois University, her doctoral degree in nursing from the State University of New York at Buffalo, and her nurse practitioner certificates from Case Western Reserve University in Cleveland, Ohio.  Dr. Thomas is a published author in many journals involving a variety of topics including the culture and education of nursing, different types of treatments for different conditions, and more. Dr. Thomas is passionate about improving the nursing field as a whole and uses her extensive knowledge in nursing to educate and train Nevada's next generation of medical professionals.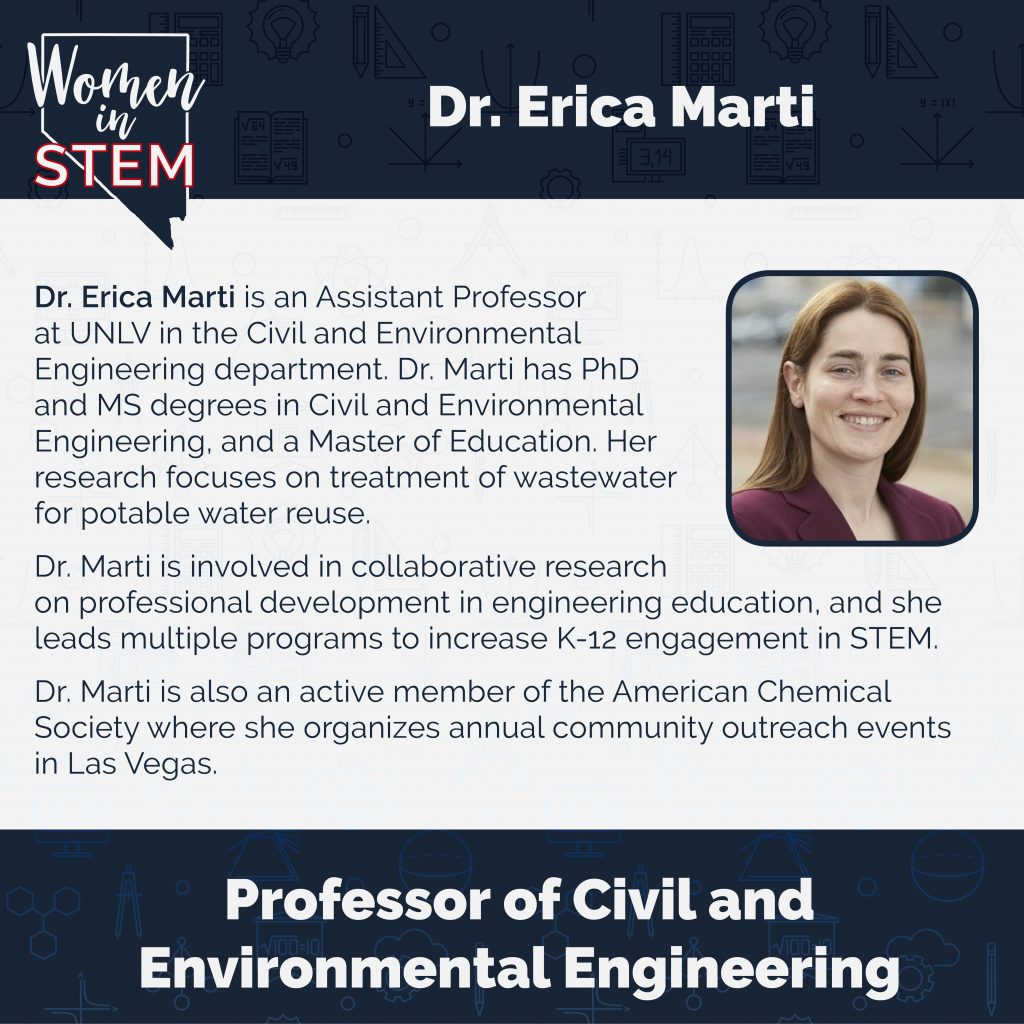 June 2019 – Dr. Erica Marti
Dr. Erica Marti is an Assistnat Professor at UNLV in the Civil and Environmental Engineering Department. Dr. Marti has PhD and MS degrees in Civil and Environmental Engineering, and a Master of Education. Her research focuses on treatment of wastewater for potable water reuse. Dr. Marti is involved in collaborative research on professional development in engineering education, and she leads multiple programs to increase K-12 engagement in STEM. She is an active member of the American Chemical Society where she organizes annual community outreach events in Las Vegas.
Emily Carter is a dedicated student pursuing a Pre-Medical Biology undergraduate degree at UNLV as part of the Honors College. Studying Spanish, Accounting, and Chemistry minors, Emily advocates for women in STEM careers just as she is working to achieve hers. As part of HOSA: Future Health Professionals and Scientista Foundation, Emily is engaged in the Las Vegas community encouraging student leadership. As an aspiring physician, Emily dreams of being a part of the future of female physicians in the Las Vegas healthcare industry where she can help diminish the doctor shortage. Having advocated for Career and Technical Education (CTE) with Nevada Senators and Legislators at the Nevada State Capitol and in Washington, D.C., Emily is passionate about education and research at the forefront of the future of healthcare.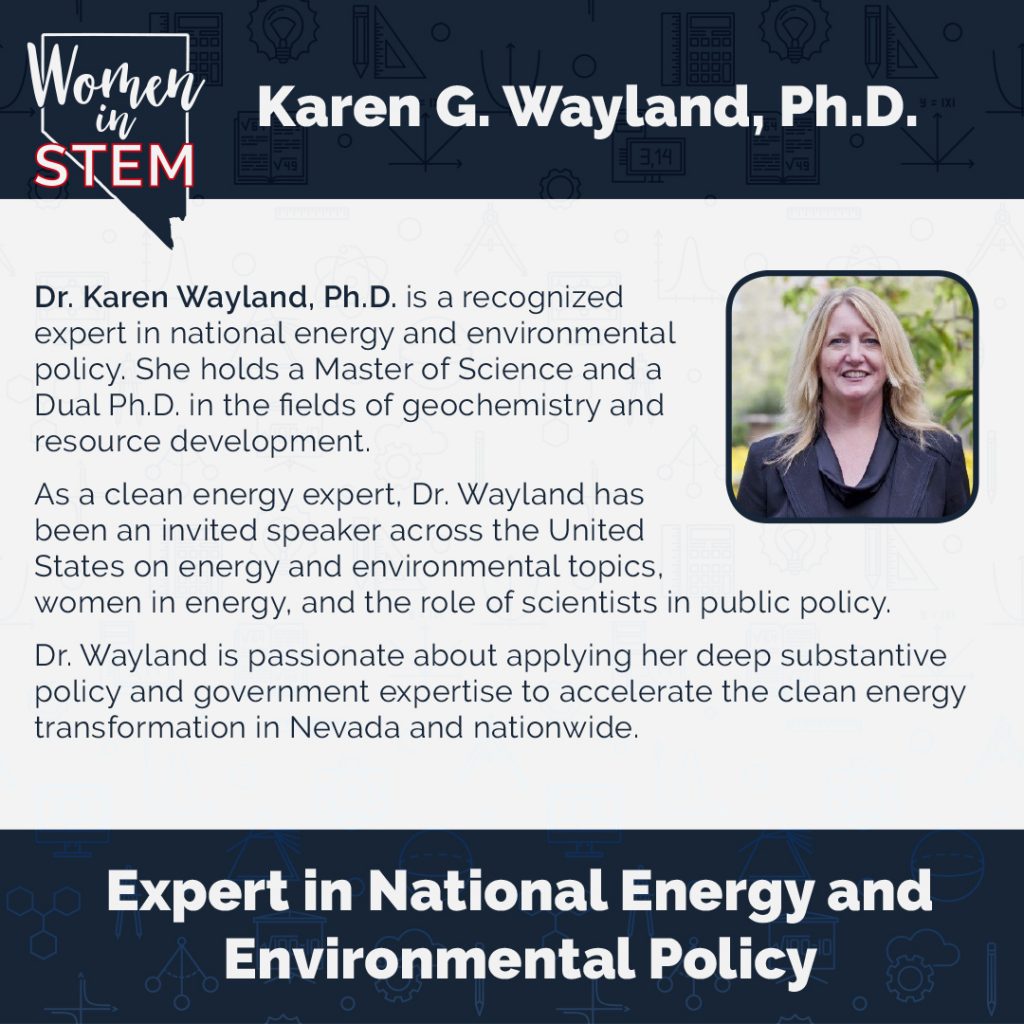 April 2019 – Karen G. Wayland, Ph.D.
Dr. Karen Wayland has a dual Ph.D. in geochemistry and resource development and works at the intersection of science and policy. She has deep roots in Nevada, starting as a Science Fellow for Senator Harry Reid, covering energy, nuclear waste, water and Native American issues. After six years as Legislative Director at the Natural Resources Defense Council, she served as senior advisor to Speaker Nancy Pelosi during congressional debate over major climate and environmental legislation. At the US Department of Energy, she worked closely with Secretary Ernest Moniz to build a state energy policy team and took a lead role in the first ever national assessment of energy infrastructure, the Quadrennial Energy Review. At Nevada's Clean Energy Project, she produced the National Clean Energy Summit.  Dr. Wayland is now advising states, major utilities, and nonprofits on policies to accelerate the transition to clean energy.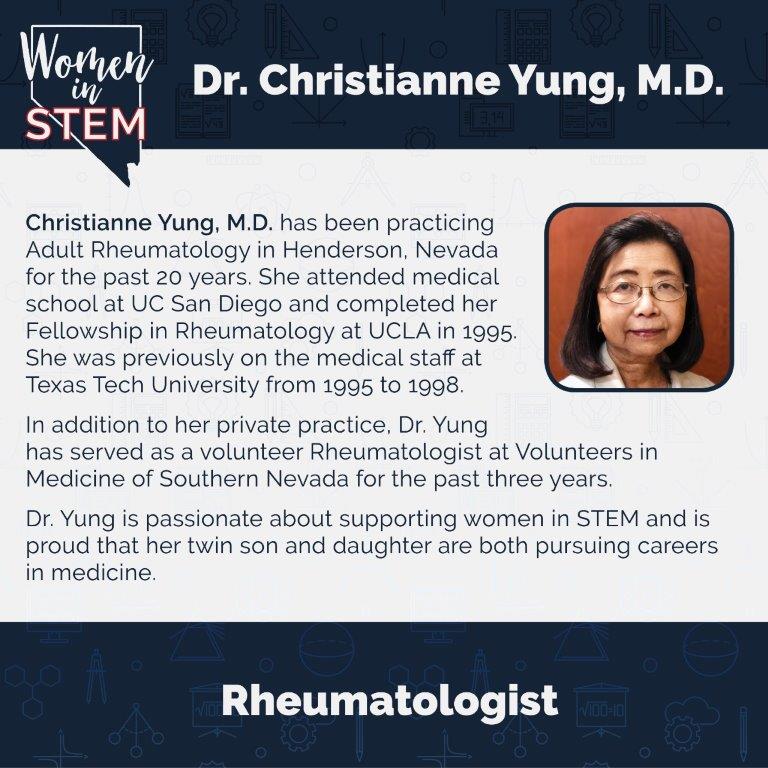 March 2019 – Dr. Christianne Yung, M.D.
Christianne Yung, MD has been practicing Adult Rheumatology in Henderson, Nevada for the past 20 years. She attended medical school at UC San Diego and completed her Fellowship in Rheumatology at UCLA in 1995. She was previously on the medical staff at Texas Tech University from 1995 to 1998. In addition to her private practice, Dr. Yung has served as a volunteer Rheumatologist at Volunteers in Medicine of Southern Nevada for the past three years. Dr. Yung is passionate about supporting women in STEM and is proud that her twin son and daughter are both pursuing careers in medicine.