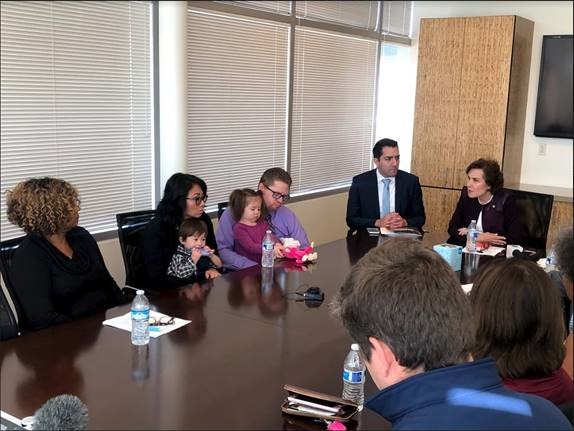 Senator Rosen meets with Nevada federal workers impacted by the government shutdown.
LAS VEGAS, NV — Today, U.S. Senator Jacky Rosen (D-NV) met with Nevada federal workers affected by the government shutdown. Federal workers included employees from the Transportation Security Administration and the National Park Service along with their families. More than 3,000 federal workers in Nevada will see their paychecks impacted as a result of the partial government shutdown.
"Today is the first day that federal workers will go without pay as a result of the President's shutdown," said Senator Rosen. "I heard directly from Nevada families who are experiencing real-life consequences as a result of the President's senseless shutdown. Families are struggling to pay their mortgages, car payments, and, for some, medical treatments. The President needs to come to the table to reopen the government as soon as possible, instead of taking the country hostage over his border wall."
BACKGROUND: Rosen plans to donate her pay to Nevada organizations that that support survivors of sexual and domestic abuse, many of whom benefit from programs funded by the Violence Against Women Act, whose authorization lapsed at midnight on December 21, 2018.
In the House, Rosen was a co-sponsor of the No Government, No Pay Act, which would prohibit Members of Congress from getting paid during a government shutdown. Rosen was also a lead sponsor of the bipartisan SHIELD Act (H.R. 1536), which would ensure compensation for service members and federal law enforcement personnel in the event of a government shutdown or a default on the nation's debt.
###
Follow Senator Jacky Rosen online:

Twitter: @SenJackyRosen

Facebook: Senator Jacky Rosen

Instagram: @SenJackyRosen