WASHINGTON, DC – This week, U.S. Senator Jacky Rosen (D-NV) helped to successfully prevent a veto-proof majority in the Senate by securing bipartisan opposition to a Congressional Review Act resolution rolling back a two-year pause on retroactive tariffs on solar panels and cells. President Biden has announced he will veto this resolution, and thanks to Senator Rosen's efforts, Congress will not be able to override the veto. It was estimated that these tariffs would have eliminated 30,000 American jobs, including 4,000 jobs in manufacturing.
Senator Rosen has consistently opposed efforts by Democrats and Republicans that would harm American solar jobs in Nevada and across the county. Rosen recently led her colleagues in an open letter opposing these retroactive solar tariffs and the harm they would cause to American solar.
Nevada Independent: Rosen fights against solar tariffs despite intraparty dispute
By Gabby Birenbaum
Key Points:
Rosen has been invested in the battle —which has divided both parties — since last summer, when President Joe Biden's administration announced it would institute a two-year pause on a tariff taxing imports of solar panels and parts from Malaysia, Thailand, Vietnam, and Cambodia.
"The reason I'm leading the charge in the United States Senate is that Nevada has more jobs per capita in the solar industry than any other state," Rosen said in an interview. "And so we understand that we need to bring back manufacturing from China … We are doing that, but it takes time. We need a bridge to get there."
Rosen's office estimated that reinstating the tariff would threaten more than 12,000 jobs across Nevada's nearly $10 billion in solar market investments, a serious dent in a state with a bright solar future. Her office also warned that tariff reinstatement could affect existing investments such as Boulder City's 802-megawatt Copper Mountain Solar Facility.
KNPR Las Vegas: Rosen leads colleagues in open letter opposing Congressional Review Act resolution that would eliminate American solar jobs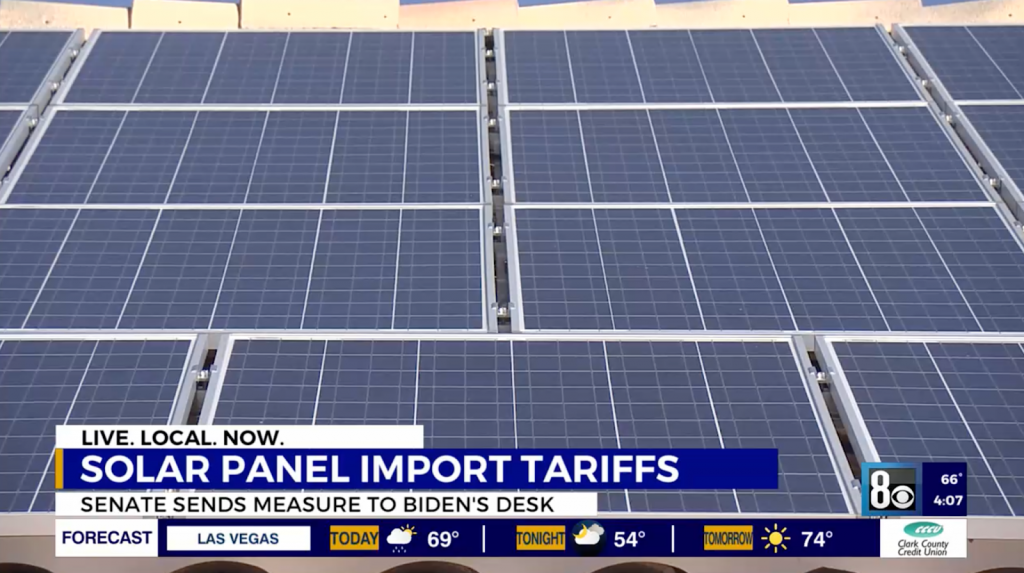 Reporter: "Ahead of the vote, several Senators, including Nevada Senator Jacky Rosen, sent an open letter opposing the Congressional Resolution.[…] The Senators said by voting to pass this misguided resolution Congress would deal a devastating blow to the American solar industry which will kill jobs, raise energy costs, and decrease our ability to achieve clean energy independence."
KLAS Las Vegas: Rosen opposes effort to reinstate solar panel tariffs that would eliminate 30,000 solar jobs nationwide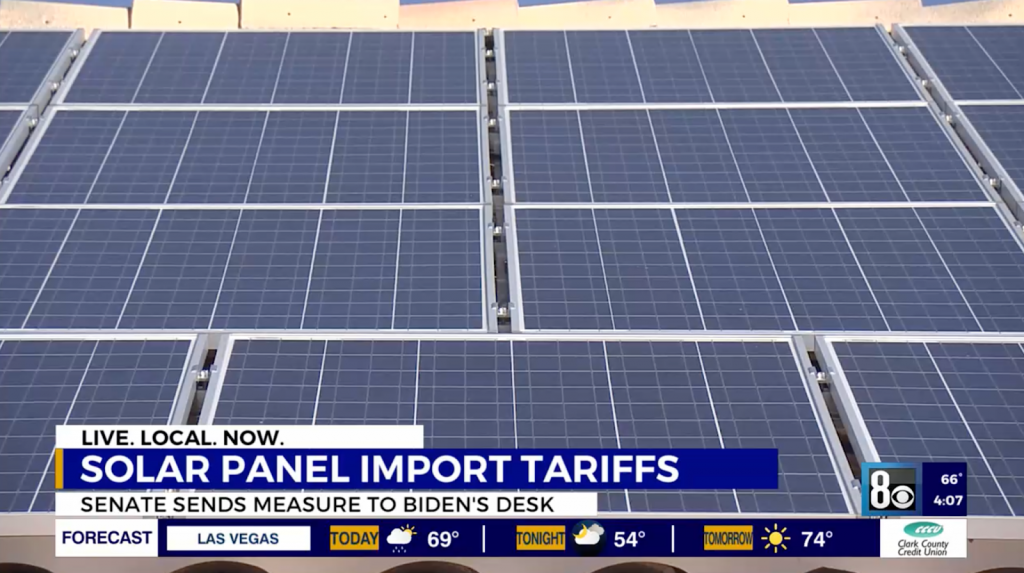 Anchor: "Nevada's Senators are opposing a move to reinstate solar panel tariffs on imports from four different nations. […] The president has vowed to veto it. Nevada Senator Jacky Rosen and Catherine Cortez Masto say it could jeopardize 30,000 jobs nationwide, including thousands right here in Nevada. Our state has the nation's most solar jobs per capita."
KTVN Reno: Rosen helps prevent veto-proof majority against Congressional Review Act Resolution that would kill Nevada solar jobs
Anchor: "Senator Jacky Rosen says she and other lawmakers successfully prevented a veto-proof majority in the Senate for what she's calling jobs killing solar tariffs. Lawmakers, like Senator Rosen, say they helped secure bipartisan opposition to a Congressional Review Act, a resolution that would roll back a two year pause on retroactive tariffs."
KRNV Reno: Rosen votes against resolution that would eliminate 30,000 American jobs in the solar energy industry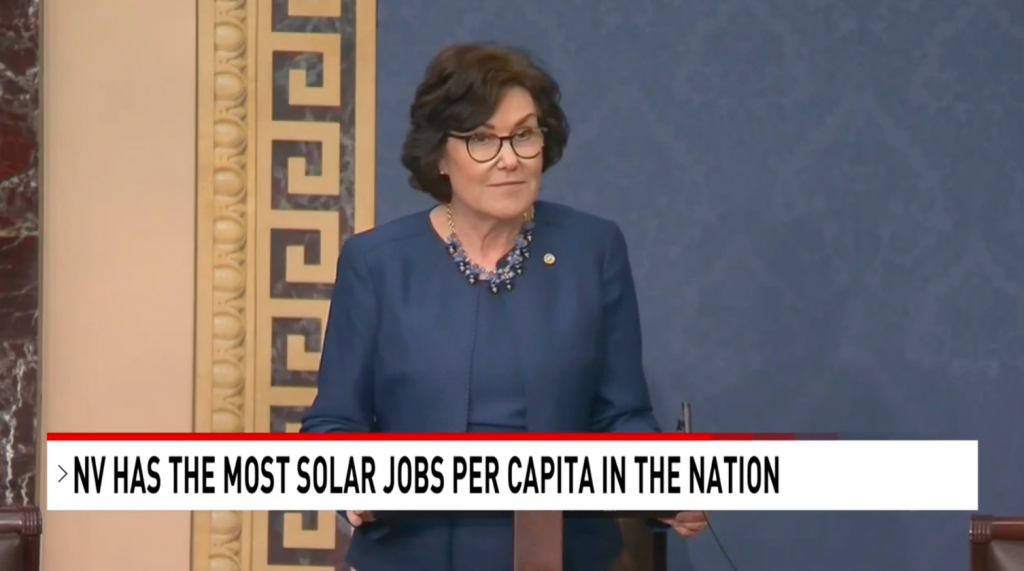 Reporter: "And Nevada Senator Jacky Rosen and Catherine Cortez Masto spoke on the Senate floor against the measure, saying that it would kill Nevada jobs and hurt American workers."
[…]
Rosen: "The average solar installer in Reno, Nevada, well, they make about $80,000 a year – it's a good job."
Anchor: "Well, Nevada has the most solar jobs per capita in the nation. The Solar Energy Industries Association estimates that this resolution would eliminate 30,000 American jobs, including 4,000 in manufacturing."
###