They Were Joined By Officials From The Department Of Education, Cybersecurity And Infrastructure Security Agency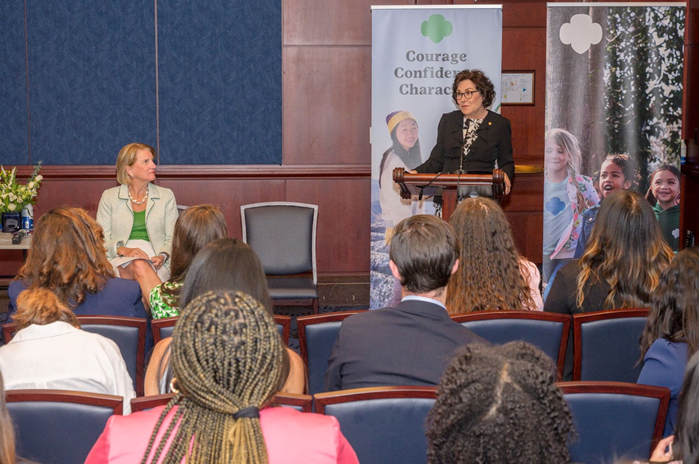 WASHINGTON, DC – Yesterday, U.S. Senators Jacky Rosen (D-NV) and Shelly Moore Capito (R-WV), co-chairs and co-founders of the Senate Women in STEM Caucus, were part of a discussion with the Girl Scouts of the USA about their ongoing work to build a STEM pipeline for K-8 girls. During the event, Senator Rosen highlighted her continued push to make STEM education more accessible for young girls, encouraging more girls to pursue careers in STEM fields and diversifying the workforce with more women. Girl Scouts CEO Bonnie Barczykwoski, Deputy Secretary of Education Cindy Marten, and CISA Director Jen Easterly were also in attendance and participated in a panel discussion to help kick off the first Women in STEM Caucus event of this year.
"My priority since launching the Senate Women in STEM Caucus has always been to provide more pathways for young girls to engage in STEM education," said Senator Rosen. "By increasing access to STEM and ensuring our teachers have the resources they need, we can help many more young girls become interested in the exciting career opportunities in these fields. This event exemplified that women can succeed in STEM, and I look forward to continuing these conversations as we work toward building a robust pipeline that can help diversify STEM fields with more women."
"STEM fields are where the in-demand jobs are right now, and it's where they will be in the future. That's why it's important we do what we can to encourage the next generation to get excited and involved in this field," Senator Capito said. "I thank the Girl Scouts for teaming up with our STEM Caucus efforts and helping us to inspire that next generation to lead and grow as engaged citizens. Now is the time to help future female leaders in STEM blaze a new trail and I am excited to see what the girls here today, and girls all across our country, can accomplish."
"I was tremendously inspired after meeting with Girl Scouts from across the country as well as their national leaders and fellow supporters Senator Rosen, Senator Capito, and Deputy Education Secretary Marten to talk about how critical it is to get more young women involved in STEM," said Jen Easterly, Director of the Cybersecurity and Infrastructure Security Agency (CISA). "At a time when technology continues to transform the way we live, work and learn, the need to close the STEM gender gap is more critical than ever. We need their creativity, their passion, and their imagination in the technology workforce. As the Director of the Nation's Cyber Defense Agency, I'm committed to close this gap and look forward to working with the Girl Scouts, Congress, and our partners across government to bring more girls and women into cybersecurity."
"At Girl Scouts, we inspire girls to think big and imagine all the good they can do with a strong foundation in STEM—from discovering treatments for chronic diseases to creating sustainable energy solutions and addressing cybersecurity threats," said Bonnie Barczykowski, CEO, Girl Scouts of the USA. "We are so grateful to Senators Rosen and Capito for their leadership and attention to this issue so we are able to build the curious and confident STEM superstars of tomorrow."
As the only former computer programmer in the U.S. Senate, Senator Rosen has led the push to create more opportunities for women and girls to pursue careers in STEM fields. Earlier this year, Senator Rosen helped introduce the bipartisan Accounting STEM Pursuit Act to expand STEM education in K-12 schools by adding accounting courses to STEM curricula for students. She also recently introduced her bipartisan STEM RESTART Act, which would support mid-career internships for workers looking to return or transition into the STEM workforce. Last year, Rosen's Rural STEM Education Act, which breaks down barriers rural students face in accessing STEM education, was signed into law as part of the CHIPS and Science Act. Senator Rosen's bipartisan Building Blocks of STEM Act, which she introduced with Senator Capito and helps increase girls' participation in computer science, was signed into law in 2019.
###