Rosen-Backed PACT Act Has Delivered The Largest Expansion Of VA Benefits In Generations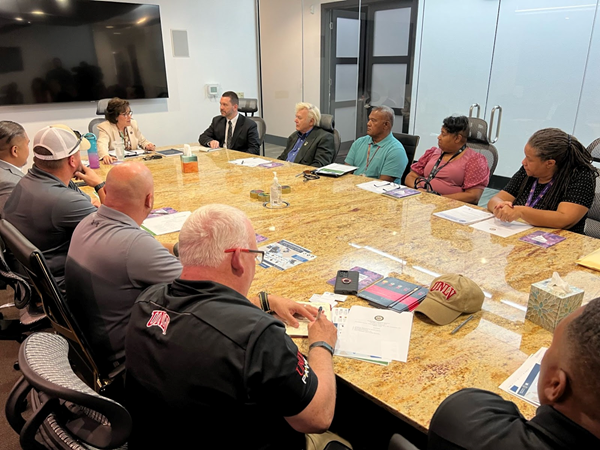 VIDEO AVAILABLE HERE.
LAS VEGAS, NV – Today, U.S. Senator Jacky Rosen (D-NV) hosted a roundtable discussion with Nevada veterans, VA officials, and local veteran advocates to talk about the importance of the bipartisan Honoring Our PACT Act, legislation Senator Rosen helped pass, which has extended Department of Veterans Affairs (VA) health care and benefits to veterans suffering from a wide range of illnesses, injuries, and disabilities as a result of exposure to toxins such as Agent Orange in Vietnam, burn pits in Iraq and Afghanistan, or other chemical or radiation exposures in places where veterans have served.
Eligible veterans suffering from toxic exposure who file a claim for PACT Act support by August 9th, 2023, are able to receive benefits backdated to when the bill was signed into law nearly one year ago.
"In passing the PACT Act, we delivered the largest expansion of VA benefits in generations, helping to ensure that our veterans and their families can finally receive the medical care they have earned," said Senator Rosen. "Thanks to our law, thousands of Nevada veterans have filed new claims for health care and have received tens of millions of dollars in benefits. Know that I will continue working in Congress to support the brave men and women who have put their health and lives on the line to defend our nation and its freedoms."
The Rosen-backed Honoring Our PACT Act has:
Expanded VA health care eligibility to all Post-9/11 veterans exposed to burn pits and other toxic substances, which includes more than 3.5 million toxic-exposed veterans;
Created a framework for the establishment of future presumptions of service connection related to toxic exposure;
Added 23 toxic exposure-related conditions to the VA's list of service-connected presumptions;
Expanded presumptions related to Agent Orange exposure and the locations where exposure may have occurred during the Vietnam War;
Strengthened federal research on toxic exposure;
Improved VA's resources and training for toxic-exposed veterans; and
Set the VA and veterans up for success by investing in VA claims processing, the VA's workforce, and VA health care facilities.
If you are a veteran concerned you may have been exposed to toxins during your service, know that you can get help by visiting a local VA facility, calling the Department of Veterans Affairs at 1-800-698-2411, or by filing a claim online at www.VA.gov.
###