LAS VEGAS, NV – On Friday, U.S. Senator Jacky Rosen (D-NV) held a press conference calling on the U.S. Department of Transportation to fund Nevada's application for federal funding to construct the Brightline West high-speed rail project, which will boost Nevada's tourism economy. She was joined by Brightline CEO Michael Reininger, Clark County Commissioner Michael Naft, Nevada Department of Transportation Director Tracy Larkin Thomason, President and CEO of the Vegas Chamber Mary Beth Sewald, and President of the Transportation Trades Department for the AFL-CIO Greg Regan. Senator Rosen also announced that she sent a letter to Secretary of Transportation Pete Buttigieg to update him on recent progress on the project, including approval from the Clark County Commission and completion of the environmental review process, and urging him to fully fund this high-speed rail project.
Brightline West estimates that its proposed high-speed rail project will remove 3 million cars from I-15 annually, reduce more than 400,000 tons of carbon emissions each year, and create 35,000 good-paying jobs. Brightline West has also struck landmark agreements to ensure this project will be built and operated by union labor.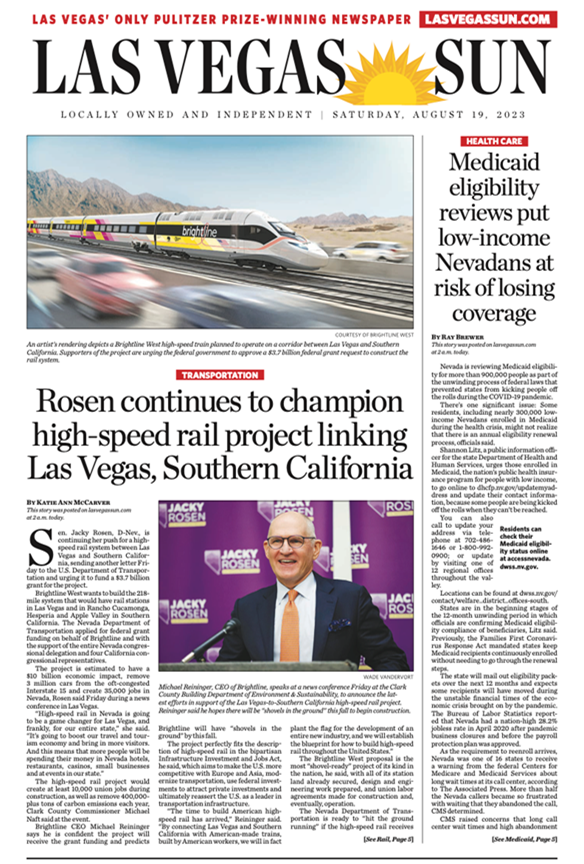 Las Vegas Sun Front Page 8/19/23
Las Vegas Sun: Rosen continues to champion high-speed rail project linking Las Vegas, SoCal
By Katie Ann McCarver
Key Points:
Sen. Jacky Rosen, D-Nev., is continuing her push for a high-speed rail system between Las Vegas and Southern California, sending another letter [Thursday] to the U.S. Department of Transportation and urging it to fund a $3.7 billion grant for the project.
The project is estimated to have a $10 billion economic impact, remove 3 million cars from the oft-congested Interstate-15 and create 35,000 jobs in Nevada, Rosen said Friday during a news conference in Las Vegas.
"High-speed rail in Nevada is going to be a game changer for Las Vegas, and frankly, for our entire state," she said. "It's going to boost our travel and tourism economy and bring in more visitors. And this means that more people will be spending their money in Nevada hotels, restaurants, casinos, small businesses, and at events in our state."
The Nevada Department of Transportation is ready to "hit the ground running" if the high-speed rail receives funding, Director Tracy Larkin-Thomason said, adding that the overall goal is to open by 2028 when Los Angeles hosts the Summer Olympics.
Vegas Chamber CEO Mary Beth Sewald said the project had potential to be a catalyst for innovation, stimulate permanent job growth and more.
"It's so important to our families," Sewald said. "It's important for education. It's important for our kids to have a bright future. And so, these jobs will not only expand in the areas of construction and tourism and travel, but also in the areas of health care and things like tourism … it's going to be monumental for our destination."
Las Vegas Review-Journal: LV-LA high-speed rail system gets more support from Rosen
By Mick Akers
Key Points:
Rosen, Brightline CEO Mike Reininger, NDOT Director Tracy Larkin-Thomason and Clark County Commissioner Michael Naft were among a group of dignitaries Friday in Las Vegas pushing the federal government to award the shovel-ready project the funding boost.
Rosen, D-Nev., sent a letter Thursday reiterating her "strong support" for the $12 billion project to the U.S. Department of Transportation and to Transportation Secretary Pete Buttigieg, hoping they would back it similarly. Rosen requested the department fund the full $3.75 billion request in their joint application.
"I can tell you this, that there's no better project for this grant than Brightline," Rosen said. "We are shovel-ready. We are a top tourist destination, not just in (our) country, but around the world…"
Nevada Current: Rosen highlights ongoing effort to land high-speed rail
By Michael Lyle
Key Points:
"The next critical step is getting federal funding delivered, which is why I've been pushing the Department of Transportation to process Nevada's application as soon as possible," Rosen said in a statement.
Rosen said the $1.2 billion Infrastructure Investment and Jobs Act passed in 2021 could help provide "historic funding for rail projects like this one."
"It will boost our economy by bringing more visitors who spend money in our state – which helps create good-paying jobs, generate millions of economic activity, and contribute to the success of our small businesses," Rosen said.
KTNV Las Vegas: 'We are shovel-ready': Nevada leaders waiting on federal funding to make Brightline West a reality
Reporter: "'Pretty excited.' Liam owns the small tea shop across the street from this planned high-speed rail train station. It would bring more people to this area. 'For me, it's help for the business.' It would not only bring more people south of the strip but it would also be a new way of transportation for millions of tourists coming to Las Vegas from the Los Angeles area." 
Senator Rosen: "I'm expecting Secretary Buttigieg will award this funding. Why? Because we are shovel-ready."
Reporter: "Senator Jacky Rosen, joined by the CEO of Brightline and other local and state leaders, announced a $3.75 billion grant application has been submitted to the Department of Transportation. If awarded, the money would help fund this project. Senator Rosen sent this letter to Secretary Buttigieg, explaining Brightline West is ready to get the job moving…."
Reporter: "Brightline West estimates the high-speed train would remove million cars from Interstate-15 each year and create 35,000 jobs. If or when the money's here Brightline wants to start moving dirt in just months, and they want to project all done by 2028."
KSNV Las Vegas: High-speed rail between Las Vegas, California could open by 2028
Reporter: "The long discussed high-speed rail between Las Vegas and Southern California could be open by the summer of 2028 Summer Olympics in Los Angeles, at least that's what Senator Jacky Rosen and state and local leaders said today at a news conference. They're urging Transportation Secretary Pete Buttigieg and the U.S. Department of Transportation to approve a nearly $4 billion grant of the project. The Brightline West CEO says all environmental reviews, permitting rights, and labor agreements are in place." 0.
Brightline CEO: "We've advanced Brightline West to the point where it represents the most shovel ready project of its kind anywhere in the nation."
Rosen: "You know, a high-speed rail in Nevada, I know it's been discussed for years; But this time, we have the best possible shot at making it work."
KVVU Las Vegas: Rosen leads press conference on future of Brightline West high-speed rail project
Reporter: "The stage is set for a high-speed speed rail system between Las Vegas and Southern California. All the project needs now is 3 billion dollars in federal funding. The plan is to build a super fast train line running between Southern California and Las Vegas. Brightline has all the permits. Now it just needs that 3 billion dollar grant from the U.S. Department of Transportation. NDOT and Senator Jacky Rosen have both been lobbying Secretary Pete Buttigieg, because of the many benefits the train would bring to Southern Nevada and the entire country."
Senator Rosen: "In fact, the influx of visitors from this, from this train, is estimated to generate 10 billion dollars in economic impact."
Brightline CEO: "Brightline West's potential to catalyze economic growth, to reduce carbon footprints, and reshape the perception of what travel means in America, cannot be overstated."
Reporter: "The project will also create some 35,000 jobs."
KLAS Las Vegas: High-speed rail from California to Nevada awaiting $3.75B grant after major approvals secured
Reporter: "Brightline West hinges on the nearly $4 billion federal grant NDOT applied for this year which would cover roughly a third of the $12 billion project costs that officials say have origins as early as 2004, but the grant would come from the bipartisan infrastructure bill that designates over $100 billion to rail development." 
[…]
"But for the first time, all regulatory and environmental approvals are secured with construction and railway union contracts signed"
Senator Rosen: "Now, it just needs funding to be able to start construction."
Reporter: "Nevada Senator Jacky Rosen sending a letter to U.S. Secretary Pete Buttigieg urging him to approve the grant."
KRNV Reno: Rosen, NV officials hold press conference on updates regarding Brightline rail project
Reporter: "The long discussed high-speed train between Las Vegas and Southern California could happen by the summer of 2028 for the Olympics in Los Angeles, at least that's what Senator Jacky Rosen and state and local leaders are saying. Today, they held a press conference urging Transportation Secretary Pete Buttigieg and the US Department of Transportation to approve a nearly $4 billion grant so the project can begin. The Brightline West CEO today, saying all environmental reviews and permitting, rights of way, and labor agreements are in place."
Brightline CEO: "We've advanced Brightline West to where it represents the most shovel ready project of its kind anywhere in the nation."
Senator Rosen: "You know, a high-speed rail in Nevada, I know it's been discussed for years, but this time we have the best possible shot at making it work."
###