WASHINGTON, DC – Today, Senator Jacky Rosen (D-NV) joined CBS Mornings to discuss the alarming nationwide rise in antisemitism, including the threats made against her earlier this month. Senator Rosen also urged action to protect Jewish students on university campuses. Last week, her bipartisan resolution with Senators Marsha Blackburn (R-TN), James Lankford (R-OK), and Chris Van Hollen (D-MD), denouncing antisemitism on college campuses passed the Senate unanimously. She also sent a letter this week urging the Department of Education to take immediate and concrete steps to ensure the safety of Jewish Americans on campuses and hold colleges and universities accountable for keeping their students safe.
CBS Mornings: Senator Rosen joins CBS Mornings to discuss nationwide rise in antisemitism
Senator Rosen: "I'm going to talk about what's happening on college campuses – the same way that kids are afraid of their life. We send them to college, the first time for many of them they're away from home, away from their support center. And we expect universities to have a responsibility to keep our students safe, and they are not doing that. And so parents are worried, students are worried, they're locking themselves in dorms, getting vile threats against them, cutting their head off, raping and murdering them, burning down buildings. This is unacceptable."
CBS News: Nevada Sen. Jacky Rosen says antisemitic threats hit her when she saw them "not as a senator, but as a mother"
Key Points:
Nevada Democratic Sen. Jacky Rosen told "CBS Mornings" on Thursday that while it is not uncommon for her office to receive calls from people disagreeing with her and her staff, the threatening and antisemitic messages that targeted her last month were upsetting.
The alleged threats came amid a broader increase in antisemitic incidents nationwide following the Oct. 7 attacks by Hamas in Israel, and Israel's response in Gaza, which Hamas governs. More than 300 antisemitic incidents occurred between Oct. 7 and Oct. 23, up from 64 in the same time period last year, according to a recent report by the Anti-Defamation League, a nonprofit organization that tracks such threats. The spike included a 388% increase in incidents of harassment, vandalism and/or assault compared to that same time period in 2022.
In one case, an engineering student at Cornell University in New York was arrested Tuesday on federal charges that he made violent antisemitic online threats against Jewish students at the school.
Rosen said students on college campuses are worried, and that universities have a responsibility to keep them safe.
Below is additional coverage of Senator Rosen's actions to fight the rise of antisemitism:
Fox News: Rosen Helps Introduce Bipartisan Resolution Condemning Antisemitism on College Campuses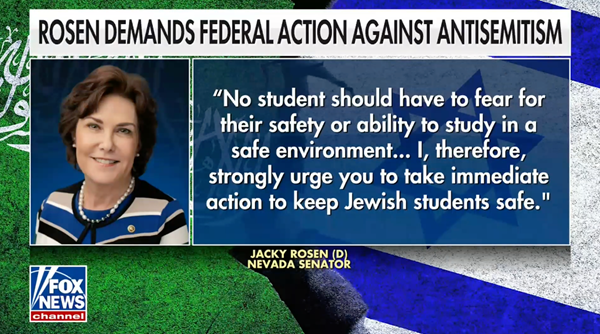 Reporter: "Nevada Democrat Senator Jacky Rosen is actually calling for federal action. Now, in a letter to the Department of Education, she writes, quote,'No student should have to fear for safety or ability to study in a safe environment. I therefore strongly urge you to take immediate action to keep Jewish students safe.' Now, according to the Anti-Defamation League, incidents of antisemitism are up 400% compared to this time last year."
KTNV Las Vegas: Rosen helps introduce bipartisan resolution condemning antisemitism on college campuses
Reporter: "Nevada U.S. Senator Jacky Rosen and Tennessee Republican Senator Marsha Blackburn have joined forces condemning antisemitism on college campuses. It has exploded since Israel was attacked by terror group Hamas, and according to the ADL, antisemitic incidents have gone up more than 200 percent since then. The resolution, which is expected to pass, is a bipartisan effort. It calls on college and university leaders to take action and speak out against the hate and hate speech, stating that they have a right and obligation to respond to the antisemitism."
Telemundo Las Vegas: Rosen presenta una resolución para condenar el antisemtismo en universidades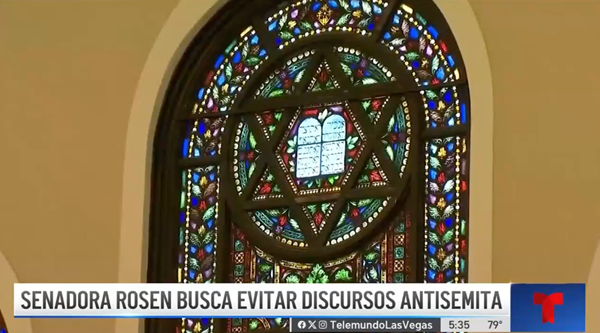 Reporter #1: "La senadora Jacky Rosen y otros senadores presentan una resolución en el senado para condenar el antisemitismo en universidades y proteger a estudiantes judíos en medio de un aumento de incidentes antisemitas en los campus."
Reporter #2: "Instan a líderes universitarios a oponerse al antisemitismo, respetando la libertad de expresión, pero condenando la promoción de violencia o discriminación por creencias religiosas, origen nacional o ascendencia."
KTNV Reno: Rosen Helps Introduce Bipartisan Resolution Condemning Antisemitism on College Campuses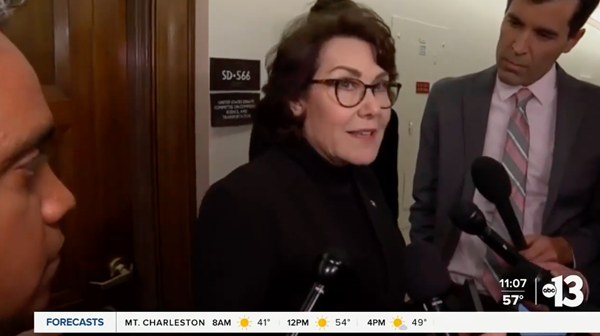 Anchor: "Nevada U.S. Senator Jacky Rosen is calling on the Department of Education to take further action to address antisemitism on college and university campuses. Federal officials say there has been a dangerous rise of antisemitism on campuses following the Hamas terrorist attack on Israel on October 7th. Senator Rosen is stressing the legal obligation that schools have to protect students and urges the department to take immediate steps to keep students safe."
Politico: Jacky Rosen focused on combatting threats to Jewish students following arrest of man who threatened to kill her
By Anthony Adragna
Key Points:
Sen. Jacky Rosen (D-Nev.) said Tuesday that she's more focused on ensuring Jewish students feel safe than on the arrest of a man charged with making antisemitic death threats against her.
"Whether they're pre-K through [grade] 12 or college campuses, it's really important that Jewish kids feel safe," Rosen told POLITICO in an interview. "But most important, all students should be safe when they go to school. They should not feel like they're under attack. Right now, it's Jewish students. Tomorrow, it can be another group."
Jewish Insider: Senators to introduce new bipartisan campus antisemitism resolution
By Marc Rod
Key Points:
Sens. Marsha Blackburn (R-TN) and Jacky Rosen (D-NV) are set to introduce a resolution today condemning antisemitism on college campuses, which has exploded following the Oct. 7 Hamas terror attack on Israel, Jewish Insider has learned.
The Blackburn/Rosen resolution states that the rise in antisemitic incidents on campus has created "an atmosphere of fear for Jewish students and faculty" and that "acts of hate, discrimination, and violence based on religion or ethnicity have no place at institutions that exist to further education and understanding between diverse student bodies."
The resolution "strongly condemns" such incidents, calls on school leaders and administrators to "publicly condemn speech that incites or celebrates violence against any people based on religious beliefs, national origin, or ancestry" and urges schools to engage with Jewish communities on campus.
Las Vegas Review-Journal: Rosen calls on Department of Education to combat antisemitism on college campuses
By Taylor R. Avery
Key Points:
U.S. Sen. Jacky Rosen, D-Nev., on Tuesday called on the Department of Education to combat the rise of antisemitism on college campuses in the wake of the ongoing war between Hamas and Israel.
"Schools have a legal responsibility to protect their students from discrimination, yet many university presidents and administrators have failed to forcefully condemn antisemitic speech and incidents on campuses in the wake of Hamas's terrorist attack," Rosen wrote in the letter.
Rosen called for the department to assemble a meeting between campus administrators, law enforcement and Jewish organizations to develop strategies to prevent and respond to antisemitism.
KOLO Reno: Rosen Helps Introduce Bipartisan Resolution Condemning Antisemitism on College Campuses
Key Points:
U.S. Senator Jacky Rosen has helped introduce a resolution condemning antisemitism on college campuses around the nation. She joined Marsha Blackburn (R-TN), James Lankford (R-OK), and Chris Van Hollen (D-MD) in introducing the resolution that would urge college and university leaders, administrators, and faculty to voice their opposition to that antisemitism.
"In the aftermath of the terrorist attack on Israel by Hamas on October 7, 2023, there has been a rise in incidents of antisemitism, including hate speech and intimidation, on college campuses and universities in the United States, creating an atmosphere of fear for Jewish students and faculty," the resolution states. "Acts of hate, discrimination, and violence based on religion or ethnicity have no place at institutions that exist to further education and understanding between diverse student bodies."
###