Senator Rosen Has Introduced Bipartisan Legislation To Bolster U.S. Competitiveness With China, Counter China's Threats To U.S. National Security And Allies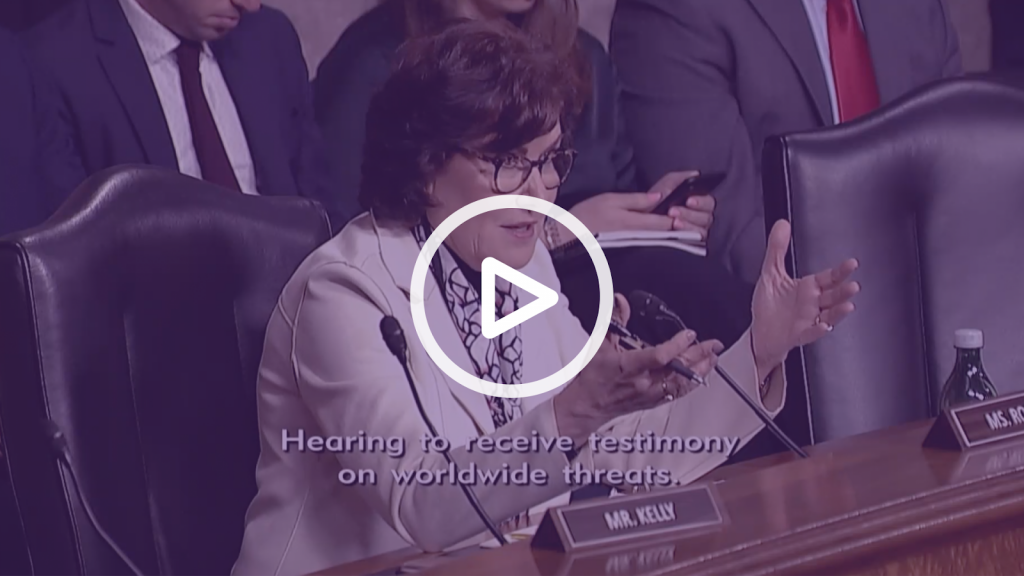 Watch Senator Rosen's Remarks HERE.
WASHINGTON, DC – Today, during a hearing of the Senate Armed Services Committee, U.S. Senator Jacky Rosen (D-NV) asked Avril Haines, Director of National Intelligence, and Lieutenant General Scott D. Berrier, Director of the Defense Intelligence Agency, how the United States can respond to China's increasing involvement in global diplomatic matters and the threat that Beijing poses to U.S. national security.
Senator Rosen is pushing to help the U.S. counter the Chinese Communist Party's global rise, which threatens U.S. national security and competitiveness. This week, Senator Rosen introduced the Investing in American Defense Technologies Act to strengthen U.S. competitiveness with China in advanced defense capabilities. She has also introduced the Taiwan Cybersecurity Resiliency Act to help Taiwan defend against cyber threats from China, many of which are later used against the United States. And she was a strong supporter of the CHIPS Act, which boosts domestic computer chip production to reduce United States' reliance on other nations like China, while enhancing U.S. innovation and research capacity.
Below is an excerpt of the exchange:
ROSEN: We know in recent months China has rapidly increased its engagement around the world. This includes brokering – actually trying to broker – troubling agreements to reestablish diplomatic ties between Iran and Saudi Arabia, offering to broker peace deals between Ukraine and the Russian aggressors. So, these incidents, they highlight China's persistent presence and intention to exert its influence and match the U.S. as a global power.
So, how can the U.S. address China's increasing involvement in global diplomatic matters and can we expect to see more countries try to turn to China as a mediator? What do you think the implications of this pivot would mean to us?
HAINES: Thank you, Senator. It's a very thoughtful question. Obviously, China's engaging in international fora in and of itself is not a challenge or a problem. It's how they engage, and the way in which they use that engagement to actually undermine, for example, global norms and the international order in the way we have designed it.
We have spent quite a bit of time in the intelligence community trying to map out how they are approaching their engagement in international fora to do just that. And I would say that this is a place where we've been looking at efforts to essentially garner influence and change the direction of international organizations so as to support their particular approach to global norms, which is more aligned with an authoritarian system.
[…]
BERRIER: I believe China is trying to enhance its reputation on the global stage. When I look at the examples that you gave, we're a key security partner with the Kingdom [of Saudi Arabia] and we're a key security partner with Ukraine.
We also have influence and we're in discussions with those partners every single day on really tough issues. I think whether those are military diplomats in the defense attache services or the work that our State Department is doing, we've got a great message.
###